Macomb food conference promotes local food consumption and awareness
The fourth annual All About Food: From Farm to Fork Conference attracted nearly 200 food systems stakeholders for educational sessions and delicious food.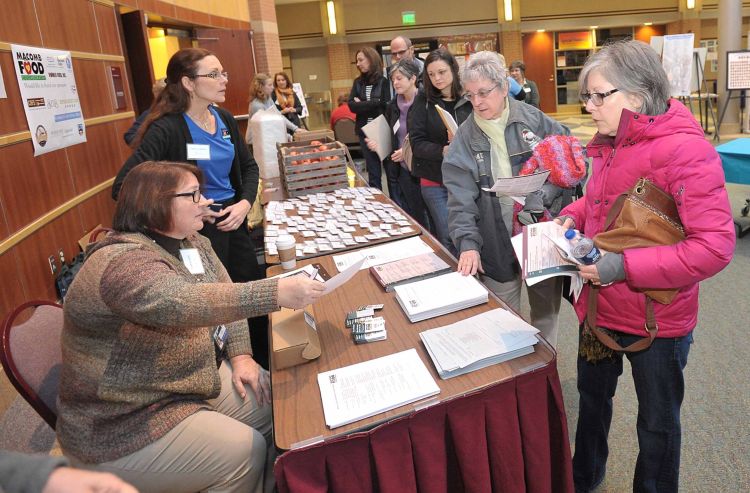 Nearly 200 local food systems stakeholders gathered in Macomb County this February for the All About Food: From Farm to Fork Conference. The event was hosted by the Macomb Food Collaborative, a group devoted to making fresh, healthy food accessible and affordable, as well as supporting the development of a vibrant food system in Macomb County. This was the fourth All About Food conference hosted in the county.
Opening remarks for the day were made by Jean Persely, President of the Collaborative, and Steve Gold, Director of Health and Community Services. Both speakers encouraged public recognition of those that work to encourage healthy eating and local food systems development. The largest gratitude was expressed for farmers, many of whom make their home in Macomb County.
The day featured keynote speaker Dan Carmody, the president of the Detroit Eastern Market Corporation. Carmody spoke about the unrealized benefits of localizing our food system. He highlighted an example of economic value by sharing the recent development of the local craft brewing industry, which now holds 17.2 percent of the total market share. He also noted that this is the only sector of the beer industry that is growing, based on increased consumer preference and demand for local craft beer.
Entrepreneurs, consumers, gardeners, farmers and health professionals were all in attendance. They had the opportunity to participate in 23 different educational sessions on a variety of food related topics. Some of the most highly attended sessions included "Understanding Community Food Systems", "Genetically Engineered/GMO in Agricultural Crops and Livestock Breeds", "Living a Healthy and Balanced Plant Based Diet", "Basic Backyard Gardening" and "Dehydrating: Another Way to Preserve your Food."
Bringing the conference full circle, the food served was delicious and sourced locally, to the extent that was possible. Attendees gave enthusiastic reviews about the lunch selection. The menu was catered by conference sponsors Henry Ford Macomb Hospital, serving butternut squash macaroni and cheese, Crooked Creek Farm Dairy, serving a variety of milks, Westview Orchards and Winery, with their famous fruit flips, and The Clean Plate, who prepared a bean salad and vegan wraps.
If you missed this year's conference, or plan to attend next year, you can mark March 15, 2016 on your calendars to save the date!
Michigan State University Extension supports local food systems conferences throughout the state. For more information on conferences and other local food events, consider subscribing for news on community food systems.