Make 2014 the year you connect with your local or regional food system
When making your New Year's resolution, here are three ways you can better connect with your food and the people who produce and process it.
January is a time of resolutions. Get on the bandwagon and resolve to become better-connected with your local and regional food system. By doing so, you are contributing to the economic well-being of your community in addition to improving your own health and happiness. Here are three ways that Michigan State University Extension recommends you connect.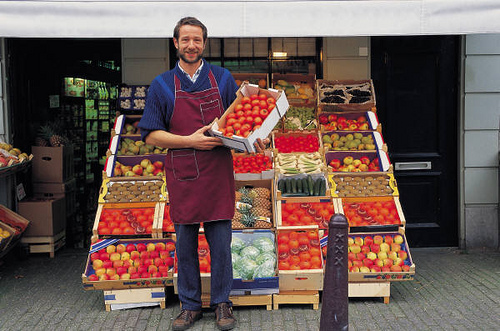 Get to know a farmer. While this may sound complicated, it's really not. The easiest way to connect with a farmer is at your local farmers market. And that's easier than you might think. According to the U.S. Department of Agriculture (USDA), "the number of farmers markets has grown by 67 percent since 2008." In Michigan, you can locate your closest farmers market through the Michigan Farmers Market Association. At a farmers market, you can learn directly from the farmer about growing practices, if pesticides and chemical fertilizers are used and the conditions under which animals are raised. Odds are you'll become fast friends with the people who grow your food.
Get to know a butcher. Just as with fruits and vegetables, more consumers are interested in knowing more about the proteins they eat and feed to their families. This can be difficult to do when one buys meat from large retail store. The butcher at a specialty meat market or small grocery store can help you understand where and how their meat has been sourced, butchered and processed. They can also provide you with hand-cut meats as well as custom cutting. Want to find niche market or farm-to-table protein sources? By using the Local Harvest website, this author was able to find over 30 nearby purveyors of grass-fed, pasture-raised or organic protein products. One example is Full Circle Organic Farm in Howell, Mich.
Teach your children about where food comes from. This is easier than one might think. A visit to a county fair is an excellent opportunity for children to see the livestock that becomes their food up close. With the increase in agritourism, many educational opportunities abound. The University of California Extension defines agritourism as, "a commercial enterprise at a working farm, ranch or agricultural plant conducted for the enjoyment or education of visitors, and that generates supplemental income for the owner. Agritourism can include farm stands or shops, U-pick, farm stays, tours, on-farm classes, fairs, festivals, pumpkin patches, Christmas tree farms, winery weddings, orchard dinners, youth camps, barn dances, hunting or fishing, guest ranches, and more." The Michigan Agri-tourism Association provides many resources about local features, including a "Find a Farm" feature.
As consumers learn more about where their food comes from and gain access to fresh, local foods, our local and regional food systems will thrive. Here's to a prosperous New Year for producers and consumers alike!