Many circumstances during 2020 affected Michigan's commercial fishing industry
Pandemic and restaurant closures, fishing regulations and legislation among challenges faced.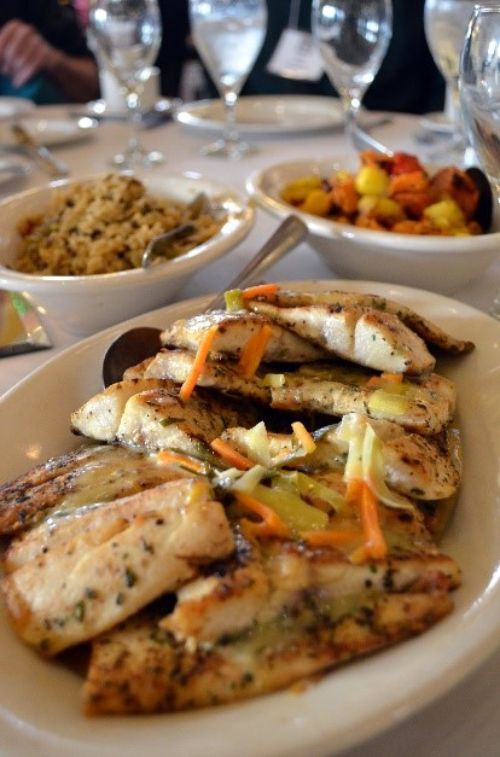 Eating whitefish at a local restaurant while traveling through northern Michigan is an iconic and cultural Great Lakes experience. Whitefish contributes to 85% of total harvests from Michigan commercial fish producers. Imagine a fishing family that has gone out on the water for generations, supplying Great Lakes whitefish to the Midwest, and even reaching to cities like Chicago and New York. These entrepreneurs do it all: they run fishing vessels safely, they navigate a plethora of fishing and food safety laws, develop innovative, value-added products, navigate markets, and their customer base. Many commercial fish producers are concerned their businesses are at risk and that their industry, one of Michigan's oldest, may disappear altogether.
Commercial Fishing in Michigan
Michigan became a state in 1837, and the first commercial fishery was licensed in 1865. Michigan enacted its first commercial fishing law in 1929. Currently, there are 51 state-issued licenses owned (not including tribal fishers), but most are not actively being used, which leaves the current commercial fishing industry represented by 16 businesses. Most state-licensed businesses are multi-generational, small businesses who have a family legacy. Many fishers and allies to Michigan's commercial fishing industry are members of the Michigan Fish Producers Association (MFPA) whose mission is to promote, support, and develop the commercial fishing industry. Lake whitefish is the main fish species harvested through commercial fishing in Michigan. Many fish producers are also their own processors and offer local, value-added products such as smoked fish and fish dip. This highly regulated industry provides locally sourced seafood for restaurants, grocery stores, farmers markets, and sometimes even community events and festivals like those at Fishtown Preservation and the Bay Port Fish Sandwich Festival.
Many circumstances during 2020 have affected the Michigan commercial fishing industry including the coronavirus pandemic, fishing legislation and fishing regulations. The following is a timeline of some of those challenges:
Effort to Update Michigan Commercial Fishing Regulations
The Michigan Department of Natural Resources (DNR) is tasked with administering and enforcing state commercial fishing regulations. The last legislative update for commercial fishing happened in the 1960s with modifications in PA 451 of 1994. Managing a commercial industry with outdated statutes is complicated and the Michigan DNR officials and others have sought to update the commercial fishing regulations.
In absence of the legislation being updated, each DNR director exercised their authority (provided by Michigan Legislature in the Natural Resources and Environmental Protection Act Section 324 part 467) to manage the fishery and administrative roles by issuing fisheries orders. These fisheries orders allow regulators to respond to changes in conditions within the fisheries in a timely manner. Approximately 4 years ago, the DNR began working with elected officials to update the legislation.
House Bills 4567, 4568, and 4569
As of Feb. 6, 2020, Michigan House of Representatives passed House Bills (HB) 4567, 4568, and 4569 during the 2019 to 2020 legislative session. These three HBs are tie-bar bills, meaning one HB cannot go into effect without the others. The HBs summarized testimonial support by the Michigan DNR, Michigan Steelhead and Salmon Fishermen's Association, Michigan Trout Unlimited, and Michigan United Conservation Clubs, and testimonial opposition by the Michigan Fish Producers Association.
On Feb. 11, 2020, the HBs were referred to the Michigan Senate Committee on Natural Resources. The committee held hearings including presentations and testimony from interested parties in June and July of 2020. Testimonies were received by the DNR, the commercial fishing industry, sportfishing organizations, and Tribal Nations. From July through September 2020, Sen. Ed McBroom, Chair of the Michigan Senate Natural Resource Committee, held discussions to better understand the issues and concerns raised by stakeholder groups. The Commercial Fishing Workgroup Report he issued provides information on prominent contentious issues pertaining to the HBs, the value of the stakeholder groups, and the evidence-based data as they relate to each issue. Suggested amendments were provided for each HB 4567, 4568, and 4569.
On Dec. 3, 2020, the Senate Natural Resources Committee held a meeting in which the DNR opposed Senate amendments to the tie-bar HBs, citing the need for more time to review and understand the implications of the amendments. The Committee did not meet again; thus, the HBs did not move for action during last year's legislative season. Bills cannot be carried over from one legislative session to the next, and now new bills will need to be introduced during the 2021-2022 legislative session.
2020 Fisheries Order
Fisheries Order 243 modifies conditions of the Natural Resources and Environmental Protection Act Section 324 part 473 as recommended by the DNR director. The order is used to "address issues impacting management of the state-licensed commercial fishery for the better protection, preservation, maintenance, and harvesting of the fish." Fisheries Order 243 has been renewed annually and has had little to no changes for the past four years.
As of Nov.12, 2020, DNR Director Daniel Eichinger signed Fisheries Order 243.21 which required renewal for 2020 which states:
"Despite the intensive efforts of many in recent years, updates to the commercial fishing statute have not occurred and the Department no longer intends to annually renew certain provisions within Fisheries Order 243. This decision is based on perceived gaps in authority as described by prosecutors in previous law enforcement efforts. These complexities stem from the confusion with conflicting regulations described within statute, administrative rules, and orders. Therefore, the Department has amended FO 243.21 so that only provisions that the Department feels confident in their authority to enforce will be retained. The amendments within this order highlight just how essential it is for our legislature to promptly pass the commercial fish bills that have been introduced and supported in the House and that are now being considered by the Senate."
Effective on Jan. 8, 2021, Fisheries Orders 243.21 included changes such as restricting fishing from water in 150 feet to 80 feet or less, ending Lake Erie fishing for rough fish (e.g., whitefish), and closing Lake Huron and Lake Michigan whitefish season for October (in addition to November).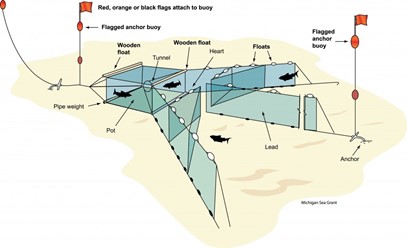 After being aware that the order was signed, the MFPA filed a federal lawsuit saying it was necessary because changes will make it unprofitable for commercial fish producers to go fishing. According to the MFPA, the changes will severely impact their ability to operate and will most likely result in the closure of the majority of state-licensed fishing operations as whitefish can typically only be found in 80 feet or less for only a few weeks out of the year.
Moving into 2021
Commercial fisheries, along with many other industries, were negatively impacted in 2020 due to the coronavirus, which causes the disease COVID-19. Uncertainty and State of Michigan orders which included restrictions for restaurants and other food service establishments disrupted food supply chains. Michigan State University Extension and Michigan Sea Grant held listening sessions and webinars to help industry partners try to navigate through those difficult times.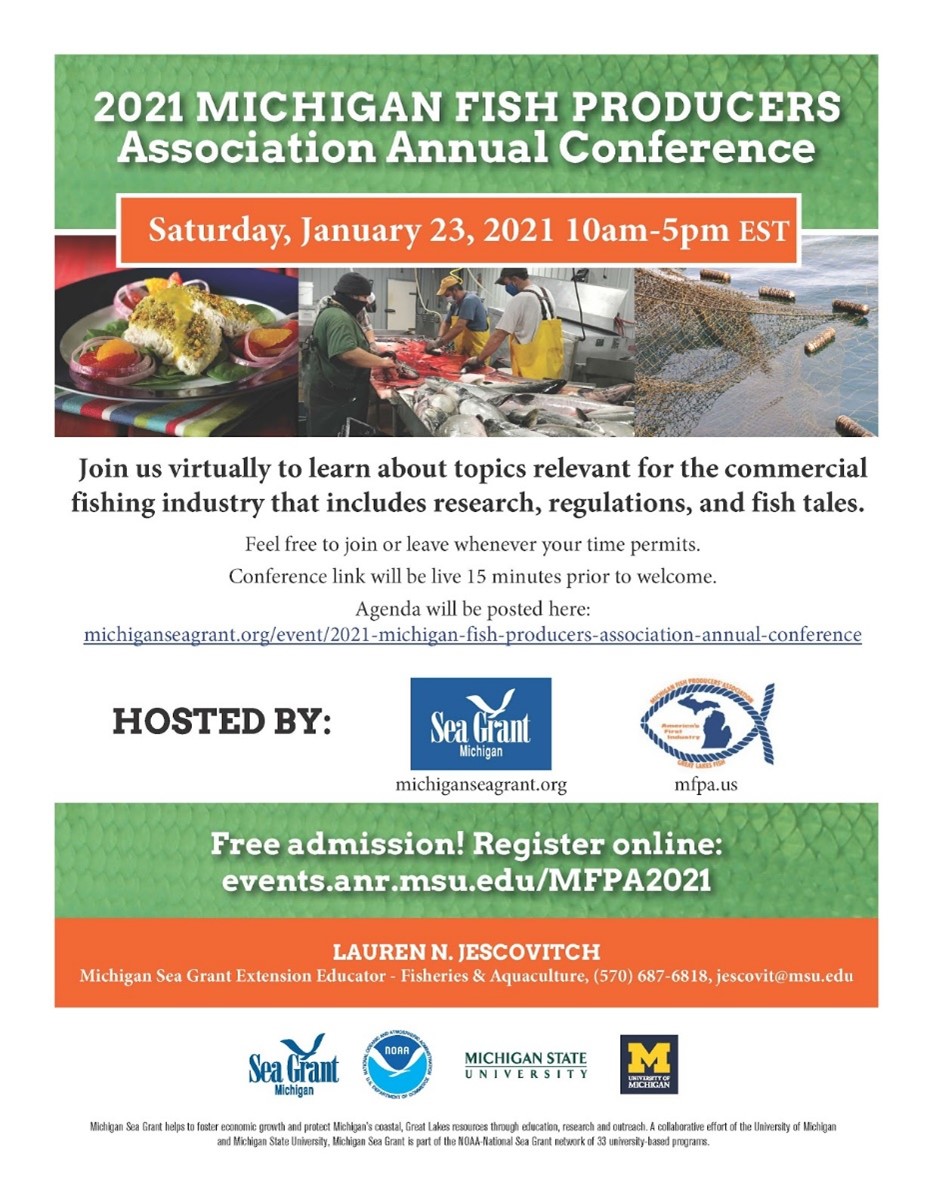 The 2021 MFPA annual conference will be held virtually this year due to COVID-19. Michigan State University Extension and Michigan Sea Grant will facilitate the educational program at this conference and will be live from 10am-5pm ET on Saturday, Jan. 23, 2021. Registration is required, but the event is free to attend. Sessions include research, regulations, fish tales from commercial fishermen, and networking opportunities. This program will offer educational opportunities for those all interested in commercial fishing in Michigan.
Michigan Sea Grant helps to foster economic growth and protect Michigan's coastal, Great Lakes resources through education, research, and outreach. A collaborative effort of the University of Michigan and Michigan State University and its MSU Extension, Michigan Sea Grant is part of the NOAA-National Sea Grant network of 34 university-based programs.
This article was prepared by Extension educator Dr. Lauren N. Jescovitch under award NA180AR170102 from the National Oceanic and Atmospheric Administration, U.S. Department of Commerce through the Regents of the University of Michigan. The statements, findings, conclusions, and recommendations are those of the author(s) and do not necessarily reflect the views of the National Oceanic and Atmospheric Administration, the Department of Commerce, or the Regents of the University of Michigan.
This article was updated Jan. 21, 2021, to clarify the years that historical legislative work took place and how recent legislative actions developed. We also removed references to the numbers of historical fishing license.