Mass Timber Increasingly a Focus of Berghorn Research Group
Read about student research on mass timber in a variety of different disciplines.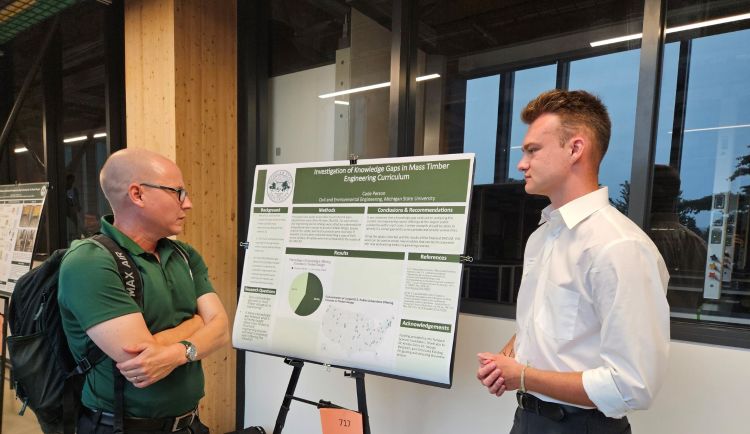 As mass timber continues to gain market share in the United States and worldwide, students seek opportunities to study it – via a variety of disciplines. As MSU becomes increasingly known for mass timber leadership, students are drawn here to focus on mass timber in the Department of Forestry, the Department of Civil & Environmental Engineering, and in the School of Planning Design and Construction (SPDC). In recent years, Dr. George Berghorn, Assistant Professor of Construction Management at SPDC, and Research Director of MassTimber@MSU, has been supervising an increasing number of mass timber-focused students investigating a variety of topics. Read on to meet Dr. Berghorn's students and learn about their work.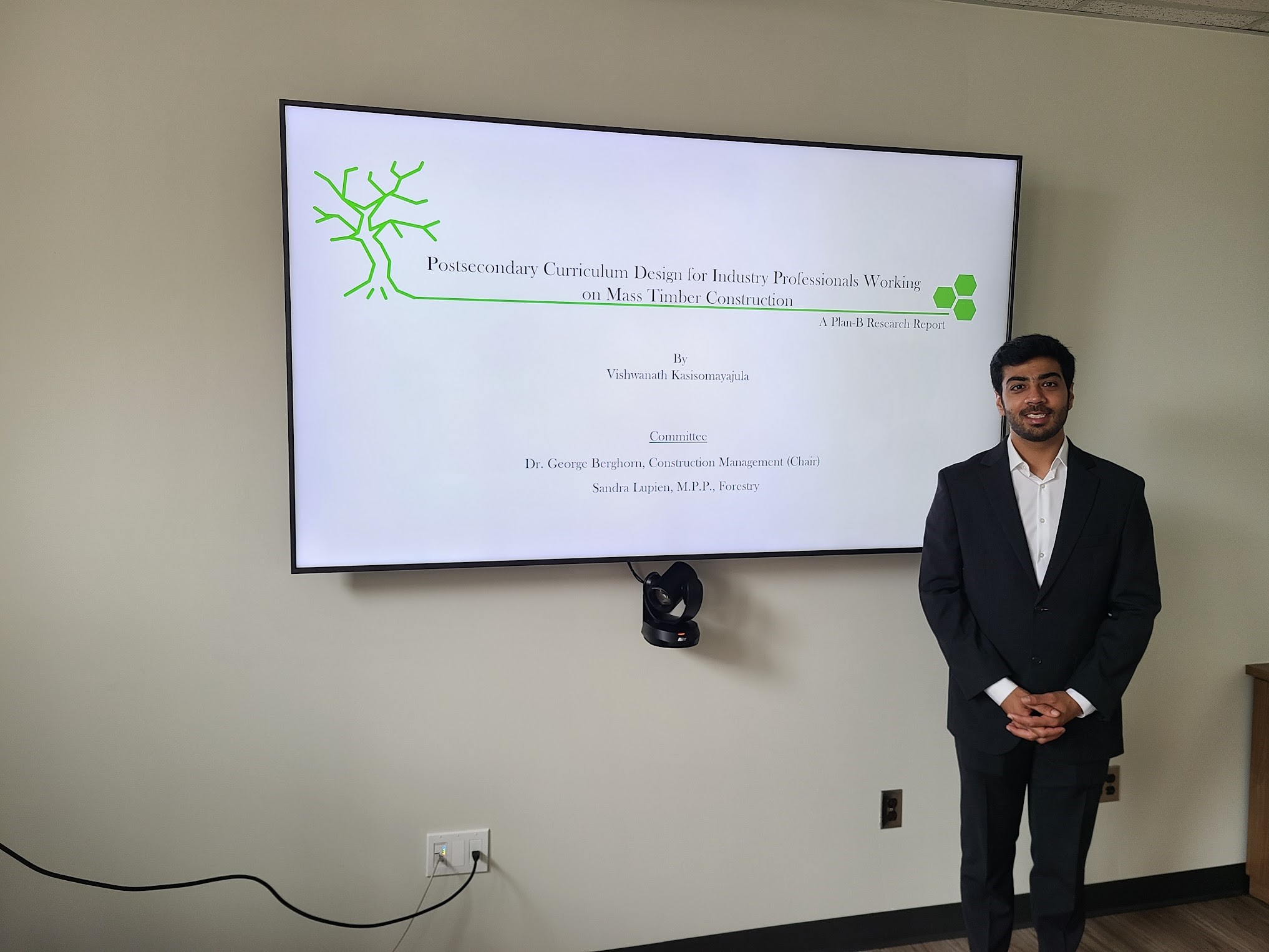 Vish Kasisomayajula (above) successfully defended his Plan B Report on August 11 and received his Master of Science in Construction Management (MSCM). His Plan B topic was, "Postsecondary Curriculum Design for Industry Professionals Working on Mass Timber Construction." Sandra Lupien, Director of MassTimber@MSU served as his external committee member. This is the first graduate research report developed for the NSF-funded project Enhancing Design and Construction Technology Education Through the Context of Mass Timber. Vish is now working as a project engineer for Conti Construction in Lansing and will be working on construction of the General Motors EV battery plant in Lansing.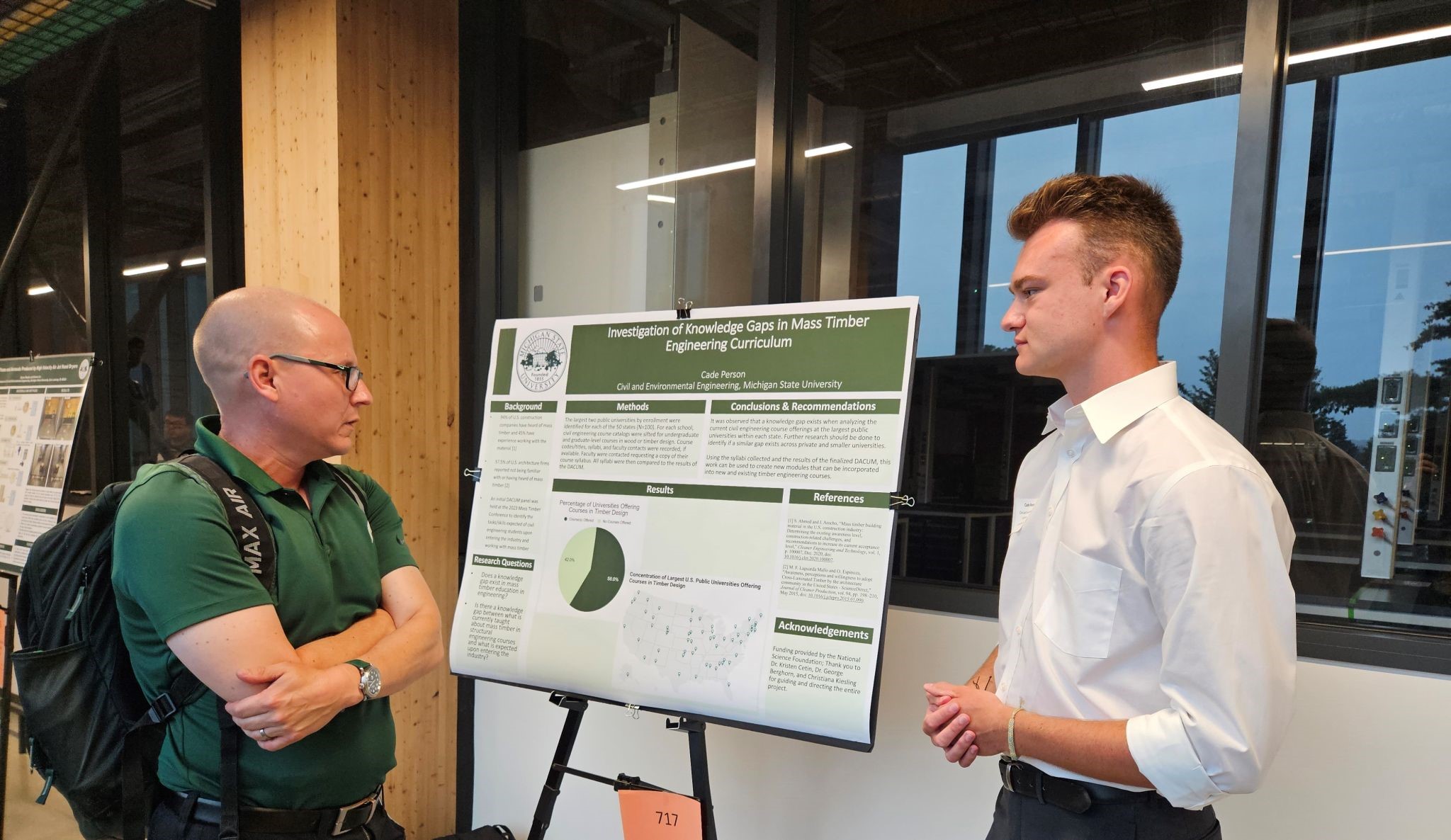 Cade Person (above, Junior in Environmental Engineering), a frequent collaborator with Dr. Berghorn who is supervised by Dr. Kristen Cetin, presented his initial research on the knowledge gaps of mass timber in the current civil engineering curriculum in July.
Christiana Kiesling (MS student in Civil Engineering), also a frequent collaborator with Dr. Berghorn who is supervised by Dr. Cetin, is validating findings from industry panels and moving into pilot mass timber curriculum development for postsecondary programs in architecture, engineering, and construction.
Sam Fitzgerald (4+1 MSCM student) is continuing his thesis work on the development of virtual reality/augmented reality environments for the delivery of mass timber curriculum. Sam is also working as a Virtual Design and Construction Engineer at Granger Construction.
Shreya Garad (MSCM student) is finishing her thesis on scale and impact of change orders in mass timber construction, and will defend later this fall. She is working as a project engineer for AM Higley in Detroit, and will be supporting their efforts on two mass timber building projects in southeastern Michigan.
Hemangi Chavan (MSCM student) is working on a project to understand similarities and differences in attitudes and beliefs toward mass timber among postsecondary students, postsecondary faculty, and industry members in an attempt to better understand how higher education plays a role in shaping knowledge and beliefs about mass timber.
Kaustubh Thakare and Shreya Ghodekar (MSCM students) are beginning data collection for their theses, which seek to establish key performance indicators for the successful integration of modular and mass timber modalities to deliver affordable housing.
Rajashree Jagtap (MSCM student) is beginning work to understand the total cost of ownership of mass timber buildings in an attempt to aid the decision-making of building owners/developers and design and construction teams in delivering more efficient and cost-effective mass timber buildings.
New graduate and undergraduate students will be joining Dr. Berghorn's group this fall, so stay tuned to find out what they will be working on! Plus, keep an eye out for a future article highlighting mass timber-engaged students based in the MSU Department of Forestry.