Michigan Vaccine Project provides vaccine education to rural communities
Michigan State University Extension is committed to helping Michiganders make informed vaccine decisions for themselves and their families.
Rural counties in Michigan have the lowest COVID-19 vaccination rates in the state and have seen a sharp decline in pediatric vaccination rates during the COVID-19 pandemic. These low rates put rural communities at higher risk for disease outbreaks from vaccine preventable diseases, such as the flu, measles and COVID-19. To help rural Michiganders make informed vaccine decisions for themselves and their families, Michigan State University Extension's Michigan Vaccine Project (MVP) is providing vaccine education to rural adults and youth across the state. The work of MVP is supported by a 7 million dollar grant from the Michigan Department of Health and Human Services and the Centers for Disease Control and Prevention.
The MVP team consists of three principal investigators, 4 supervising educators, 11 program instructors and 3 support staff. The MVP program instructors are divided into two groups, one focused on rural adults and the other focused on rural youth. Both groups leverage MSU Extensions connections to rural communities to provide stakeholders with helpful resources on vaccination.
Community Partnership and Outreach
MVP program instructors can be found participating in public gatherings throughout the state, including tabling at farmers markets, community health fairs, and school events. Program instructors share resources, answer questions, and engage youth with educational activities and games.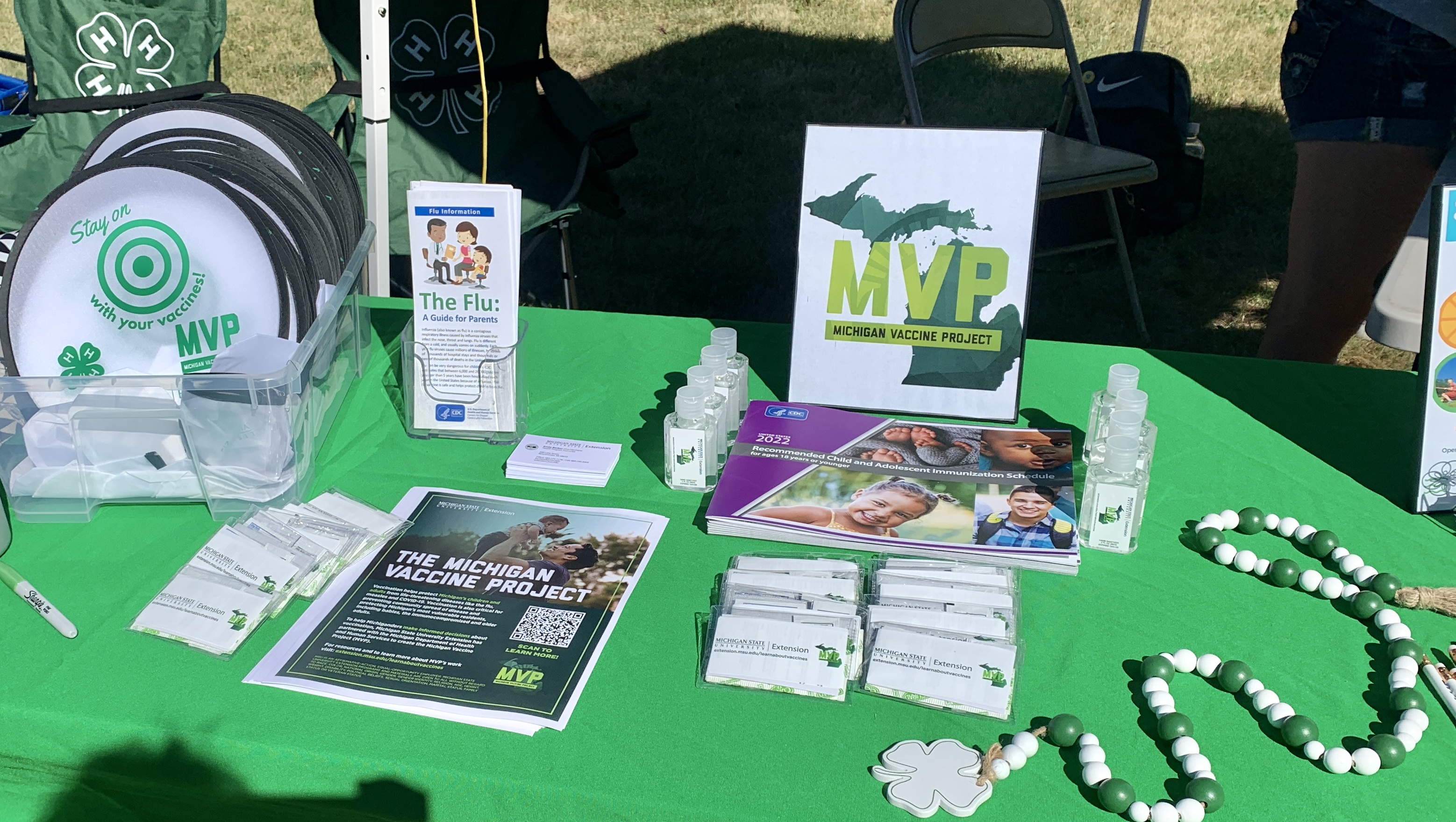 MVP program instructors have also begun providing educational presentations on vaccine safety and efficacy in collaboration with local community partners.
MVP is also implementing StoryWalks © across the state, which allow children, parents, and caregivers the opportunity to read stories about vaccination in public spaces, such as parks and school grounds.
4-H Community Health Youth Ambassador Program
MVP is leveraging MSU Extension's existing expertise in 4-H and youth development to launch a community health ambassador program. The program seeks to recruit 14-28 youth ages 12 to 19 to be educated and trained in the science and communication of vaccine education related to COVID-19 vaccination and other childhood immunizations. Program participants will have the opportunity to develop their own public health outreach campaign that will be distributed through partnership with Detroit Public Television.
Educational Webinars
MVP has launched an educational webinar series where community members can ask questions directly to medical experts and professionals about vaccination. Educational webinars occur once a month and have featured nurses and physicians. In August of 2022 the series featured MSU pediatrician Dr. Rebecca Schein and was focused on questions parents and caregivers may have about childhood vaccinations and school vaccine requirements.
Digital Media and Outreach
To engage rural residents at a statewide level MVP uses an online marketing campaign and social media to promote educational messages and vaccine resources. MVP runs educational advertisements on websites and mobile applications, as well as on most major social media channels including TikTok, Instagram, and Facebook.
An Ounce of Prevention Podcast
To leverage the power of storytelling as a public health communications tool, MVP has launched a new monthly podcast series titled "An Ounce of Prevention".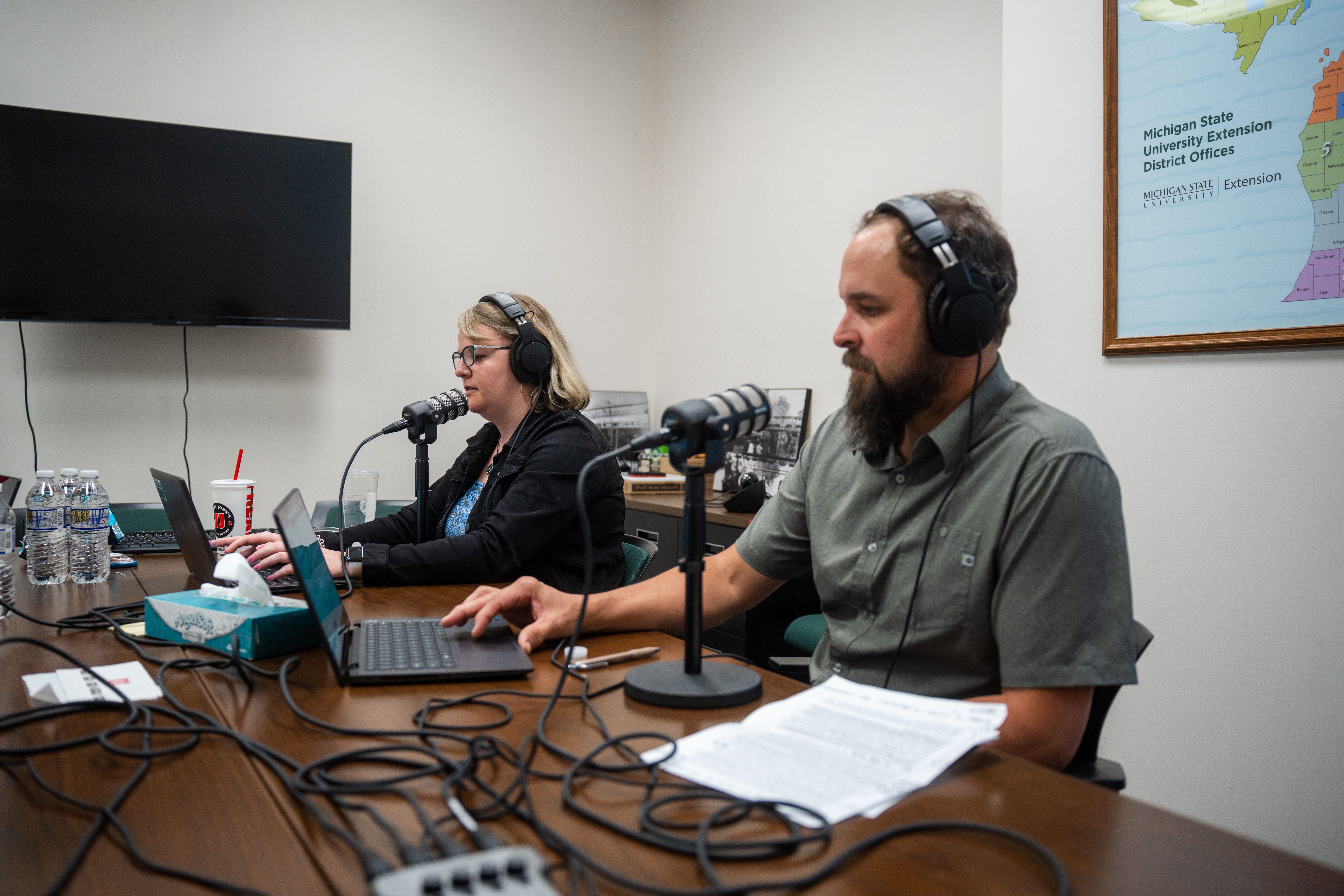 The podcast features stories that communicate experiential knowledge to connect with audiences on a personal and emotional level. The podcast is available on Spotify, Anchor, and Apple Music.
The first episode recounts the experience of MVP team members as they navigate the decision to get the COVID-19 vaccine. The second episode features an interview with pharmacist Arun Tandon in Kalamazoo County.