Michigan 4-H receives special gift of artwork from China
Michigan 4-H received a special gift from China in celebration of their 25 years of partnership with the Michigan 4-H China Art Exchange.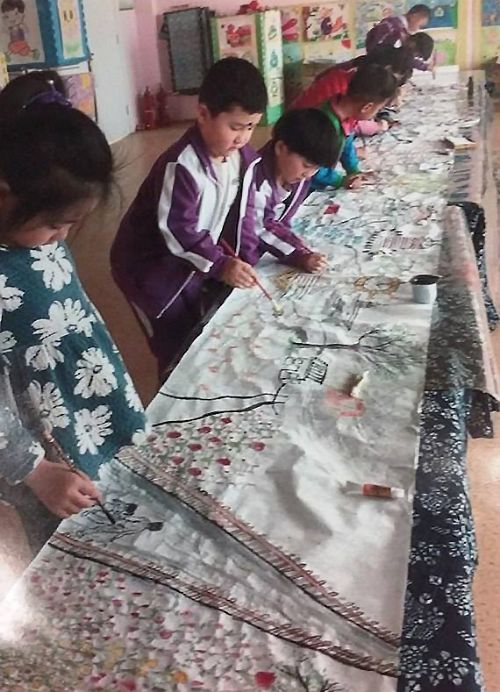 Michigan 4-H Children's Art Exchange with China has had a positive impact on youth for over 25 years. In 2017, China sent Michigan 4-H a special gift of artwork celebrating the partnership. The artwork included a 22-foot rice paper traditional ink brush painting as well as 148 "visual letters," or paintings and drawings, of children's artwork from Binzhou City Schools.
Seven of the children from Central Kindergarten of Li-tse Sub-District, Binzhou Eco-Tech Development Zone, made this very special piece titled "Binzhou, What A Beautiful City!" The 16 Michigan counties that participated in the 2017 Michigan 4-H Children's Art Exchange also received artwork as a gift from the children of China. For 2018, the Michigan 4-H Children's Exchange with China had 3,372 total participants with 14 counties participating.
Annually, the Michigan 4-H China Art Project has a positive impact, as shown in the Michigan State University Extension article, "Michigan 4-H China Art Exchange has positive impact in 2016."
The project started in 1988 when the Chengdu Music and Dance Theatre Troupe came to Michigan. They performed classical and folk dances that reached more than 23,000 Michigan children and 4,000 adults. During that year, a participant noted, "Our students heard and saw things they will remember for the rest of their lives."
This project, which was started with support of W.K. Kellogg Foundation, was an interdisciplinary global education initiative with 10 separate programs. Michigan 4-H became one of five U.S. sites to pilot a teacher in the residence program, "The Wuhan Province Teacher Exchange," which had an emphasis on integrating the study of China into existing curriculum.
"A Child's Life in China" had Chinese graduate students speaking to classrooms, assemblies and community groups across Michigan with over 760 presentations. Approximately 5,000 Michigan children used rice paper, bamboo brushes and ink in the "Chinese Traditional Brush Painting Program." More than 100 classes were taught by Yu-Ping Yung, a Chinese-American born in Taiwan.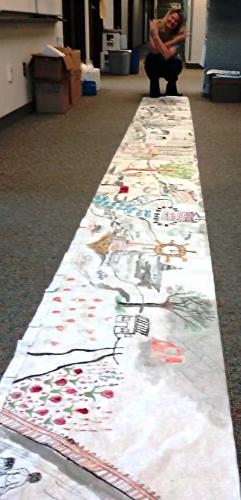 Additional 4-H China Art Project activities provided over the years:
Discover China – Pre- and post-Chengdu Music and Dance Theatre performance curriculum
The Children of Chengdu – Traveling photo exhibit
Discover the Children of China – Curriculum to enhance the other activities
Discover Chinese Dance Suitcase
Still provided today:
Chinese Children's Ribbon Dance Kits
Children's Art Exchange with China
The Michigan 4-H Children's Art Exchange with China continues to be an important program in many counties were the "visual letters" are created by youth to hopefully be selected to send to China. Some counties just like to do the hands-on program year-round, providing global knowledge and awareness, art science and other life skills. The children communicate with brushes, markers, crayons and pens about what's important in their lives.
A special piece of artwork is being created this fall to send to China at the 2019 Michigan 4-H Creative Arts Celebration Oct. 19-20, 2019. If you are interested in being involved in the workshop (formerly the 4-H Visual Arts, Crafts, Sewing and Textile Workshop), watch for when registration opens to celebrate creativity at the beautiful Kettunen Center in Tustin, Michigan. Registration will be open to youth and 4-H members ages 12-19 (as of Jan. 1) and volunteers interested in the creative arts.
Michigan State University Extension and the Michigan 4-H Youth Development program help to prepare youth as positive and engaged leaders and global citizens by providing educational experiences and resources for youth interested in developing knowledge and skills in these areas.
Other global educational opportunities including the Michigan 4-H China Art Project can be found on MSU Extension's Global and Cultural Education webpage. For more information about 4-H learning opportunities and other 4-H programs, contact your local MSU Extension office. Visit the Michigan 4-H International Exchange Programs for information on hosting exchange students or traveling.