Michigan brown marmorated stink bug report for Aug. 19, 2016
Fruit and vegetable growers in the southern Lower Peninsula should be scouting for brown marmorated stink bugs this season.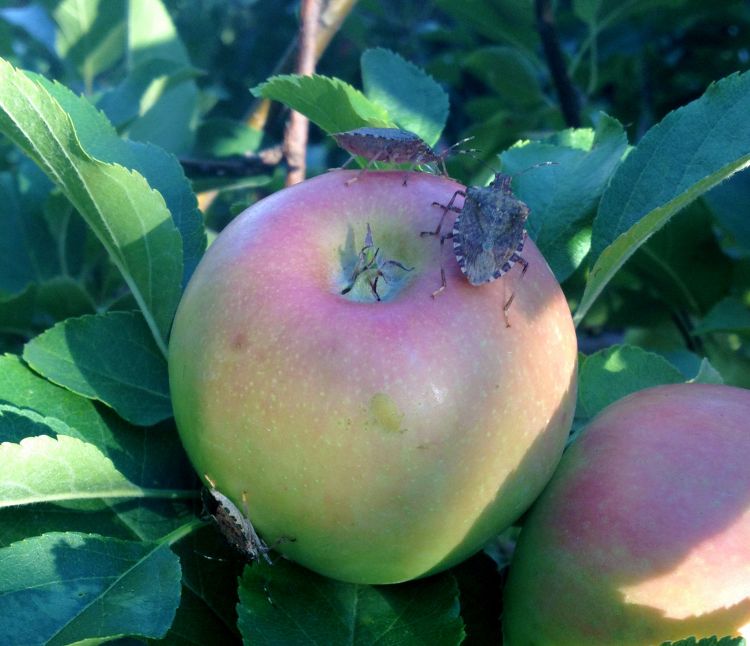 This is the fourth weekly report of the Michigan State University Extension brown marmorated stink bug monitoring network. Traps were checked at more than 80 sites for brown marmorated stink bug nymphs and adults using pyramid or Rescue style traps baited with commercial lures. We have now caught a total of 46 brown marmorated stink bugs in traps this season. This week, 14 brown marmorated stink bug nymphs and one adult were captured from traps at four sites: a vineyard, a peach orchard and an apple orchard in Berrien County, and an apple orchard in Kent County. Based on a phenological model of brown marmorated stink bug development, we are just at the beginning of the transition from fifth instar nymphs into the adults that will seek shelter and overwinter.
The following table is an estimate of life stages expected at different points during the season based on using a 13.5 hour day as the biofix for brown marmorated stink bugs emerging from overwintering, 75 degree-days (DD base 14 C) until egglaying begins, and then another 538 DD (base 14 C) for those eggs to develop into adults.
Estimated brown marmorated stink bug life stages throughout the season

Life stage

Break diapause

Egglaying begins

Various nymph stages present

When summer generation adults start to be expected

Environmental cue

13.5 hr day

75 DD* (base 14 °C)

613 DD* (base 14 °C)

Benton Harbor (SWMREC)

27-Apr

27-May

28-Jul

Romeo

26-Apr

27-May

3-Aug

Fennville (TNRC)

26-Apr

27-May

7-Aug

Sparta

25-Apr

27-May

13-Aug

Hart (Asp. Res. Farm)

25-Apr

28-May

13-Aug

Traverse City (NWMHRC)

23-Apr

29-May

13-Aug
*Degree days were calculated by selecting individual Enviro-weather stations and creating custom reports using the Baskerville-Emin method starting with the date when day length reaches 13.5 hours in a given area.
Based on this model, it would appear that egglaying by the adults that emerged from overwintering began at the end of May, and that over the past two weeks we can expect the fifth instar nymphs have started molting into adults and will continue to do so until all the nymphs have become adults and seek shelter for the winter. All life stages except for the eggs are capable of causing crop damage when they feed on fruit.
We have been encouraging growers in the southern part of the Lower Peninsula to scout for brown marmorated stink bugs – if they haven't in the past – based on where we know it to be well-established as a nuisance pest in homes (see the map from last week's report). Traps are easy to deploy and check, but the area of influence for a single baited trap appears to be relatively small, so it is important to place them near the crop and to combine trapping with other sampling methods such as limb-jarring of fruit trees or sweep-netting in orchard edges close to woodlots or riparian areas. Visual inspection of orchard edges for the presence of fruit injury, or for the insects themselves, is recommended, especially in Berrien, Kent and Genesee counties where several commercial apple and peach orchards reported suspected damage by brown marmorated stink bugs last season and where nuisance reports have been high.
Damage to fruit from brown marmorated stink bug feeding can be confused with several disease or nutrient deficiencies, depending on the particular fruit that is affected, so it is important to involve your local MSU Extension fruit educator to help determine what caused the damage or send samples to MSU Diagnostic Services.
Counties being monitored for brown marmorated stink bug in 2016 are: Allegan, Antrim, Benzie, Berrien, Genesee, Grand Traverse, Ingham, Ionia, Kent, Lapeer, Leelanau, Lenawee, Livingston, Macomb, Monroe, Oakland, Oceana, Ottawa and Van Buren. Traps are set up near apples, stone fruits (peach, plum, sweet and tart cherries), blueberries, grapes, strawberries, a variety of vegetable crops and at several urban locations considered to be hotspots.
For more information about management strategies in fruit should populations reach levels that would require control, please refer to MSU Extension Bulletin E0154, "2016 Michigan Fruit Management Guide." To learn more about how to monitor for brown marmorated stink bugs, distinguish it from other similar-looking stink bugs and what plants it favors, visit MSU's Brown Marmorated Stink Bug website.