Michigan brown marmorated stink bug report for Sept. 6, 2017
Fruit and vegetable growers across the southern Lower Peninsula should be scouting and, in some cases, actively managing for brown marmorated stink bug this season.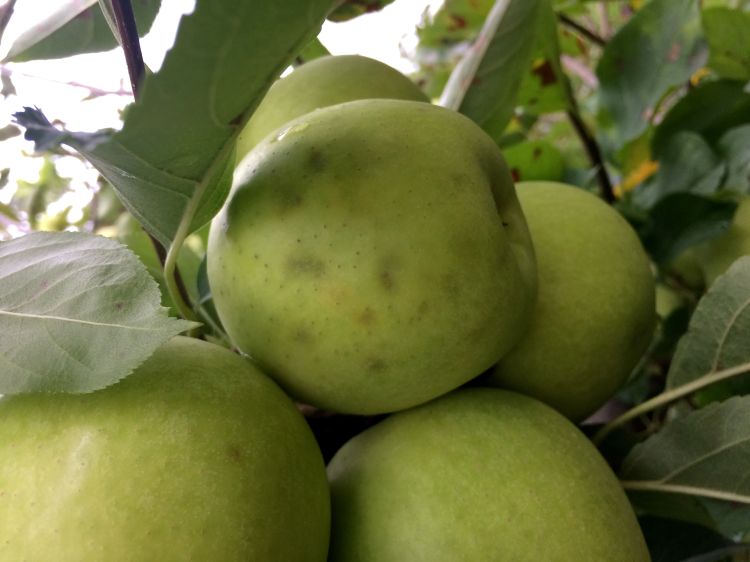 This is the second report of the Michigan State University Extension brown marmorated stink bug (BMSB) monitoring network for the 2017 growing season. Between mid-May and the end of August, we have captured 781 brown marmorated stink bugs in traps, of which 319 are nymphs, across the entire network. The majority of these stink bugs have been captured in traps in orchards and vineyards in the southwest part of Michigan. While adults have been captured in traps since May, nymphs started being caught in low numbers in mid-July, began to increase in number in mid-August, and are now more abundant than adults in traps. See the graph below of southwest Michigan sites, where brown marmorated stink bugs continues to be abundant. Both nymphs and adults can injure crops when they feed on fruit, pods, nuts or seeds.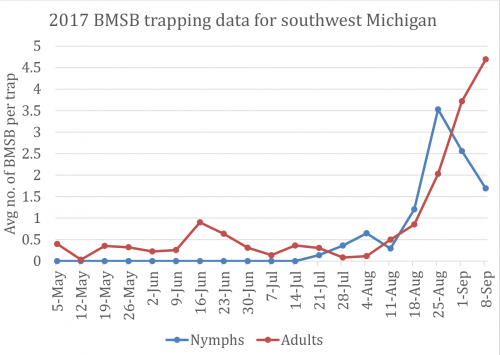 This graph shows the number of brown marmorated stink bug nymphs (blue line) and adults (red line) captured on average each week at 30 sites being monitored in southwest Michigan, where populations continue to be the highest in the state.
With soybeans starting to dry down, nearby fruit and vegetable growers should expect to see more brown marmorated stink bugs in their orchards, vineyards, and plantings – and potentially more fruit damage. It is important for growers of vulnerable crops to be monitoring for this pest themselves since local populations can still be highly variable and especially in blocks where there was suspected crop injury in 2016. For more on what crops will be vulnerable to stink bug feeding damage, see the last report (Aug. 1) in which we discussed host preferences.
Monitoring for brown marmorated stink bugs
In the previous report, we described how best to use traps and lures, and that currently available trap and lure combinations can help with monitoring populations season-long in areas where brown marmorated stink bugs are already well established. Otherwise, in areas with low populations, which is in most of Michigan, traps will work best through September and early October when the stink bugs are naturally inclined to aggregate and will be on the move to overwintering sites.
With brown marmorated stink bug populations still relatively low in most fruit and vegetable plantings, it is important to conduct visual inspections of field or orchard edges for the presence of crop injury (see photo for an apple example), or for the insects themselves. In tree crops like apples and peaches, limb-jarring upper branches over a white sheet can help determine if this or other stink bugs are present.
About the 2017 MSU Extension Monitoring Network
Monitoring began in mid-May at some sites where brown marmorated stink bugs have been well established and is on-going at more than 80 sites. Monitoring is being done with traps baited with a commercial lure near apple, stone fruits (peach, plum, sweet and tart cherry), blueberry, grape, strawberry, a variety of vegetable crops and at several urban locations considered to be hotspots and in in all of the major specialty crop producing regions in Michigan (see table below).
Region in Michigan's Lower Peninsula

Counties

Crops monitored in 2017

Northwest

Antrim

Benzie

Grand Traverse

Leelanau

Apple, cherry (sweet and tart), grape (wine and juice)

West Central

Mason

Oceana

Apple, peach, pepper

Fruit Ridge

Ionia

Kent

Montcalm

Muskegon

Ottawa

Apple, blueberry, cherry (sweet), grape

Southwest

Allegan

Berrien

Ottawa

St. Joseph

Van Buren

Apple, blueberry, cherry (sweet and tart), grape, peach, plum, pumpkin, strawberry, raspberry

Southeast

Genesee

Ingham

Lapeer

Lenawee

Livingston

Macomb

Monroe

Saginaw

Washtenaw

Apple, cherry (sweet), grape, peach, pepper, soybean, tomatoes
For more information about management strategies in fruit:
For more information about management in vegetable crops: