Michigan youth tackle food security at World Food Prize Michigan Youth Institute
Six Michigan youth will travel to Des Moines, Iowa, in October to attend the World Food Prize (WFP) Global Youth Institute.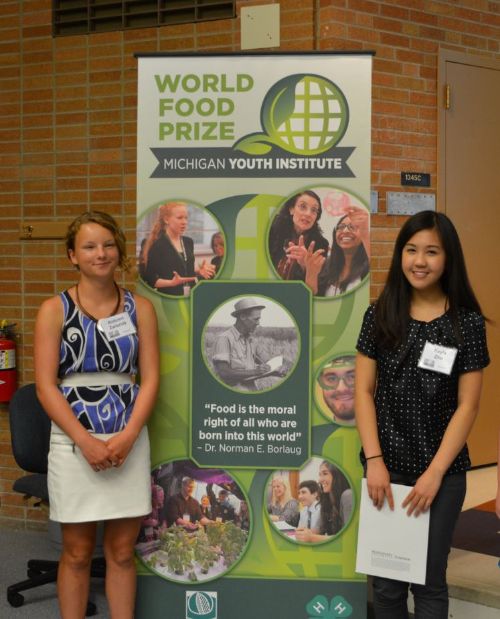 Six Michigan youth will travel to Des Moines, Iowa, in October to discuss a matter of critical importance: food security. The youth will join international and student leaders from across the globe at the World Food Prize (WFP) Global Youth Institute (GYI) to build dialogue around poverty, hunger and food access.
The 2015 WFP GYI Michigan delegates are Emily Kurburski of Emmet County; Raegan Gembarski, Huron County; Kayla Zhu, Oakland County; Autumn Zwiernik, Shiawassee County; Madeline Meyer, Ionia County; and Francine Barchett, Berrien County. Along with their mentors, they will spend October 15-17 at the WFP GYI with 200 other remarkable high school students from across the country who are committed to addressing international food security issues. At the event, youth will interact with global leaders, discuss important food security issues and tour cutting-edge research facilities.
"It is so important that young people realize what a huge role food security has on our planet," said Kelly Millenbah, associate dean and director of academic and student affairs in the Michigan State University (MSU) College of Agriculture and Natural Resources (CANR). "The WFP will give these students an opportunity to learn more about this important area and become even better advocates for food security issues."
The WFP was founded by Norman Borlaug in 1986 as a way to reward phenomenal work being done in global food security and food access. Shortly after, Borlaug also established the GYI to recognize the importance of including young people in conversations and efforts around these important topics. Each year, seats to the GYI are allotted to youth from states that hold WFP programming. The Michigan youth attending the 2015 event were selected after the first WFP Michigan Youth Institute (MIYI) was held at MSU Aug. 10.
"As the world population continues to grow, global food security becomes increasingly important, and many youth are passionate about this issue," said Makena Schultz, leadership and civic engagement educator for Michigan State University Extension and coordinator of the WFP MIYI. "We decided to host an independent WFP Michigan event this year to bring youth together to share their ideas, identify solutions and compete for an opportunity to attend the WFP GYI."
Hosted by MSU, the 2015 WFP MIYI was sponsored by MSU Extension, Michigan 4-H, the CANR and Michigan FFA. Targeted at young people in grades 8-12, the event was attended by 12 youth participants and their seven adult mentors. To attend, youth were required to select a developing country and research that country's food system and food access challenges on the basis of a particular factor, such as gender and equality, transportation and water quality. The resulting five-page research papers outlined the unique challenges faced by each chosen country and offered approaches and ideas for overcoming those challenges.
Once at the event, youth presented their papers to the other young people in attendance through a series of roundtable discussions facilitated and scored by MSU faculty members, community experts and Michigan 4-H youth development professionals. In addition, youth heard from Libby Cummings, WFP national education director, and 2007 WFP laureate Phillip Nelson. Following remarks from the keynote speakers, youth also had the opportunity to tour various MSU facilities to learn about the ways that MSU is working to address global food security through food systems. Campus experiences included the Plant, Soil and Microbial Sciences bean genetics laboratory, the Student Organic Farm, the Anaerobic Digester and the Dairy Plant.
The day ended with a panel of MSU faculty members discussing their diverse perspectives on global food security topics, further illustrating to youth that the key to addressing this pressing issue is bringing together varying areas of expertise to create the best possible solution. After youth returned home, roundtable facilitators discussed youth papers and presentations to select Michigan's representatives to the 2015 GYI.
"We are thrilled to have had such a successful first year of the WFP MIYI," said Brian Wibby, co-coordinator for the event and leadership and civic engagement educator for MSU Extension. "All of the papers and presentations were wonderful, which made the judges' decision really hard. Michigan will have an outstanding representation at the WFP with the six remarkable delegates we've selected."
For more information about the WFP MIYI, visit http://4h.msue.msu.edu/events/wfpmiyi.