MSU alum shares what it means to be a Spartan
Animal science and vet medicine alum Bethany Myers recalls how student research and scholarship support enabled her to achieve academic and professional success.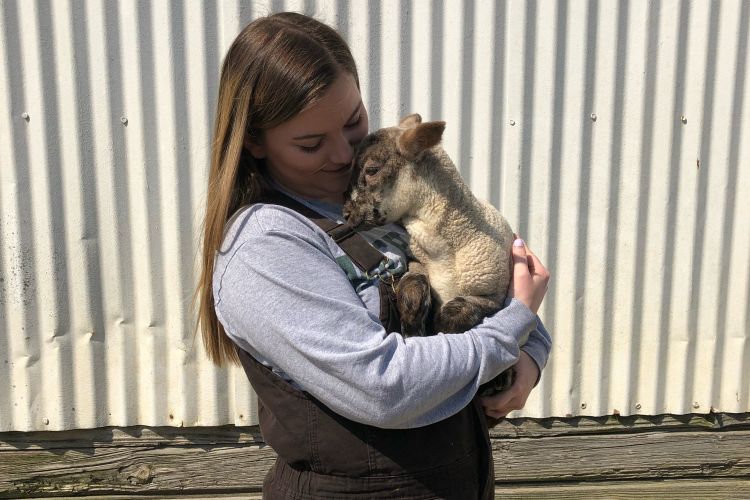 Coming from a small town to Michigan State University (MSU) seemed intimidating at first, but Bethany Myers said being involved in student clubs made campus feel smaller and more like home.
Myers also made a point to connect with her professors and peers. She said the Spartan community continues to support her personally and in her veterinary medicine career.
"The friends, colleagues and network of professionals I gained in my time at MSU will last forever," she said. "Spartans will always bleed green, and will always be there for fellow Spartans."
In 2016, Myers graduated with a bachelor's degree in animal science from the College of Agriculture and Natural Resources (CANR). She earned her doctoral degree from the College of Veterinary Medicine in May 2020, and now works at Concord Veterinary Clinic in Concord, Michigan, near her hometown of Montgomery.
"The thing about veterinary medicine that personally keeps me engaged is the clients. I love having good clients come through the door, appreciate me, and leave with gratitude for what I was able to do," she said. "There are also bad days and tough cases. As a vet, being able to help educate clients about their pets or livestock, specifically in the area I grew up, is always a reason to come back the next day."
Research opportunities
Research activities were an important part of Myer's education. Before college, Myers worked on a six-week project studying heartworm infestation of coyotes and the potential impact on domestic canines. This project was through her FFA chapter at the Branch Area Career Center in Coldwater, Michigan. Her work was recognized at various FFA and agri-science fairs.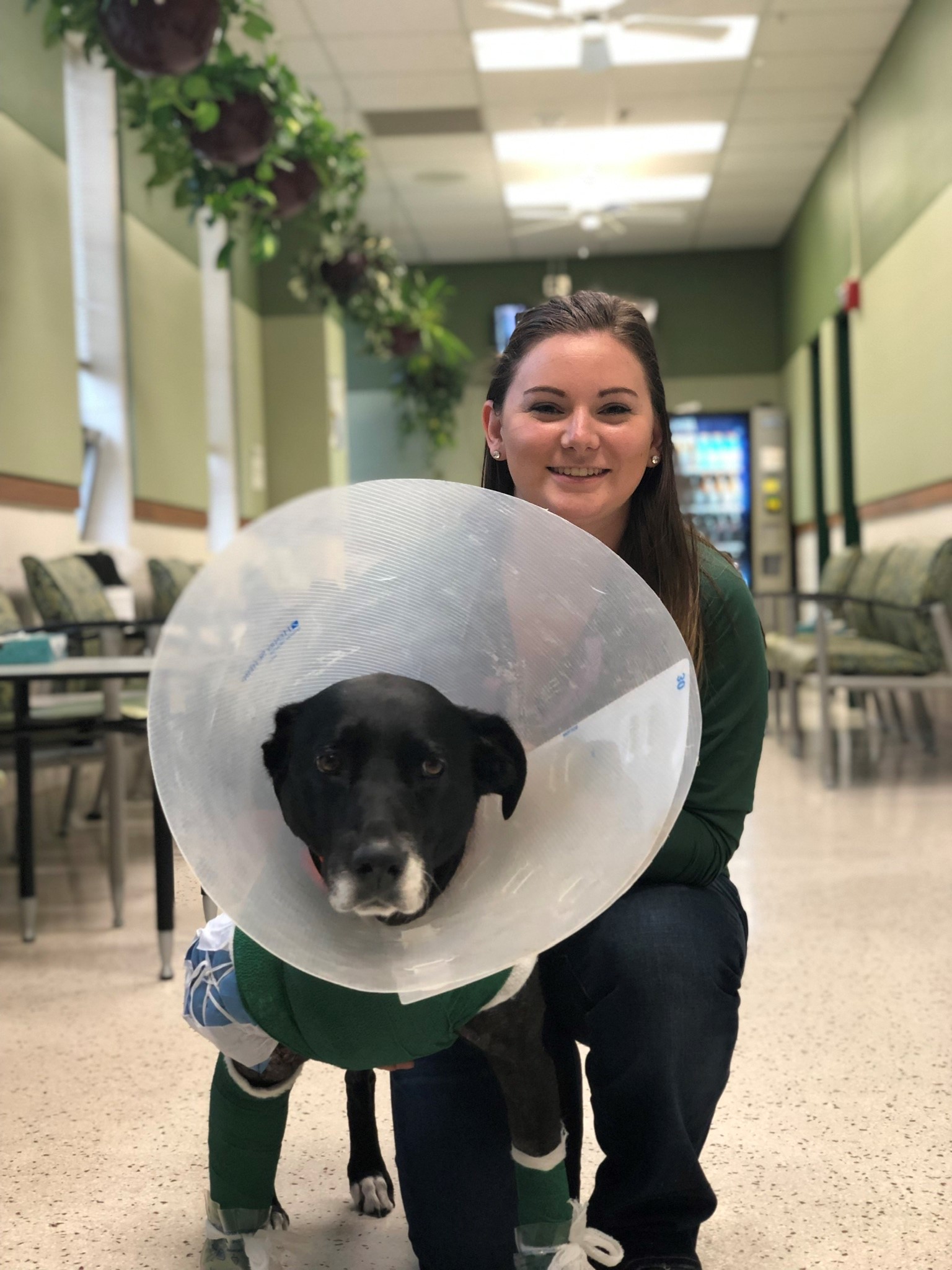 "In college, I took my local research to a statewide level, worked with various labs on campus, including the Veterinary Diagnostic Laboratory [then the Diagnostic Center for Population and Animal Health] and even collaborated with a professor from Princeton University who was interested in my samples for research she was completing," Myers said.
Myers used the heartworm research, started in high school, and her experiences at MSU to then present her research statewide and nationally, as well as publish a study while still a student.
"In vet school, I was able to present that research in 2019 at the American Heartworm Society's triennial meeting in New Orleans for hundreds of veterinarians, researchers and pharmaceutical companies," she said. "It was an opportunity to broaden my experiences."
Scholarship support
Myers said pursuing scholarships and financial support in her local community around Montgomery, Michigan, helped defray the costs of her education leaving her with less debt after graduation.
"The scholarships I received played a huge role in my education. I was able to take out fewer student loans, allowing me to leave a Big Ten education with far less debt than anticipated," she said. "Not only was I able to get scholarships through the university and the clubs I was actively involved with, but I was also able to receive the financial and personal support of donors from my home area."
Between 2012-2019, Myers was awarded a total of $50,250 in scholarships administered through the CANR. Of those gifts, $27,500 came from the Smith River Farms Memorial Scholarship Endowment. This fund was established by the late Ruth Smith-Eppelheimer, of Montgomery, as a memorial to her husband, Branch County cattle farmer Robert Smith, and her sons, Douglas and Dean.
"With the Smith River Farms scholarship specifically, I was able to create a personal and professional relationship with the donor's family who truly cared about my successes and the progression towards my career," she said. "To this day, as a veterinary graduate, I still keep in touch with the family who provided my local scholarship!"
---
Name: Bethany Myers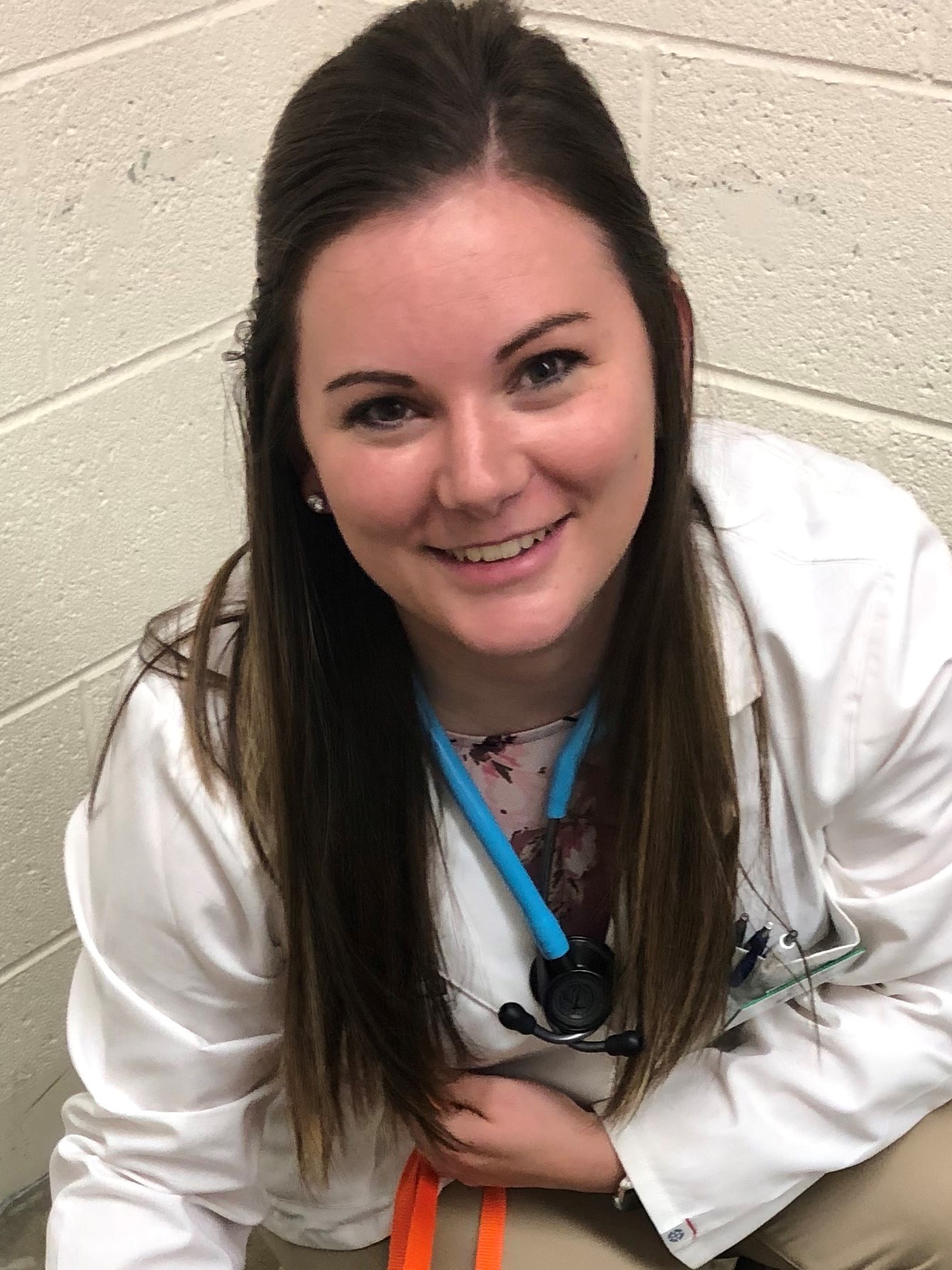 Hometown: Montgomery, Michigan
Degrees: Bachelor's degree in animal science (2016); doctoral degree in veterinary medicine (2020); both at Michigan State University
Why did you choose to study animal science and why at MSU?
I studied animal science because it provided a pathway into veterinary medicine. Majoring in animal science allowed me to keep my career options open and my experiences broad. As a Michigan resident, I felt Michigan State was the best option for an agricultural/livestock-related degree.
What were your undergraduate student experiences like?
In undergrad, I was involved in various clubs and activities, including Block and Bridle and Collegiate Livestock Judging, and I took several extracurricular courses for experience, or just to explore potential interests. I had been a part of livestock judging in 4-H and FFA, so I took a meat judging class to explore the option of joining the team.
For fun, I took a scuba diving course my senior year, since I had most of my classes completed and needed credits. Scuba was a little outside my comfort zone, but definitely worth it!
What were your experiences in the College of Veterinary Medicine like?
In vet school, there are still numerous clubs to be a part of, and there are benefits to being in certain clubs, such as the Michigan Veterinary Medical Association or the student chapter of the American Veterinary Medical Association. There are conferences all over the country [pre-COVID] for specific interests such as surgery, swine medicine, etc.
Although I studied hard in undergrad and earned good grades, I had to relearn how I learned best all over again in vet school. Many weeks there were multiple exams, not just during the mid-term and finals weeks.
After two and a half years of learning in lectures and taking exams, we transitioned to clinicals where we spent three-week rotations learning the various specialties of vet med with hands-on cases. We worked closely with the clinicians both on and off campus.
About six months before graduation, we took the national board exam for licensure, which is a seven-hour long test on all species and specialties.
What other activities did you participate in as a student that complemented your education?
Throughout my summers in undergrad, I participated in a mission trip to Zimbabwe, and spent time as a research assistant for other ongoing projects in labs around the College of Agriculture and Natural Resources.
My personal research was completed in the Veterinary Diagnostic Laboratory on campus, with Dr. Matthew Zwiernik [now retired Department of Animal Science faculty member]. Throughout my time in undergrad, I was provided the opportunity to help with other studies he had going on. This included a trip to Oregon one summer to survey a naval weapons system facility and how it affected ground squirrels prior to adding more buildings and infrastructure on the base. Another summer, I worked for the same lab looking at the Pine River wildlife in St. Louis, Michigan.
In vet school, I participated in a couple of internships and held summer jobs at vet clinics back home for more experience.
One summer, I had a food animal fellowship internship with the Michigan Milk Producers Association (MMPA). This was really cool because it allowed me to see another side of dairy production, from the actual product, and how MMPA representatives serve their co-op members. I also saw how I, as a veterinarian, can help troubleshoot various issues on a farm, whether related to the herd or the equipment.
Any thoughts or advice for current students?
Don't let the idea of a big school intimidate you. I came from a small town with a small high school, and was worried about the transportation on campus and professors in big lecture halls. I was pleasantly surprised with the professors in my big classes and the level at which they cared for my success, and that I understood the material.
Go to your professors' office hours, reach out when needed, and most will do what they can to help.
What do you like most about the MSU campus?
My favorite parts of the MSU campus are the areas near North Campus where the buildings are older, and there are more areas of green grass and nature. I also enjoy seeing pictures of campus when the Livestock Pavilion was in the middle of campus, or there were cows in front of various lecture halls. You don't see that there today!
Looking back, it was nice to walk to classes and see what was going on around campus, especially if there was a reason to pass The Rock and see what was happening there that day.