MSU assistant professor hosts class inside an immersive 3D VR environment
Linda Nubani, assistant professor of interior design, held a lecture inside an immersive VR environment with her IDES 892: Research Fundamentals in Environment Design students. Virtual Reality was one of the research tactics taught in her course.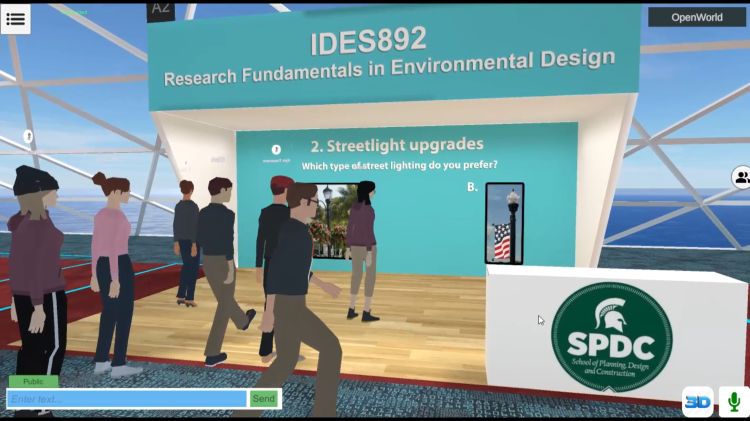 Last fall, Linda Nubani, assistant professor of interior design, held a lecture inside an immersive Virtual Reality (VR) environment. Virtual Reality was one of the research tactics taught in her course IDES 892: Research Fundamentals in Environment Design at Michigan State University (MSU).
NextMeetTM, an immersive three-dimensional (3D) avatar-based collaboration platform, extended an invitation to MSU to be the first to experience VR in an innovative way. As a result, graduate students in the School of Planning, Design and Construction were able to experience first-hand, the strengths and weaknesses of using VR in their own research.
Linda Nubani commented, "This is the first time since the pandemic started that I was able to connect with my students in a way that was similar to an in-person class experience."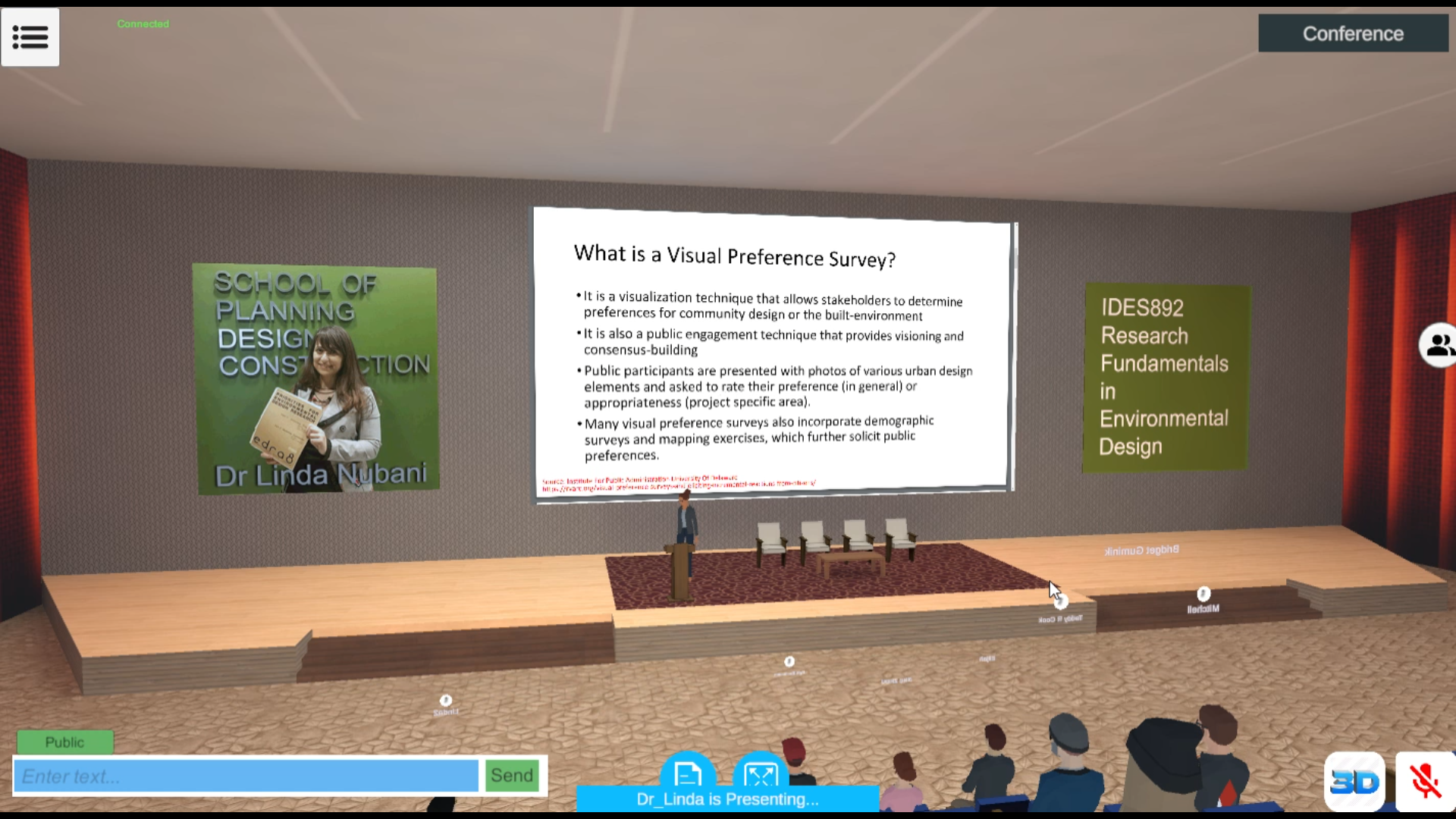 She explained that upon logging in to the system, "We all found ourselves in the same three-dimensional space with our own unique avatars. We were able to shake hands for the first time and walk together to the auditorium."
She asked her students to take their virtual seats, while she loaded her PowerPoint presentation onto the large projection screen behind her. Students were able to raise their hands for questions and participate just like as with in-person classes.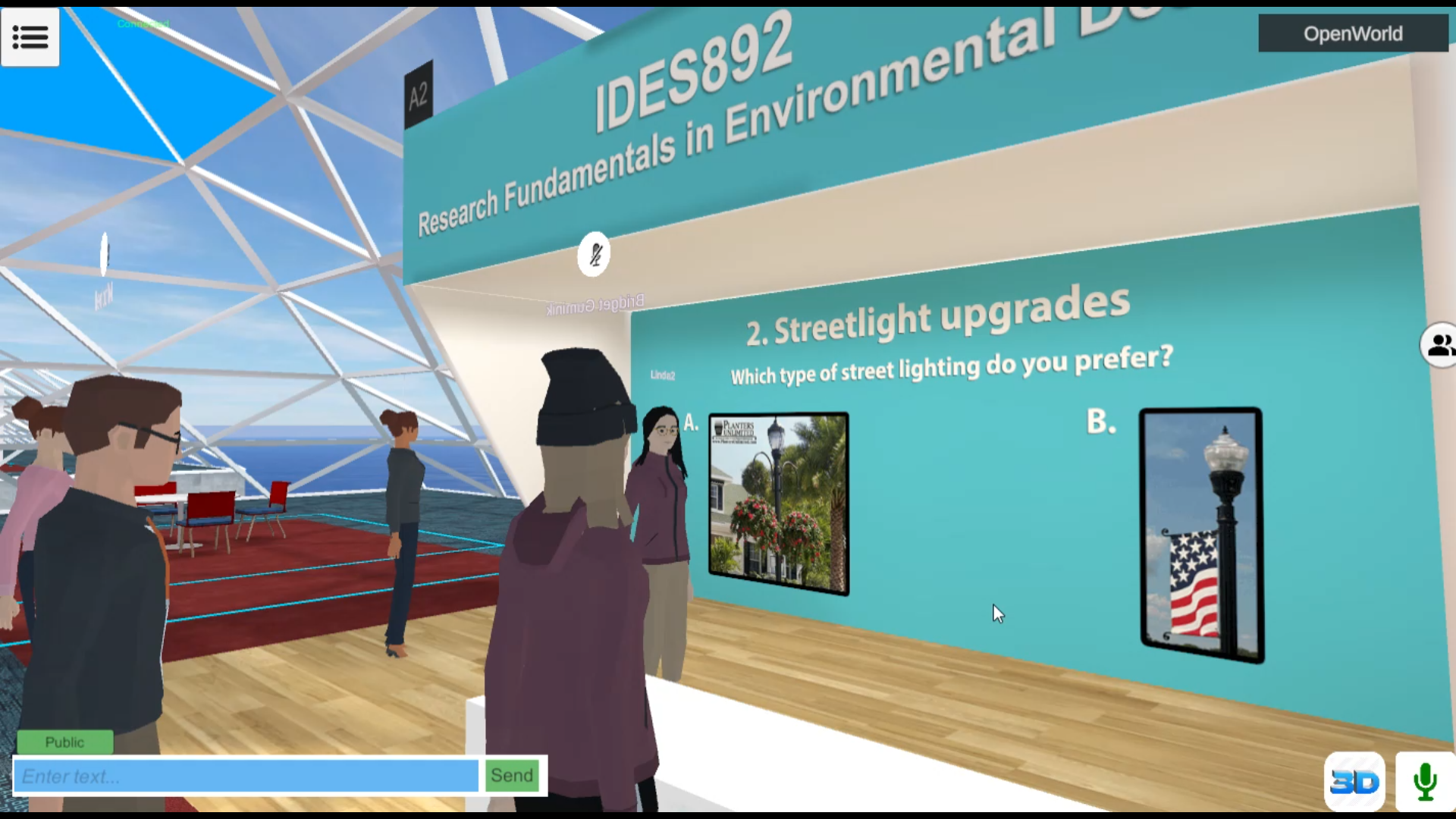 After the lecture in the virtual auditorium, Linda said that she walked with her students to the main hall to gather around eight different visual preference surveys to experience the use of focus groups as another research tactic.
After the conclusion of the VR visit, Linda and her students returned to their regular class zoom session.
The 3D spatial awareness that this space offered was viewed very positively by the students. Many expressed that being in this space felt real to them!
The audio in the virtual space was also three-dimensional. Therefore, Linda said that if a student was standing to her right, then I she would hear their voice coming from her right side and that that increased the level of presence in such an environment.
"Unlike online platforms where I am only able to see a limited thumbnail photo of my students on my screen, I was able to see the entire body of my students inside this VR environment. I was also able to see that they are all active behind their avatars," said Nubani.
One of the graduate students in this course is now considering the use of VR in testing the impact of access to nature on a large campus on students' mental health. Another recent SPDC graduate is currently exploring assessing university classroom physical environments towards executing the Run, Hide, Fight federally approved training using VR.
The educational applications of this type of experience opens the door to possibilities for classroom engagement and research as well as real-world applications in new ways only experienced before in person.
IDES 452 Class to Make Final Presentations inside the 3D VR Environment in April 2021
On April 29, 2021, senior interior design students from IDES 452: Interior Design Synthesis III will present and display their capstone design projects as part of their Senior Showcase inside a custom-made immersive VR environment. The gallery-style virtual space will accommodate separate zones for each student to display their work.
This year, students worked with Brian McGrain, director of economic development & planning at the City of Lansing, Mich., to prepare design proposals for the North Capitol Ramp in the downtown.
Nubani said, "My students and I are excited about the opportunity that VR can offer us as we expect visitors from the different universities and design firms to join us from all parts of the world and interact with us live. They will have the opportunity to interact with our students, view their proposals and ask them questions.
"To congratulate the Class of 2021 on their achievement, we will celebrate them inside an entertainment space where my colleagues and I will make good-bye/good luck speeches to our students as they get ready to embark their careers."
Students are also excited as they will also have the chance to invite their friends and family members to come into the space.
"We will not allow the pandemic to stop us from celebrating our students' successes and we are pleased to see people worldwide celebrate these moments with us," Nubani said.
The live event will take place from 10:30 a.m. to 12:00 p.m. EST to accommodate different time zones. However, the virtual project gallery will remain open for three days for anyone to visit at their convenience. Registration for this free event is available online.