Linda Nubani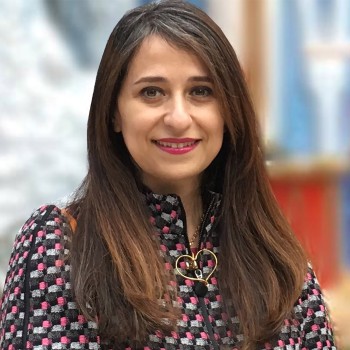 School of Planning, Design and Construction
Assistant Professor, Interior Design; Program Coordinator, Crime Prevention through Environmental Design Program
Telephone: 517-432-2330

Human Ecology Building
552 W. Circle Drive, Room 201B
East Lansing, MI 48824
Area of Expertise:
Research Interests: Environment and behavior; space syntax (spatial analysis)/visual analysis/visibility graph analysis, virtual reality in environment and behavior applications; placemaking and crime prevention through environmental design (CPTED); active shooter prevention; neighborhood design and quality of life; workplace design, museums design and museum visitor studies, and violence prevention in healthcare facilities.
---
Degree:
Masters: Master in architecture from the University of Michigan and the University of Cincinnati.
PhD: PhD in architecture (environment and behavior/criminology) from the University of Michigan.
---
Affiliated Programs/Initiatives/Projects:
Riguardi Travel Fellowship.
Linda Nubani is an assistant professor of interior design in the School of Planning, Design and Construction at Michigan State University. She is also the program coordinator for the Crime Prevention through Environmental Design Program. Nubani holds a PhD in Architecture (with a focus on Criminology) from the University of Michigan at Ann Arbor (2006), and Master's degrees in Architecture from the University of Michigan (2003) and the University of Cincinnati (2001). Prior to joining MSU, she moved to Dubai, UAE, in 2004 to accept a teaching position with the American University in Dubai. In 2004, Nubani co-founded APID, the Association of Professional Interior Designers. The APID is the first professional association of interior design in the Middle East. In 2006, she co-founded the Green Buildings Conference that has become very active in many countries around the Gulf region. In 2008, Nubani co-founded the Italian Architecture Magazine Compasses in Dubai. Also in 2008, she founded an interior design firm and became a certified professional interior designer, and in 2014, she became a certified Civil Defense and Life Safety consultant (following NFPA). Nubani has designed more than 200 projects in the Middle East, France, Spain and the U.S. (Design + Build, Design + Supervision). The highlights of her work include: Designing the largest smoking lounge in the World at Dubai International Airports; completing more than 40 office projects for the private and government sector; renovating homes for celebrities and royal families; and winning the annual light competition for the National Day of the UAE. Nubani is an expert in the use of space syntax, virtual reality and visibility graph analysis in neighborhood applications (e.g., motor vehicle theft, burglaries) and building applications (e.g., active shooter prevention in buildings, museum visitors behavior). She has a strong passion in the topic of crime prevention through environmental design (CPTED). Nubani has been an international speaker on this topic and has been working with various communities in the State of Michigan in conducting CPTED-based workshops to address combatting crime through design strategies. Additionally, she chaired the 50th EDRA (Environmental Design Research Association) conference in New York in May 2019 and has become chair of the board of directors to EDRA in August 2019. Nubani is actively working on two grants in the State of Michigan: "Crime Preventions through Environmental Design of Public Schools" and "Co-Creating Crime Prevention Policies with Communities."