Director of MSU AgBioResearch introduced as incoming agInnovation chair
Research leaders from across the country join in dialogue, exploring innovative ways of safeguarding food security amidst the impacts of climate change.
In his new role as incoming agInnovation chair, George Smith, director of Michigan State University AgBioResearch, welcomed leaders from land-grant universities countrywide to the 2023 agInnovation conference in Grand Rapids, Michigan.
Conversation from the Sept. 24-26 conference focused on addressing the effects of climate change on food security through contemporary solutions founded in strategic partnerships.
Formerly known as the Experiment Station Section of the Association of Public and Land-Grant Universities, agInnovation consists of land-grant colleges and universities from across the country that house State Agricultural Experiment Stations — scientific research centers that investigate potential improvements to food production and agribusiness.
MSU AgBioResearch, founded in 1888 as the Michigan Agricultural Experiment Station, oversees 15 research centers throughout the state, as well as multiple on-campus facilities that contribute to cutting-edge research into food systems and the environment.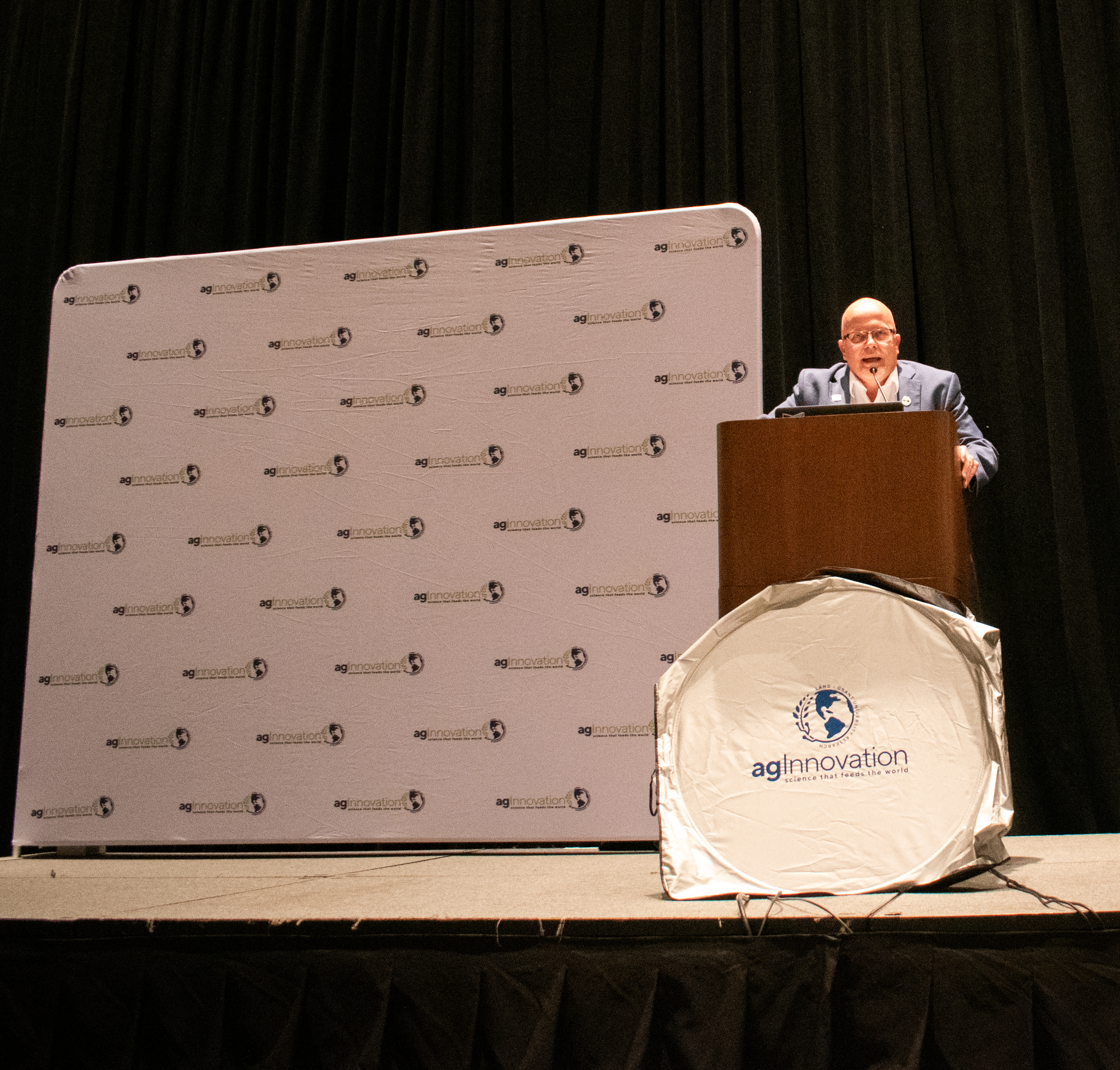 "It's essential to understand and remember the roles agriculture plays within our society — they're countless," George Smith said. "The industry puts food on our tables, provides meaningful jobs for hardworking people and stimulates the economy through trade. It's a facet in almost everything we do.
"However, we're starting to see during this moment in time the unprecedented impacts climate change is having on the industry, and we need to be prepared to pilot solutions against them. That's why it's important for agricultural experts and leaders to join like this, so we can brainstorm and have these discussions."
Those who spoke during the conference included:
Tala Awada, Ph.D., Associate Dean and Director of the University of Nebraska-Lincoln Institute of Agriculture and Natural Resources, Agricultural Research Division.
Tim Boring, Ph.D., Director of the Michigan Department of Agriculture and Rural Development.
Don Bustos, Owner of Santa Cruz Farm and Greenhouses.
Deirdra Chester, Ph.D., Director of the U.S. Department of Agriculture's Office of the Chief Scientist.
Ayodele Daré, Education Program Coordinator at the Michigan State University College of Agriculture and Natural Resources Office of Diversity, Equity and Inclusion.
Kris Johnson, Ph.D., Director of Agriculture at The Nature Conservancy — North America Region.
Katie Naessens, Vice President of Torrey Advisory.
Linda Nubani, Ph.D., Associate Professor and Director of the Michigan State University Interior Design Program.
Ian Olson, MBA, Senior Director of Global Supply Chain Sustainability at McDonald's Corporation.
Linda Richardson Tyndall, Co-owner of Richardson Herbal Farm.
Jason Rowntree, Ph.D., C.S. Mott Professor of Sustainable Agriculture at Michigan State University Department of Animal Science.
Naomi Simmons, Co-owner of Richardson Herbal Farm.
Andrew Smith, Ph.D., Chief Operating Officer of the Rodale Institute.
George Smith, Ph.D., Director of Michigan State University AgBioResearch.
Dionne Toombs, Ph.D., Associate Director for Programs at the U.S. Department of Agriculture's National Institute of Food and Agriculture.
Quentin Tyler, Ph.D., Director of Michigan State University Extension.
Matt Wilson, Ph.D., Professor of Animal Sciences at Michigan State University.
The priorities of agInnovation, which were amplified throughout the conference's panel discussions and business meetings, are to commit to diversity in research and education, secure ample funding for world-class innovation and improve climate intelligence and resilience.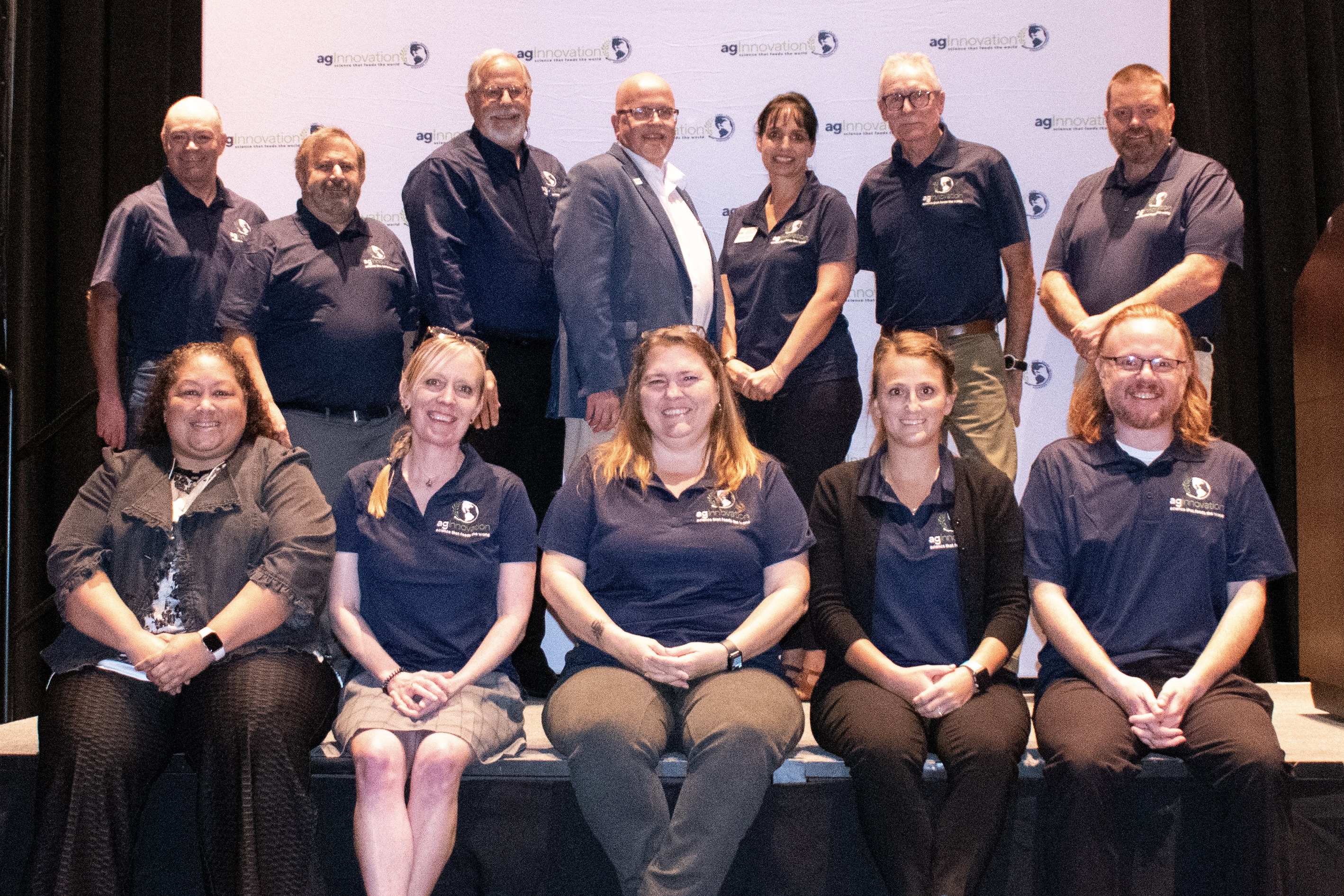 Olson, who gave the conference's keynote presentation, talked about sustainable ways of uniting supply chains that would address environmental issues while allowing farmers to thrive and assuring food supply for buyers.
"Being sustainable means that our systems are resiliently growing for current and future generations," Olson said. "As companies, we need to create transformational models that bridge our public goals and interests with the ways we manage our supply chains. People think these concepts conflict with each other, but there's truly a lot of overlap."
Olson also highlighted the importance of establishing partnerships across industries to ensure food security amidst climate change — a theme that was explored further during the first panel.
"A real benefit of the conference was to be able to interact with people from different research facilities and get to know who they are and what they're doing," said Andrew Smith, who spoke during the first panel.
The second panel united farmers from across the country to share how they engage in climate-smart agriculture.
"It was good that we were able to come and give the researchers who were present an understanding of what the small farmer is really doing and tell them about the issues that are concerning for us as farmers," said Simmons, who spoke during the second panel.
The final panel included a presentation and interactive program from Daré, Nubani and Tyler called "A Mile in My Shoes," which focused on creating diverse and inclusive spaces. Those who attended the conference had the opportunity to participate in a novel virtual reality application that allowed users to reflect on the principles of diversity, equity and inclusion through real-world experiences.
In addition to the presentations and panel discussions, Chester and Toombs presented the 2023 agInnovation National Excellence Awards for leadership, multistate research and diversity, equity and inclusion.
Leadership from agInnovation will undertake the incoming chair's initiatives for the next year. The first is to establish a research funding framework and implementation plan to develop effective advocacy strategies and secure funding for identified goals, and the second is to build new strategic partnerships with traditional and nontraditional entities — an effort that began at the conference as research leaders engaged with colleagues from inside and outside the agriculture industry.
Through these initiatives, the group will work to accomplish its current goals, which include — among others — increasing funding capacity, meeting infrastructure needs at colleges of agriculture and land-grant universities, integrating diversity equity and inclusion fully within agInnovation, and taking up climate change challenges that impact agriculture and natural resources.
Next year's conference will be held Sept. 22-25 in Raleigh, North Carolina.
---
Michigan State University AgBioResearch scientists discover dynamic solutions for food systems and the environment. More than 300 MSU faculty conduct leading-edge research on a variety of topics, from health and climate to agriculture and natural resources. Originally formed in 1888 as the Michigan Agricultural Experiment Station, MSU AgBioResearch oversees numerous on-campus research facilities, as well as 15 outlying centers throughout Michigan. To learn more, visit agbioresearch.msu.edu.