$5.13 billion
annual economic impact of Michigan livestock industry, including dairy, according to MDARD
$10
return for every $1 of research investment in animal agriculture
$2.6 million
in support of M-AAA's 2019 research and outreach initiatives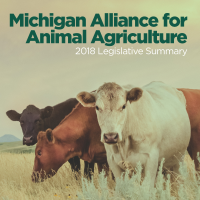 The 2018 M-AAA Legislative Summary details some of the recent research and extension projects that received funding from the Michigan Alliance for Animal Agriculture.
M-AAA is proud to partner with the following industry organizations:
Michigan Allied Poultry Industries
Michigan Cattlemen's Association
Michigan Farm Bureau
Michigan Horse Industry
Michigan Meat Association
Michigan Milk Producers Association
Michigan Pork Producers
Michigan Sheep Producers Association
Michigan Department of Agriculture and Rural Development
Michigan Soybean Promotion Committee (Associate Member)
News
Published on February 3, 2020

Gary McDowell, director of the Michigan Department of Agriculture and Rural Development, believes collaborations with Michigan State University are key for the future of agriculture in the state.
Published on February 1, 2020

MSU and animal agriculture commodity organizations partner to address industry's most pressing challenges.
Published on January 30, 2020

Through M-AAA, MSU scientists have conducted relevant, timely research on behalf of the animal agriculture industry. Regrettably, state support is currently not appropriated for 2020, leaving critical research and outreach programs in jeopardy.