College of Agriculture and Natural Resources extends special recognitions for diversity, equity and inclusion
Faculty and staff receive honors for their outstanding efforts supporting the CANR community.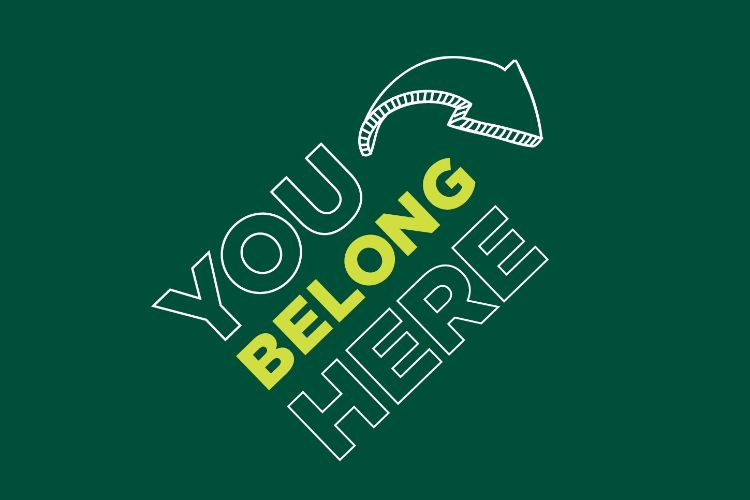 The Michigan State University (MSU) College of Agriculture and Natural Resources is proud to announce its second annual year of its You Belong Here Champion Awards.
Students, staff and faculty were asked to nominate individuals based on their actions and efforts to address diversity, equity and inclusion (DEI) within the college. More than 40 nominations were submitted and reviewed by the CANR Office of Diversity, Equity and Inclusion with a committee.
Faculty awards for 2021 are extended to:
Staff awards for 2021 are extended to:
See the full list of 2020-2021 You Belong Here Award Nominees.
"I appreciate those who nominated the faculty and staff for this year's DEI champion award, especially during a time when it is quintessential to recognize and highlight great efforts, to treat people with care and to create an environment of belonging," said Quentin Tyler, CANR associate dean and director of DEI.
"These folks that have been nominated are all DEI Champions and I am grateful to share this space with them as we collectively embark on our journey toward inclusive excellence."
Below are a few comments from the nominations about the 2020-2021 winners.
Sinem Mollaoglu
"One example of exceptional guidance and support was through advocating for a Professional Women Builders event which focused on DEI and the built environment industry. Dr. Sinem provided a space to collaborate and discuss ideas, as well as help to facilitate connections with industry professionals to better understand DEI in the built environment industry. It is evident that Dr. Sinem is passionate about showing to others the importance of an inclusive community, especially a community that has been set in its ways for a very long time."
"Dr. Sinem Mollaoglu-Scott has demonstrated excellent diversity and inclusion leadership within the School of Planning, Design and Construction, from recruiting diverse students to creating an inclusive environment with her research to engaging with alumni and industry leaders in the field. Dr. Mollaoglu-Scott came to the United States from Turkey, so she has a background as an international scholar; she uses this experience to assist international students and faculty in succeeding at MSU. She has recruited and hired a number of international students to work on her interdisciplinary research grants from the National Science Foundation. In addition, she advocates for them to fill roles as teaching assistants and instructors in SPDC courses."
Linda Nubani
"Dr. Nubani has dedicated a great amount of time to her research which is specifically driven to make communities better and safer. As a professor, she does a great job of sharing her research tactics and taking the time to help each student grow."
"Linda is an amazing instructor and researcher. Her attentiveness to the student needs is apparent both in and out of the classroom. She is available to meet with and assist the students on their projects and organize the celebrations for their final project. Linda combines technical knowledge and skills needed to perform at a level which exceeds expectations and creates pathways to better collaboration, interesting projects and inclusive communities."
"Despite COVID and her class being taught through Zoom, Dr. Nubani has made efforts to form a relationship with every single one of her students. She showed genuine interest in every students' well being inside and outside the education part of her class. She created an engaging environment where everyone had the opportunity to participate and speak their opinion.
"Outside of class her communication was also impeccable as she always responded to emails in a timely manner. She also took the time and effort to write a letter of recommendation for me for my graduate program despite her busy schedule of teaching and research. The course itself was also very engaging and project based so students were able to personalize their work and express their own interests."
Ashleigh Booth
"As an international graduate student in a Ph.D. program one can easily feel a little overwhelmed and lost. Not only are you faced with what seems to be a mountain of a task, which is to somehow make it through a rigorous program, but in addition you are completely missing the support system comprised of family and friends you have at home. So naturally when I was accepted into MSU, my excitement was tinged with that little bit of underlying dread of what I could expect. I had been abroad before for my studies but had never received such a warm and heartfelt welcome as I did at MSU and a lot of this was due to the wonderful work of Ashleigh Booth."
"Ashleigh Booth is a tremendous asset for the AFRE community. She is one of the few people in AFRE everyone interacts with and we are all better for it. Ashleigh treats everyone with professionalism and respect and makes asking questions a fun, rewarding experience. She connects students with critical resources and never acts like a gatekeeper. This is especially important because the institutional knowledge required to navigate the administrative levels of a large, layered university like MSU can put students unfamiliar with the processes at a disadvantage. Even a routine task like submitting a Grad Plan can be very intimidating, especially for those of us without prior experience in such documentation. Luckily, Ashleigh serves to even the playing field and guide us through all the forms, evaluations, and deadlines."
Anna EldenBrady
"Anna trains adult and youth mentors. Ze is excellent at creating a safe and welcoming space at those trainings. Ze creates meaningful connections with zir mentors and mentees in the 4-H Tech Wizards program by being authentic, empathetic and collaborative."
"Ze has been an advocate for disability rights and inclusivity since the beginning of zir time with Michigan 4-H. Ze has been willing to educate zir colleagues around ableism, push the organization to be more inclusive for disabled staff by looking at policies and procedures, while also creating a brave space for others to share their stories and experiences as disabled people."
"Ze has led professional development opportunities for zir colleagues around LGBTQIA+ topics such as, pronouns, the history of Pride month, and general LGBTQIA+ history. Ze is planning a Teach-In with colleagues in MSU Extension and MSU for June 2022 and will also be presenting at the Rainbow Over The Rockies conference in April 2022. Anna has been a vital leader in creating brave spaces for LGBTQIA+ individuals in Michigan 4-H, CYI, and MSU Extension."
The pronouns "ze/zir" can be thought of as gender neutral, but a person who goes by this pronoun could identify as a man, woman, both, neither or something else entirely, according to MyPronouns.org.