National Science Foundation Awards MSU $650K to Develop Mass Timber Curriculum
The National Science Foundation (NSF) has awarded Michigan State University a $650,000 grant to develop mass timber design and construction curriculum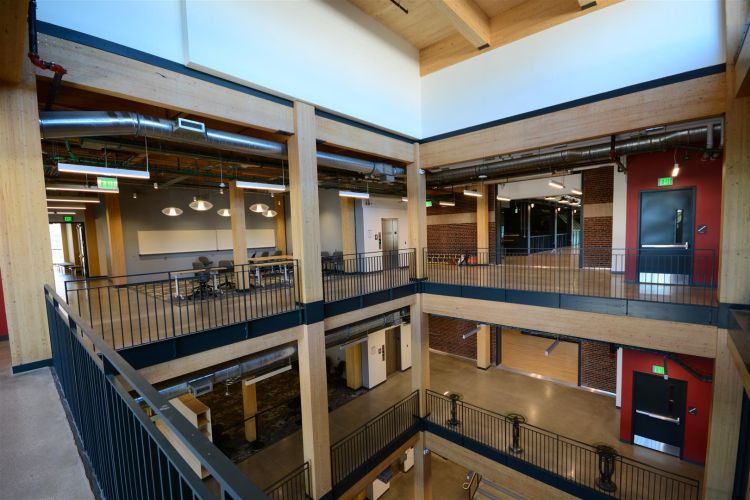 The National Science Foundation (NSF) has awarded Michigan State University a $650,000 grant to develop groundbreaking mass timber design and construction curriculum. MSU School of Planning, Design, and Construction faculty Dr. George Berghorn (Construction Management) and Dr. Linda Nubani (Interior Design) lead the project with Henry Ford College architecture faculty Chad Richert. Sandra Lupien, Director, MassTimber@MSU will contribute outreach and engagement efforts to the project.
"Mass timber" is an umbrella term for a variety of engineered, panelized wood building construction materials that can be used in combination with, or in place of, steel or concrete to build large buildings.
The funding will be used to help increase the capacity for mass timber construction projects nationwide, and to help make the technology more commonplace moving forward. Mass timber has been an area of untapped potential for construction in the United States. With this funding, MSU is working to realize that potential in the near future.
"A number of studies have shown that the lack of a trained mass timber design and construction workforce is a barrier to greater mass timber adoption in the US," said Berghorn. "We are excited to lead a nationwide effort that will remove this barrier and be a real game changer for the US construction industry."
Undertaking a project of this scale is a massive task, and it can't be tackled by one group alone. Michigan State has been working with other colleges and universities as well as industry partners to help the process move along, and the impact of the collaborative effort has been significant.
"A unique aspect of this project is working across community colleges and universities, to ensure that students and faculty have access to this education at all levels," said Berghorn. "Working on campus with the interior design program and MassTimber@MSU just makes sense – we can bring in our skilled designers and outreach professionals to ensure that the work we develop is cutting edge and will be disseminated to the widest possible audience of students, educators, and industry professionals."
By building the first-in-Michigan mass timber structure, the STEM Teaching and Learning Facility, MSU not only raised the profile of these materials, but, through MassTimber@MSU leverages the building as a demonstration and teaching tool for members of the architecture, engineering, and construction industry, as well as prospective mass timber manufacturers, community developers, and decision-makers.
"Mass timber is new to North America, and even newer to the Midwest," said Lupien. "Our job at MassTimber@MSU is to understand barriers to sustainable mass timber construction and manufacture, and to fill research and education gaps, inform policy, and foster collaborations and partnerships that help remove those barriers. MSU faculty are already innovating better mass timber adhesives, mapping mass timber supply chains, developing a mass timber cost estimation tool for builders, and conducting outreach and engagement with hundreds of stakeholders."
Even with all that MSU has accomplished with mass timber to date, in receiving this funding from NSF, that progress now looks to be merely a starting point for all of the progress that will be made in the future around the country.
"This NSF grant enables MSU to get quality mass timber education into colleges and universities across the country, addressing a key barrier to mainstreaming mass timber construction while expanding MSU's leadership on mass timber in the Great Lakes region and beyond," said Lupien.