MSU Cover Crop Team Webinar Series: Cover Crops in Michigan - Interseeding Cover Crops
The first webinar in this series highlights research at MSU on interseeding cover crops into standing corn.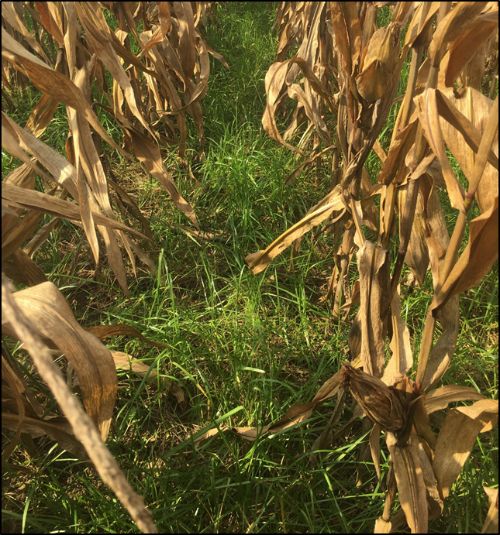 Michigan farmers grow a wide diversity of cash crops, and the state is among the leaders in crop diversity. Fruit, vegetable, potato, sugar beet, dry bean, and cucumber farmers have been embracing the use the use of cover crops on their farms for years. However, corn, soybean and forage systems still make up 75% of the cropland acres in the state. To increase adoption of cover crops, farmers need new methods to integrate their use into corn-soybean systems and reap the soil health benefits of this practice.
Karen Renner, a professor in the MSU Plant, Soils and Microbial Sciences Department and graduate student Aaron Brooker have been conducting research into interseeding cover crops into corn between the V1 and V7 growth stages. They tested three different cover crops in corn - annual rye, tillage radish, crimson clover - and a mixture of all three. Their research was conducted over three years at multiple locations across the state to determine if results changed based on soil type, latitude and growing season conditions. They found that the use of cover crops did not reduce corn yield and is an effective strategy to improve soil health and suppress winter annual weeds.
To learn more about their research, key findings and recommendations, watch their recorded presentation below.
Renner and Brooker's next steps to build on this research are to look at different seeding rates and different cover crop mixtures. They will report on these findings next year. For more information on this project contact Karen Renner.
Cover crop information and resources are available through Michigan State University Extension's Cover Crops page and the Midwest Cover Crops Council, or contact Dean Baas.
Other articles in this series
This work is supported by the Crop Protection and Pest Management Program 2017-70006-27175 from the USDA National Institute of Food and Agriculture. Any opinions, findings, conclusions or recommendations expressed in this publication are those of the author(s) and do not necessarily reflect the view of the U.S. Department of Agriculture.
---