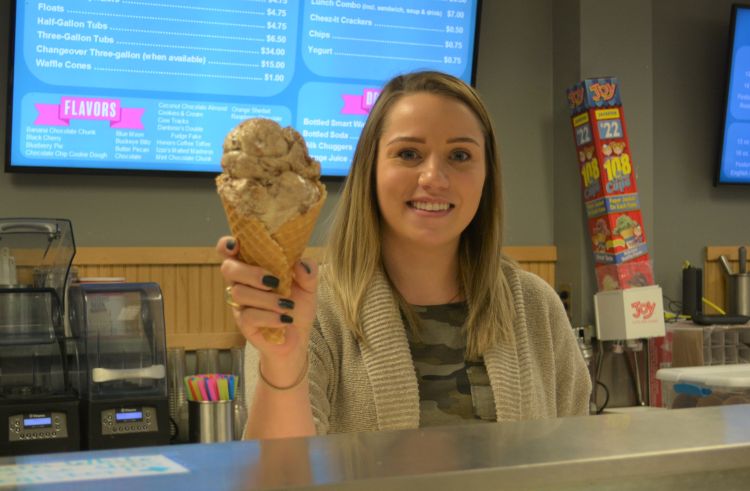 EAST LANSING, Mich. – The MSU Dairy Store is thanking university employees for keeping Michigan State University running during the polar vortex in the best way they know how: a new ice cream flavor. Critical staff in support units cleared snow, served meals and made sure people were warm when much of campus was closed Jan. 30-31 due to snow and cold temperatures.
The newly-developed flavor, MSU Polar Vortex, is a bourbon-flavored ice cream with a butter fudge swirl that has chocolate-covered caramel cups and brownie pieces scattered throughout.
The idea for the MSU Polar Vortex came when Sabrina Hebeler, chief of staff at Infrastructure Planning and Facilities (IPF), contacted Brekelle Wiedenmannott, store manager at the MSU Dairy Store, about temporarily changing the name of an ice cream flavor to dedicate to IPF.
Wiedenmannott decided to take the idea a step further by creating a whole new ice cream flavor to recognize university employees who supported campus and the MSU community.
"We have dedicated different flavors of ice cream to various colleges here on campus, but we have never dedicated a flavor to a group of officials such as Infrastructure Planning and Facilities, Residential and Hospitality Services, MSU Police and so many others," said Wiedenmannott.
These MSU units are providing free ice cream coupons to staff and encouraging them to try MSU Polar Vortex (or any other flavor) to honor their hard work.
When developing the new flavor, Wiedenmannott said the Dairy Store wanted the MSU Polar Vortex flavor to invoke warmth.
"We already offer a coffee-flavored ice cream and our s'more ice cream closely resembles hot chocolate," said Wiedenmannott. "That is when the idea of bourbon came in, as a symbol of warmth. It's different, but after a few bites, the taste of bourbon mellows out."
Dairy Store employee and supply chain management student Aubrey Lehnert said she fully supports the idea of an ice cream flavor for staff who help keep the university running, including keeping their freezers in working order.
"This is our chance to give back to them as a whole for everything they do for us all," Lehnert said.