MSU Extension hires new water resources educator
Paige Filice will work statewide to prevent invasive species and protect Michigan's waters.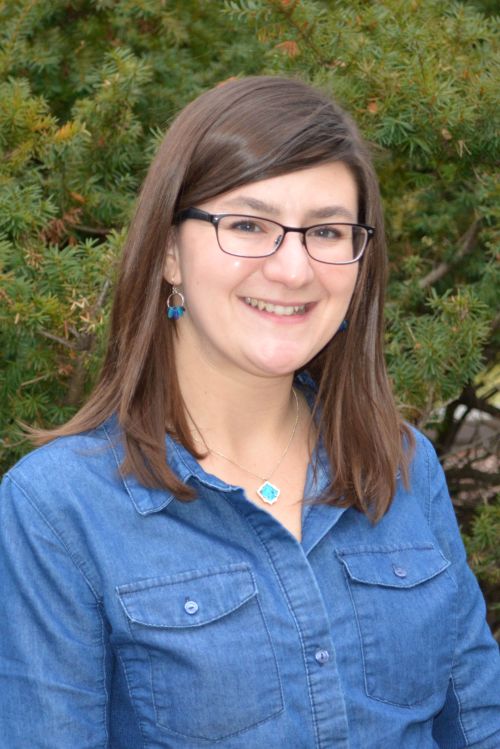 Paige Filice has joined Michigan State University Extension as a water resources educator working statewide, based in Ingham County. She is no stranger to Michigan, having been raised in the Lansing area and earning degrees from Lake Superior State University (B.S. in Conservation Leadership) and Michigan State University (M.S. in Fisheries and Wildlife). Filice brings her experience and expertise in water resource conservation, combined with public outreach and engagement, to the MSU Extension team. Prior to her most recent position with the Michigan Department of Environment, Great Lakes and Energy, Filice created and implemented a new program, Reduce Invasive Plant and Pet Escapes (RIPPLE), to prevent the introduction of aquatic invasive species from the aquarium and pond hobbies. She then earned her M.S. degree at MSU researching the pond and aquarium trade's understanding, opinions and actions regarding invasive species. In her new position with MSU Extension, she will resume leadership of RIPPLE and become a key member of MSU Extension's strong statewide water resources team.
"Outreach and public engagement has always been the most rewarding experience in my professional and academic careers and I am excited to share my knowledge and enthusiasm for Michigan's environment with residents across the state," said Filice. "Through my work with the Clinton Conservation District and as a Program Assistant in the Fisheries and Wildlife Department, I saw firsthand the power of MSU Extension in impacting the lives of Michigan's residents and the environment. Engaging stakeholders, designing research based outreach programs, and science communication are all passions of mine and I am fortunate I will be able to use my skills every day in my work. My greatest career accomplishment has been sharing my passion for protecting Michigan's aquatic ecosystems with over 100,000 people through RIPPLE and I greatly look forward to engaging even more stakeholders in the future."
Filice began her new position on October 21, 2019. She provides services statewide, and is pleased to be based in Ingham County.
"Being a lifelong resident of Lansing, I feel very fortunate to be housed in the Ingham County office," says Filice. "It's a great place to live and work, and I am conveniently located near nationally recognized pet and garden retailers which is a major benefit."
MSU Extension supports healthy inland lakes, streams and watersheds through education, outreach and engagement. In addition to RIPPLE, MSU Extension offers many other public water resource programs, including Introduction to Lakes Online, the Michigan Lake and Stream Leaders Institute, and Michigan Water School.
"MSU Extension has valued our partnership with the State of Michigan as we work together on projects like RIPPLE and other educational efforts to reduce the spread and impact of aquatic invasive species in our state," said Josh Gunn, Associate Director of MSU Extension's Community, Food and Environment Institute. "I am excited that our partnership has allowed us to hire a full-time educator to focus on these efforts, and I can't think of a better person to lead this effort than Paige Filice. Paige brings with her a strong background in watershed management, water resource issues and science communication. This experience, coupled with her passion for helping people make informed decisions, make her the ideal candidate to lead and grow RIPPLE and other efforts in Michigan."
Filice will apply her knowledge and experience to addressing water resource challenges in Michigan, including invasive species. "I am excited to apply research findings from my master's work to enhance RIPPLE and make it an even more effective program. I also developed many partnerships while designing and implementing RIPPLE over the last few years and it will be fun to reconnect with businesses and partners. There are many opportunities in Michigan and beyond for RIPPLE and I can't wait to see what the future holds for the program. Aquatic invasive species will continue to be a threat to Michigan's aquatic ecosystems and I look forward to doing the best I can to protect our waterways."
Did you find this article useful?
---