MSU faculty member and son support coronavirus mask printing initiative
Phil Hill, in the MSU Department of Biosystems and Agricultural Engineering, supports an initiative to print face masks and shields for first responders and healthcare professionals in Mid-Michigan.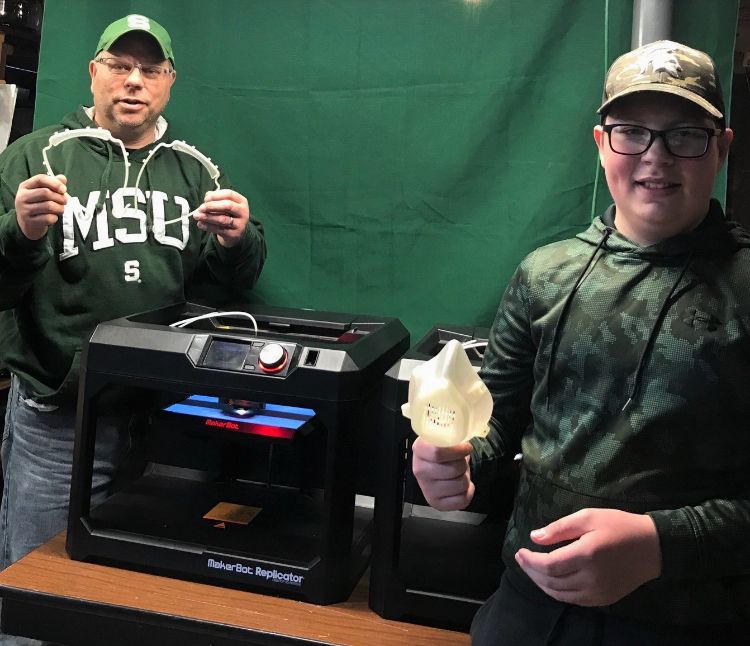 Upon hearing on the local news about a community 3D mask printing effort, Phil Hill and his eighth-grade son, Eddie, immediately thought it was something they could do to support the community during the novel coronavirus pandemic.
Hill was teaching a course in fabrication technology through Michigan State University's Department of Biosystems and Agricultural Engineering (BAE), and he had access to two 3D printers. When his class, like all others at MSU, moved to remote teaching, Hill contacted BAE Chair Darrell Donahue for permission to put the printers to use for a new cause.
"I've always been a team player," Hill said. "When you see a need and have some equipment or capability that you know would benefit the cause, you just do it."
Hill started printing N-95 masks on campus on March 24. Eddie, a student at Portland Middle School, helped monitor the early print output. When Michigan's stay-at-home order expanded, Hill brought the printers home and set them up in his basement in Eagle, Michigan, to keep printing.
"It was really neat that Phil had thought about using the 3D printers that way, and he was including his son," Donahue said. "We all have to do our part. Anything we can to support the medical professionals on the front lines is what we should be doing. This type of service is central to our land-grant mission."
Local tinkrLAB business owner Melissa Rabideau is leading the Mid-Michigan printing coordination and donations at her Meridian Mall store location in Okemos, Michigan. TinkrLAB is a STEAM-based educational retail operation and makerspace that helps teach kids about invention, building and making.
When non-essential businesses closed in the state in mid-March, Rabideau started thinking about things she could do to help. She reached out to her community contacts and tinkrLAB Facebook followers to bring together people interested in printing N-95 masks and face shields using their personal 3D printers, and the Print Force was formed.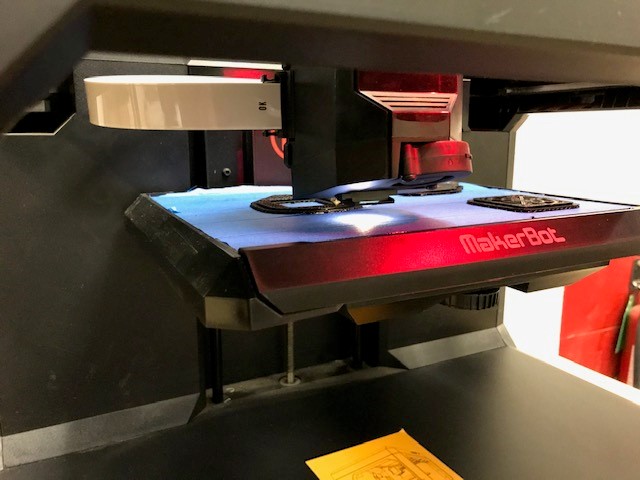 "When my store in the Meridian Mall shut down, I knew that I needed to put my focus into something that could help people," Rabideau said. "We contacted some folks who we knew had printers to find out if they would work on the project with us. The next thing we knew, we had over 200 people helping out."
TinkrLAB supplies the downloadable printer files for masks and shields and the plastic filament material used for printing. Then Print Force volunteers, like Hill, donate their time. Twice weekly Print Force volunteers can drop off their printed donations and pick up more filament material at tinkrLAB in Meridian Mall.
Print Force volunteers come from over 30 schools including East Lansing, Okemos, Haslett, DeWitt, St Johns, Byron and Alpena. There are also printers running from the State of Michigan and Lansing Community College, as well as MSU.
"It's surprised me how many individuals, when coming together, can really make a large impact. They have all really taken it on as their own which is great," Rabideau said.
Hill has switched from printing masks to headgear for face shields, which he said seem to be more in demand and are quicker for his printers to produce. Since starting, Hill and his son have donated roughly 30 masks and 150 face shields. As part of the community effort, Rabideau said over 2,000 masks and over 5,000 face shields have been donated to local assisted living facilities, home and healthcare operations, and fire and police departments.
"When your world stops, it's time to get the focus off yourself and onto something that can help others," Rabideau said. "My store may have closed for the time being, other than online sales, but that doesn't mean that I stop working or trying to help other people."
Hill said he plans to keep printing until there is no longer a need, and he encourages others to support these efforts to fight the pandemic.
"Everyone has an opportunity to support this cause, whether it's printing masks or donating to the materials used for printing," Hill said. "I may be helping a healthcare worker, but in the long run if I can help small businesses down the road as a result, I want them back to work, too."
Donations to support printing materials tinkrLAB provides to volunteers can be made online through helloSTEAM. Anyone interested in printing or assembling masks and face shields can email tinkrLAB at contact@tinkrlab.com.