MSU North American Intercollegiate Dairy Challenge team wins second consecutive national title
Twelve MSU students participated on the national team, in the academy, or a regional event to refine analytical, communication, and dairy science skills.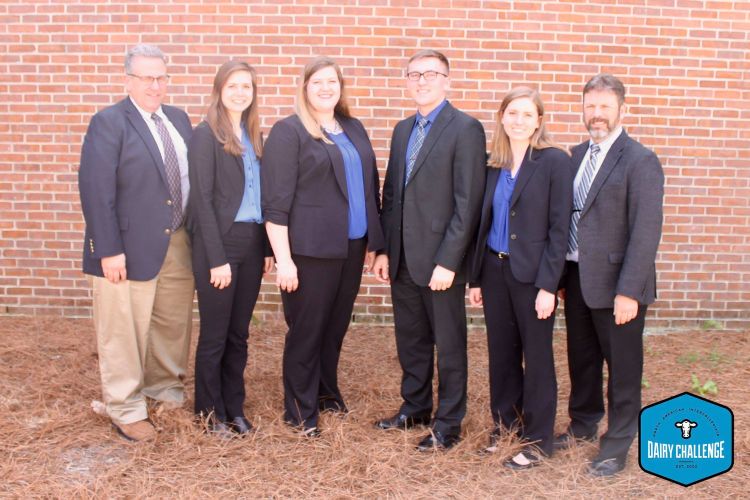 EAST LANSING, Mich. – A team of four Michigan State University (MSU) students earned first place in their division in the 18th annual North American Intercollegiate Dairy Challenge Contest (NAIDC) held March 28-30, 2019 in Tifton, Georgia. Members of the winning team were: Monkia Dziuba, animal science senior from Riverview, Michigan; Lauren Heberling, agribusiness management junior from Carsonville, Michigan; Ariana Negeiro, animal science senior from Ft Lauderdale, Florida; and Jared Sanderson, animal science senior from Sandusky. Students may only compete one year on a NAIDC team. The team was coached by Dr. Roger Thomson, an Academic Specialist in the Department of Animal Science. This is the second consecutive year MSU has taken home top honors under the leadership of Dr. Thomson.
According to the NAIDC website, the goal of the contest is to "Develop tomorrow's dairy leaders and enhance progress of the dairy industry, by providing education, communication and networking among students, producers, and agribusiness and university personnel." This is accomplished through a two-day competition where teams receive information with management and production data for a specific dairy farm and then visit the farm for person an in-person operation evaluation. After reviewing all information and seeing the farm first hand, teams develop a comprehensive plan with management recommendations. The teams present their plan to a panel of dairy experts the next day and field questions about their recommendations. Plans may include recommendations about dairy cattle nutrition, reproduction, housing, finances, and animal health.
The NAIDC traces its origins to MSU, where the first-ever annual contest was held in 2001. The innovative event is designed to allow dairy science students that are pursuing a four-year undergraduate degree at North American universities with a hands-on, team-based opportunity to apply theory and skills learned in the classroom to a real-world dairy situation. The NAIDC effectively incorporates all facets of a working dairy business into an interactive, educational, and fun forum. In its 18-year existence, the NAIDC has helped to train thousands of students through the national contest, the Dairy Challenge Academy, and four regional contests conducted annually in advance of the national competition.
Thirty-six teams competed in Georgia evenly distributed between four dairy farms. MSU was competing against the University of Guelph (2nd place), University of Minnesota, University of Georgia, University of Alberta, University of New Hampshire, Clemson University, Delaware Valley University, and Utah State University. Students spent months studying, preparing, and practicing for the challenge before putting their knowledge and hard work to the test on the national stage.
In addition to hosting the challenge, the NAIDC holds the Dairy Challenge Academy concurrently with the national contest. The goal of the academy is to provide an extended learning environment for college sophomore, juniors, and seniors in 4-year dairy science programs, community colleges, and technical schools. Academy participants spend the first day with NAIDC teams reviewing farm information and engaging in operation evaluations. Once the teams start preparing their presentations, Academy participants meet with and are mentored by dairy experts to enhance their analysis and presentation skills. Students from different universities are grouped into teams of 6-8 individuals and provide a short oral priority report to dairy industry guests and other Academy members. This year, Cameron Cook, a junior is agribusiness management, Austin Haywood, a junior in animal science, Leta Larsen, a junior in agribusiness management Maddy Meyer, a junior in Animal Science, represented MSU in the Academy. For the third year, the Academy students were coached by Dr. Joe Domecq, an academic specialist in the Department of Animal Science.
MSU was also represented by a team of four students at the regional NAIDC contest. This contest, held February 13-15 in Freeport, Illinois and hosted by the University of Illinois, is another learning opportunity for students to gain experience in dairy farm analysis through engaging with mentors. Four regional contests are held prior to the national contest each year: Northeast, Southern, Midwest, and Western. Similar to the Academy, students from difference universities are matched up in to teams of 4-5 individuals and provide an oral priority report to judges after learning financial, benchmark, PCDart, and DairyComp 305 information and visiting a local farm. Dean DeGroff, a junior in animal science, Leta Larsen, a junior in agribusiness management, Morgan Luoma, a junior in animal science, and Peter VanderHoff, a junior in agribusiness management represented MSU and were coached by Dr. Thomson.
Reflecting on a successful 2019 program, Dr. Thomson remarked,
"The success of this year's team was especially gratifying. At the very first practice, Monika, Lauren, Ariana, and Jared set the goal of achieving a first place finish like the 2018 team. They worked extremely hard all semester perfecting both their observational and presentational skills. When it came time for the national contest, they were fortune to present in the morning. They came in fresh, excited, and ready to share their insights on the farm. Their presentation was amazing. The judges struggled to make constructive criticisms and mostly offered compliments. One of the judges visited our table after the awards dinner in the evening and reiterated his praise to the team. I am very proud of these students and their hard work to accomplish the goal they set for themselves. Having two years of first place teams is phenomenal."
Student agree participating in the NAIDC is a highly valuable experience, not only for improving practical skills related to dairy farm analysis they may apply at home, but also as a networking opportunity with industry professional nationwide and engaging with like-minded peers. "Whether locally, regionally, or nationally, the Dairy Challenge has been one of the most rewarding opportunities during my time at Michigan State" said team member Sanderson. "The competition allowed me to extend my education outside the classroom and develop skills and knowledge that will benefit me in my future career. I have learned how to work better in a team, communicate both individually and publicly, and above all it has made me better at understanding how a dairy farm is operated. I have made lifetime friendships not only with my teammates, but also with those at other universities. After competing locally and regionally, it was an honor to be selected for this year's national team. I had the best teammates; we were all able to keep ourselves focused while still having fun and enjoying the experience. I couldn't have asked for a better team! When they announced we had won our division I was overwhelmed with joy and pride. What an honor it was for our team to be able to bring back a first-place finish to Michigan State and to the Michigan dairy industry. Lastly, I would like to recognize and say thank you to my coaches, Dr. Roger Thomson and Dr. Joe Domecq, for all their time and efforts to make the team possible, and for teaching and mentoring me throughout my collegiate career, thank you."
The North American Intercollegiate Dairy Challenge was established as a management contest to incorporate all phases of a specific dairy business. Its mission is to facilitate education, communication and the exchange of ideas between students, agribusiness representatives, dairy producers and universities to further the development of the dairy industry and foster growth of new industry leaders. The program is supported financially through donations from 120 dairy businesses and producers and coordinated by a volunteer board of directors.
The MSU team would not have been successful without the support of many Michigan dairy partners. Dairy farms that opened their doors providing a practice space for the teams were: Green Meadows Dairy Farm, the MSU Dairy Teaching and Research Center, Simon Dairy Farm (Brent Simon), Lew Max Holsteins (Aaron Gasper), and Full Circle Dairy Farm in Florida. Financial endowment funding was provided by the Michigan Dairy Memorial Endowment, the Roger & Marjorie Mellenberger Dairy Endowment, and Hazel Dairy Memorial Endowment. Generous sponsorship was also provide by VitaPlus, Caledonia Elevator, Dairy Farmers of America, Prince AgriProducts, NorthStar Cooperative, Agri-King Nutrition, Attalee Brix, ABS Global, Zinpro Corporation, Nobis AgriScience, Michigan Milk Producer Association, Avon Hi-Life, Diamond V Mills, Cargill, Greenstone Farm Credit, JEFO Nutrition, Hi-Tech Dairy Supply, ADM Alliance Nutrition, and Land O'Lakes.
Visit www.dairychallenge.org or www.facebook.com/DairyChallenge for more details on regional and national NAIDC events. For more information about MSU participation in the MSU Dairy Challenge, the Midwest Regional Dairy Challenge or the National Dairy Challenge, contact Dr. Thomson thomso75@msu.edu.
The 19th annual NAIDC and Dairy Challenge Academy will take place in Green Bay, Wisconsin March 26-29, 2020.