MSU Student Organic Farm 2019 Annual Report
MSU Student Organic Farm enhances scholarship, research, and education in the MSU College of Agriculture and Natural Resources.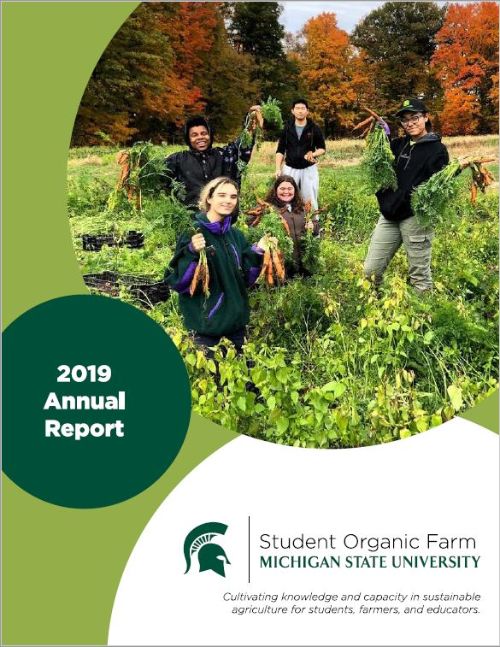 In 2019, the Michigan State University Student Organic Farm (MSU SOF) celebrated its 20th year of farming. While the agricultural landscape of Michigan and the country looks different than it did 20 years ago, the MSU SOF continues to provide innovative and comprehensive agricultural education and notably, a space for bringing the MSU College of Agriculture and Natural Resources priorities to life.
The MSU SOF is renowned for its long history of providing education for new and beginning organic farmers. The Organic Farmer Training Program (OFTP), hosted by the MSU SOF since 1999, has helped cultivate a new generation of Michigan farmers who are now key players across the state in farm direct to consumer markets. The farm provides continuing education through its Farmer Field School workshops, which leverage MSU SOF experience and knowledge to increase the capacity of Michigan farmers. Alongside the OFTP, the MSU SOF engages undergraduate students in a number of capacities. Through their student farm crew, internships, and farm tours, the SOF enhances student learning across campus through a Living Learning Laboratory where they apply classroom learning and ideas in action.
These cornerstone programs of the MSU SOF have helped create a generation of farmers and consumers passionate about investing in resilient, regional food systems. Of those responding to a 2019 survey of OFTP graduates, 80% are currently farming full or part-time, and 60% own their own farm - the majority in Michigan, in addition to serving in various organizations to grow local food systems. This past year, the MSU SOF also sought out new collaborations with MSU Extension educators and satellite farms, such as the Tollgate Farm and Education Center and Upper Peninsula Research and Extension Center to expand their educative capacity. Together, they plan to explore future work to increase the capacity of Michigan's educational farms to serve new and beginning farmers.
While the MSU SOF has always served as a Living Learning Laboratory for student and community education, 2019 was a clear example of the value the MSU SOF serves in supporting the MSU College of Agriculture and Natural Resource's priorities of extension and research. In 2019, faculty and students partnered with the MSU SOF to engage in on-farm research, leveraging $2.8 million of funded or pending grants for the University in research projects related to soil health, pest management, improved cultivation, farmer networks, and pollination.
Collaborations with the MSU SOF have led to applied research, improved scholarship, and an enriched campus learning experience. Dig into the 2019 MSU Student Organic Farm Annual Report for more insight into how they are providing a space for research and application for the MSU College of Agriculture and Natural Resources.