MSU Extension helps evaluate the Muskegon Farmers Market
Results of the customer survey process conducted on July 9, 2016.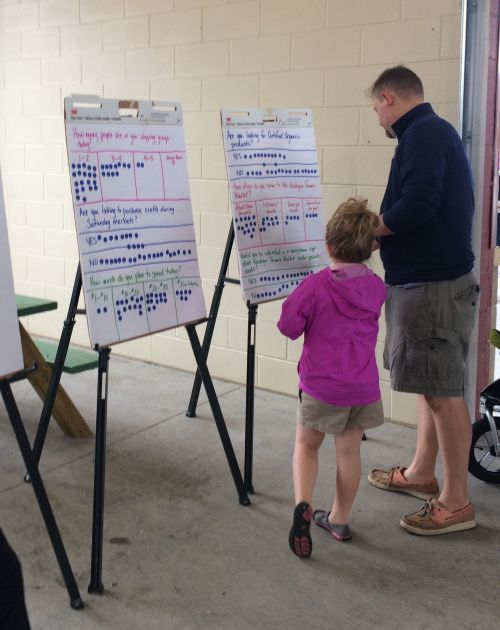 Michigan State University Extension partnered with the Muskegon Farmers Market and the Power of Produce Club to conduct the first customer count and survey process in the market's new location. Almost 20 volunteers assisted with this process on Saturday, July 9. Feedback was gathered from almost 500 customers and the customer count process estimated there were 8,148 people in the market.
One of the key lessons learns from this process were that customers at this market are very loyal, with 43 percent of the 493 respondents stating that they come and shop almost every week. In addition, over 50 percent of survey participants said they lived in Muskegon County, which explains why so many people come to the market so often. There were also a large number of guests from other states and countries. Several visitors from Europe and Africa participated in the survey. We believe this can be attributed to the presence of a cruise ship that was docked in the city on this date.
We asked people what they liked best about the market. The variety of vendors and fresh and availability of local produce came out on top. Customers also noted that they liked purchasing plants and flowers, appreciated the activities for children and enjoyed the sense of community the market creates. The majority of respondents were also in favor of a smartphone app to inform them of vendor locations, specials and events in the market. Most shoppers said they planned to spend between $10-30 and 65 percent said they were not specifically looking for certified organic foods.
Volunteers counting customers were asked to make some observations about parking and traffic flow in the market. Based on this input, MSU Extension is recommending that more parking signage be added, that vehicle access in some locations be limited to prevent accidents with pedestrians, and that more bike racks be provided. Customers also asked for more restrooms and the addition of recycling and possibly composting in the market. MSU Extension also feels that increased marketing of the winter market would be a wise investment, as many of they survey respondents were unaware of it.
A detailed report of the survey and count data was compiled by MSU Extension and submitted to the Muskegon Farmers Market Manager and Power of Produce Club manager. MSU Extension provided this service because of our multi-year partnership with the Power of Produce Club to provide education on Michigan agriculture to youth and their families. For more information on farmers market evaluation services, contact the Michigan Farmers Market Association or Growing Hope.