MSU Extension partners with USDA to host Food Safety Discovery Display
Visit the 40-foot multimedia demonstration kitchen on wheels to learn how to prevent foodborne illnesses with fun, hands-on activities!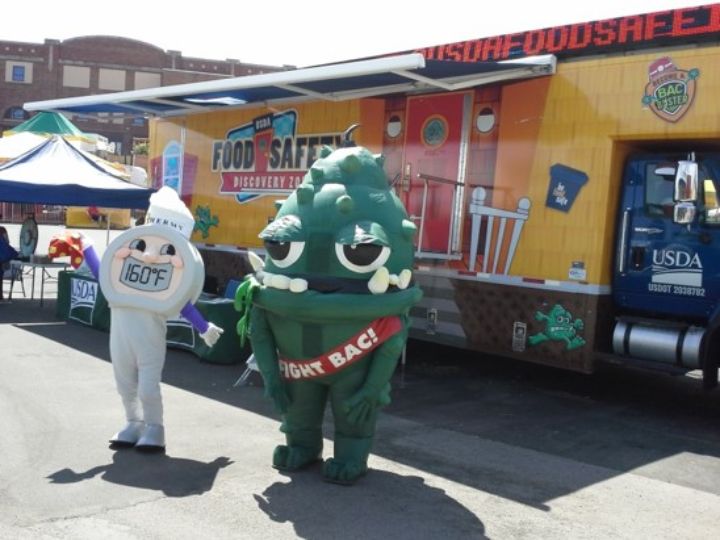 An estimated one in six Americans gets sick from foodborne illness each year, resulting in approximately 128,000 hospitalizations and 3,000 deaths, according to the Centers for Disease Control and Prevention. To help educate Michigan residents about how to prevent such illness, the USDA Food Safety Discovery Zone will be at the Auditorium on the campus of Michigan State University on Tuesday, August 2.
Operated by the U.S. Department of Agriculture (USDA), the Food Safety Discovery Zone is a 40-foot multimedia demonstration kitchen on wheels. Open to the public from 9 a.m. to 5 p.m., the zone offers visitors of all ages fun, hands-on experiences that will educate consumers on how to prevent foodborne illnesses with proper food handling techniques. Joining the USDA to deliver the trainings are food and nutrition educators from Michigan State University Extension, who will emphasize four primary food-handling lessons: clean, separate, cook and chill.
"Protecting families' food from foodborne illness and ensuring that they know how to protect themselves remains a top priority for the USDA and MSU Extension," said Dawn Contreras, director of MSU Extension health and nutrition programming. "We hope people will take advantage of this event to learn about how they can avoid foodborne illness in their homes."
The MSU event will be the final Michigan stop during the USDA Food Safety Discovery Zone's national tour. Before it arrives in East Lansing, the attraction will also be at the National Baby Food Festival in Fremont July 20 - 23, the Washtenaw County 4-H Youth Show in Ann Arbor July 26 - 28, and the Yale Bologna Festival July 29 – 31.

To learn more about the USDA Food Safety Discovery Zone, visit http://www.fsis.usda.gov/wps/portal/fsis/topics/food-safety-education/get-answers/usda-food-safety-discovery-zone-mobile. For additional information about food safety practices, visit msue.anr.msu.edu/safefood.
Did you find this article useful?
---