Manure Management for Fairs and Exhibitions – Planning
DOWNLOAD
May 11, 2021 - Author: Sarah Fronczak and Erica Rogers, MSU Extension
Fairground Resource Inventory
By doing this initial exercise, you will develop an informed perspective as a starting point. We will discuss how to collect this information in this fact sheet. An example is included. Finally, we will consider emergency spill response.
Before deciding on a manure storage site location(s), think about what encompasses your fairgrounds:
Describe your fairgrounds: Identify the goals, objectives, size, historical management, available land base, and number of animals that reside at your fair each year.
Consider the areas where manure tends to accumulate: Stalls/pens, wash racks, riding/show arenas, and other areas where animals are walked between these places on the fairgrounds.
Consider the environmental impact of potential storage locations.
Number of Animals Exhibited at Your Event
To determine the number of animals exhibited on the fairgrounds you could use previous fair information as well as the designated spaces that each livestock species is provided while at the fair. For example, knowing the number of horse stalls on the premises as well as the number of pens for livestock and poultry projects will give you a good estimation on the number of animals. Knowing the maximum capacity, helps in identifying how much manure could be produced during your event.
After establishing the maximum number of animals that can be held on site, you can think about the volume of manure each animal produces. Each animal will produce a different amount of manure and will have different concentrations of nutrients in the manure.
Storage Locations
It is important to consider the collection of manure on the premises. Try to identify all the possible scenarios of where manure may potentially collect. Some examples are:
Stalls/pens- Manure and bedding is collected from stalls 2-3 times per day.
Wash racks- Manure is collected as needed.
Riding/Show arenas- Manure is collected as needed.
Other walkways around fairgrounds- Manure is collected as needed.
Manure management storage location practices should take environmental stewardship into account. These recommendations are from the Michigan Department of Agriculture's Generally Accepted Management Practices.
For each storage ask yourself:
Is the storage 150 feet from surface water?
Is the storage 75 feet from wells?
Is the storage 50 feet from property lines?
Is the storage 150 feet from residences?
Are the manure storages easily and conveniently accessible to the area where most of the manure is produced?
Example of a Site Map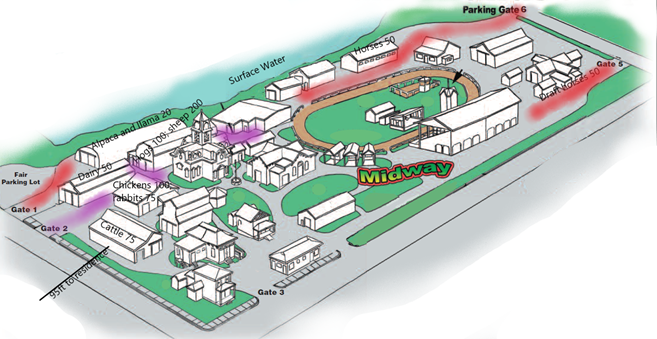 When determining or evaluating manure storage areas, here are some helpful steps to take as you go through the process:
Mark the buildings on the site map with the number of animals and the species expected.
Locate wash racks and arenas.
Locate high traffic areas (foot and vehicle) where manure could be a problem. In the example, the foot traffic is purple and the vehicle traffic is red.
Locate surface water.
Consider where water will run-off of buildings and across pavement. Consider where manure will run during a rain event.
Locate wells.
Locate property lines and residences.
Once you have determined the number of animals, the amount of manure they produce, and where that manure tends to accumulate, this allows you to make decisions as to where manure storages should be located.
It is likely that the stalls and pens used during fair will accumulate the most manure and bedding waste, so locating a storage that is easily accessible from those locations might make more sense than right next to a wash rack. If we use the example map above, we can see that many of the livestock barns are in high traffic areas where people are likely to be walking. Additionally, we have a body of water that lines one side of the grounds as well. Because of this layout, it would be beneficial to locate a manure storage for the barns that are closer to Gate 1. This storage would be out of the main traffic areas and at least 150 feet from the nearby water. It would also be beneficial to have a manure storage for the barns located near Parking Gate 6 so that manure from these barns is not hauled across the grounds. Again, this storage would need to be located out of high traffic areas as well as located at least 150 feet from the nearby water. This may be a good situation to utilize temporary, haul-away storages that can be placed in appropriate areas and then removed at the end of the fair.