MSU Extension publications that help minimize yield loss from diseases and other pests
Try shop.msu.edu to order your 2015 MSU Extension bulletins in print or PDF format. It's easy, fast and convenient.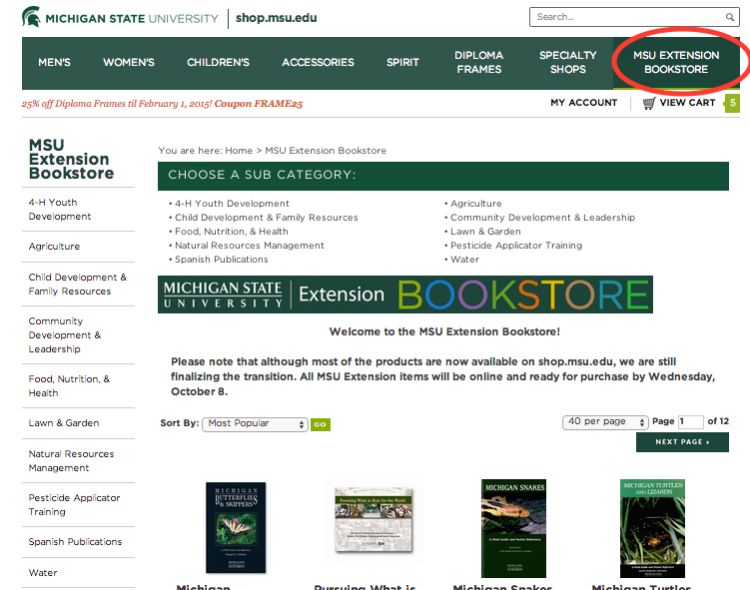 Michigan States University Extension has publications that can guide you to minimize the risk of yield loss due to diseases, weeds and insect pests. Among these publications, the most recent updated version of the "Weed Control Guide for Vegetable Crops;" "Insect, Disease and Nematode Control for Commercial Vegetables;" "Weed Control Guide for Field Crops;" and the "Fruit Management Guide," among others, are now available.
Often, local MSU Extension offices do not order bulletins that are not in high demand, so before you head to your local Extension office to purchase a bulletin, give the office a call to confirm they have copies available or just use the online store.
Whether you are a regular or a new user of MSU Extension publications, the easiest way to obtain bulletins is through the MSU Extension Bookstore online. The MSU Extension Bookstore has become part of MSU's online store Shop.msu.edu.
A link to the MSU Extension Bookstore can be found on the top right corner of the shop.msu.edu website.
To order a bulletin from MSU Extension for the first time, just follow these easy steps:
Go to shop.msu.edu.
Click on "My Account" at the top of the page.
Click "Continue" under "New Customers."
Enter your email address and create a password. Click "Continue."
Enter the rest of your contact information.
Click on "MSU Extension Bookstore" at the top right of the page.
Start shopping!
Once you have your account set up, you can log in as a returning customer (under "My Account") every time you come back to shop.
If you are looking for the "2015 Weed Control Guide for Vegetable Crops," you can use the search box using keywords or the item's bulletin number (for this publication, E0433). Once you have found the item you are looking for, select the media type you prefer if more than one media is available. For the Weed Control Guide and other publications, you can select either a hard copy (print) or PDF version of the document, which downloads a PDF to your computer or mobile device.
Go directly to a bulletin featured in this article:
If you purchase a hard copy, bulletins can be delivered to a specific address or picked up at the Shop.MSU fulfillment center at University Stores in the Angell Building on the MSU campus, located at 166 Service Road. You can find information on store hours, a contact number and direction at the Shop.MSU website.