Museum explores west Michigan's fisheries heritage
A new exhibit at Tri-Cities Historical Museum in Grand Haven looks at Lake Michigan commercial fishing stories and changes in the industry through the years.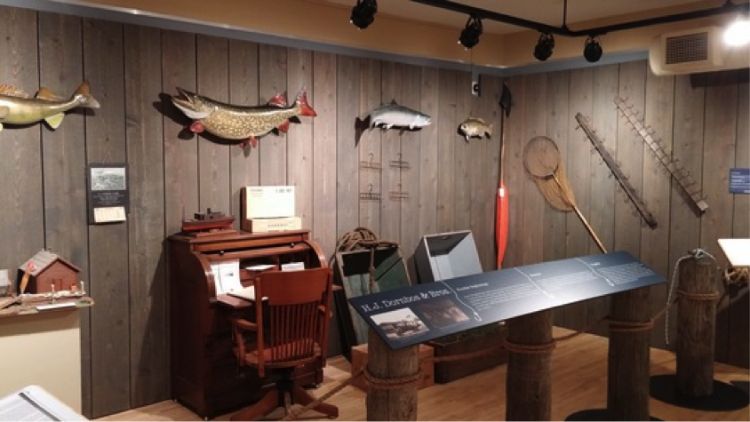 When you think of Lake Michigan fishing, net buoys and fish boxes probably aren't the first things to come to mind. However, there was a time before development of today's sport fishing industry when commercial fishing was a common occupation in ports like Muskegon, Grand Haven, Holland, and South Haven.
On December 10, a new "Fish Stories" exhibit opened at Tri-Cities Historical Museum in downtown Grand Haven. The exhibit, which was developed in conjunction with Michigan State University Extension, and Michigan Sea Grant, focuses on the commercial fishing industry and how changes in the lake's ecosystem contributed to changes in fishing.
Aquatic invasive species were a big part of this change, with the sea lamprey being the first invader to cause major problems. In fact, the sea lamprey decimated Lake Trout populations by the late 1940s, forcing commercial fishers to either adapt to catching other species or find new professions.
Other invaders such as alewife and rainbow smelt preyed on plankton and young fish, contributing to declines of native deepwater ciscoes. The deepwater ciscoes were a closely related group of species that were, and still are, commonly referred to as "chubs." Smoked chubs can still be found in Great Lakes fish markets, but in Lake Michigan only one of six native species still survives.
The lake whitefish is now the most commonly targeted commercial species in Lake Michigan, but even the whitefish has been affected by invaders. The lake whitefish survived sea lamprey and a host of other invasives, but invasive mussels are now reducing whitefish growth rates. This means smaller fish in the trap nets of Lake Michigan fishers, in part due to the whitefish's switch in diet from native Diporeia to invasive quagga mussel.
Michigan Sea Grant helps to foster economic growth and protect Michigan's coastal, Great Lakes resources through education, research and outreach. A collaborative effort of the University of Michigan and Michigan State University and its MSU Extension, Michigan Sea Grant is part of the NOAA-National Sea Grant network of 33 university-based programs.