Nathan Laurenz represents Michigan at 2016 World Food Prize Global Youth Institute
Six outstanding youth leaders were selected to represent Michigan at the Global Youth Institute, where they shared their global hunger fighting research and ideas. This series highlights their stories.
October 27, 2016 - Author: Brian Wibby, Michigan State University Extension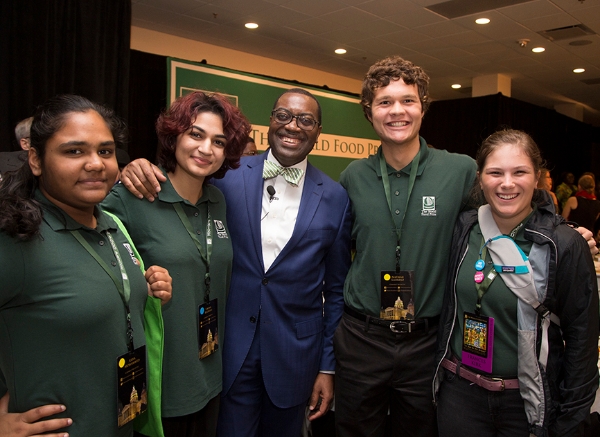 Though eating bugs might not be most people's idea of a great meal, one youth from Breckenridge, Michigan, thinks it might be one way to help solve critical issues related to global food security. Nathan Laurenz, a junior at Breckenridge High School, traveled to Des Moines, Iowa, Oct. 12-15, 2016, to participate in the World Food Prize Global Youth Institute, where he shared his research and recommendations for addressing global food security with peers and experts from the U.S. and around the world.
The World Food Prize was founded by Nobel Peace Prize laureate Norman Borlaug to recognize and inspire great achievements in improving the quality, quantity and availability of food in the world. This year's World Food Prize Borlaug Dialogue International Symposium focused on the theme "Let Food Be Thy Medicine" and gave special emphasis on issues such as the crucial role of nutrition in global food security, leadership, biofortification, conflict and infrastructure. Global Youth Institute students and teachers had the opportunity to take part in symposium sessions with the top minds and foremost leaders in global agriculture, food and development.
Laurenz was selected as one of Michigan's youth delegates to the 2016 World Food Prize Global Youth Institute after writing a research paper on the topic of animal agriculture in Ecuador. He presented his research at the World Food Prize Michigan Youth Institute, which was held on the campus of Michigan State University in East Lansing, Michigan, on May 12, 2016. The World Food Prize Michigan Youth Institute is a pre-college program that engages Michigan youth as active global citizens in understanding and solving global food security challenges and provides an opportunity to explore academic and career pathways that can contribute to ending global hunger and malnutrition. The World Food Prize Michigan Youth Institute is coordinated by Michigan 4-H in partnership with the MSU College of Agriculture and Natural Resources, MSU Extension, Michigan FFA and the World Food Prize Foundation.
Laurenz researched the country of Ecuador for his paper, and made recommendations regarding Ecuador's current and future system of shrimp farming, which accounts for the country's largest export in terms of animal agriculture. He also recommended entomophagy, the practice of eating insects, as a way to improve nutrition and reduce negative environmental impacts of other forms of animal agriculture.
"I have always been interested in insects," said Laurenz. "Insects play a key role in food security. In the future, insects may also play a larger role in food security by being eaten as a cheap and efficient source of protein by a large percent of the population."
At the 2016 World Food Prize Global Youth Institute, Laurenz joined over 200 other outstanding high school students and mentors from 31 U.S. states and foreign countries for an exciting three-day program to interact with Nobel and World Food Prize laureates and the more than 1,500 global leaders from 60 countries attending the World Food Prize's 2016 Borlaug Dialogue International Symposium. Laurenz and the other World Food Prize Global Youth Institute delegates learned about innovative, impactful and cutting edge topics related to global food security and nutrition by attending presentations and panel discussions led by global leaders in international development, policy, science and industry.
At the World Food Prize Global Youth Institute, youth delegates also toured world-renowned research facilities, packed meals for Haiti disaster relief efforts, participated in an Oxfam America Hunger Banquet and networked with other young people who share an interest in addressing topics related to global food security. Delegates were also able to watch the 2016 World Food Prize Laureate Award Ceremony, where the 2016 World Food Prize laureates Maria Andrade, Howarth Bouis, Jan Low and Robert Mwanga, were honored for their work in "the development and implementation of biofortification, breeding critical vitamins and micronutrients into staple crops, thereby dramatically reducing malnutrition, stunting and 'hidden hunger' for millions." Through the combined efforts of the four laureates, over 10 million people are now positively impacted by biofortified crops, with a potential of several hundred million more having their nutrition and health enhanced in the coming decades.
Laurenz described his experience as a 2016 delegate to the World Food Prize Global Youth Institute as "amazing!"
"This experience opened my eyes to the problems and solutions of feeding the world," he said. One of the most impactful experiences for Laurenz at the World Food Prize Global Youth Institute was participating in the Oxfam America Hunger Banquet, where diners are divided into classes based on the real-world global distribution of wealth and eat a meal representative of that class.
"Most people at the Hunger Banquet end up with a handful of rice and a few end up with a great meal," Laurenz reflected on the experience. "I ended up with the great meal. Then a speaker from a third world county came in and talked about her home and suddenly I was hit with an immense amount of guilt for taking my food for granted and not doing more to help those who are hungry."
Laurenz believes young people who want to make a positive difference in the world should start by learning as much as they can about global issues. "With knowledge about the world, it is also hard to sit around and do nothing", he said. "When you know how many people are without access to clean water, food or education, and that the number isn't just a random number, but represents human lives, then you will be motivated to make the world a better place."
And how does Laurenz plan to continue his journey to make the world a better place? Insects.
"I think my path for the future in global food security is to make protein more accessible, sustainable and affordable," he said. "I believe I can do this by furthering the eating of insects. I would like to see the world take up widespread entomophagy."
If insects aren't a passion for other youth as a way to solve global food security, that's perfectly fine with Laurenz. His advice to other young people who want to make a positive difference in the world: "There is not one way to help, but millions of ways. Find one that suits you and put it into action. And do it now. What are you waiting for?"
The next World Food Prize Michigan Youth Institute will be May 11, 2017, at MSU. Visit the Michigan 4-H website to learn more about the World Food Prize Michigan Youth Institute.
To learn about the positive impact of Michigan 4-H youth leadership, civic engagement, citizenship and global/cultural programs, read our 2015 Impact Report: "Developing Civically Engaged Leaders. Additional impact reports, highlighting even more ways Michigan 4-H positively impacted individuals and communities in 2015 can be downloaded from the Michigan 4-H website.
---