Natural resources enterprises: taking advantage of what's naturally on your forest land
Lease hunting and other activities can be relatively simple sources of supplemental income while meeting wildlife and forest-based goals.
Many landowners enjoy their forested land for the wildlife it contains, finding it rewarding to attract either certain game species for hunting, or nongame species for merely viewing, or both. Many active habitat improvements like tree planting, creating openings in the canopy of a mature forest, favoring certain seed- and nut-producing tree species or creating a pond can help to attract the desired set of wildlife species. Although many of these activities may be interesting, they can be expensive to implement.
Desired improvements may be only one of many expenses related to forest ownership. Many are also concerned about the burden of property taxes, which may sometimes lead to families having to sell off some or all of their forested property. Fortunately, there are opportunities to supplement a forest owner's income enough to cover such expenses, and at times even more.
The first income source most think of is selling timber. This is often a viable option that can provide income as well as improve the condition of the forest when conducted properly. However, if the markets are poor, the parcel is too small for a profitable harvest, or if it is just not in the interest of the landowner, timber harvesting is not the only money-generating alternative. Forest owners may also consider a recreational lease. A recreational lease establishes a legal agreement between the landowner and individual or group that allows specific uses on the land (or a portion of it) for a given period of time. Lease hunting is one of the most common types. The best approach includes a written agreement that gives the hunter or hunting group the right to access the land, for a given type or types of hunting, for a given fee, service or goods. For a sample template lease agreement, review the Michigan Farm Bureau's website that features this topic.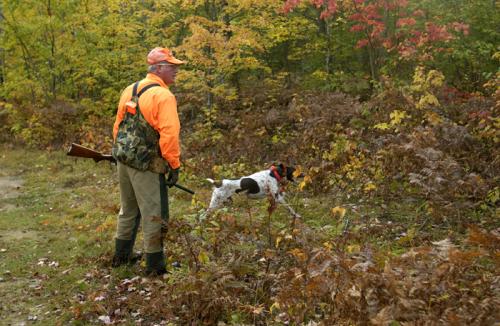 Lease hunting can be a relatively simple way to earn supplemental income for your forested property. Photo by David Kenyon, Michigan Department of Natural Resources.
According to the Great Lakes Forest Alliance, lease hunting has increased as a practice across the United States. There are several benefits to these arrangements beyond the potential for supplemental income: Forest land or marginal farmland that would otherwise be targeted to be parceled off and sold can offer a profitable enterprise for the owner; populations of certain game species can be controlled, especially in the case of deer, that may otherwise affect forest regeneration; and potential vandalism or trespass problems can be controlled by having the hunters' presence helping to an eye on the land.
As with any lease agreement, however, there are some potential issues. Coordinating these types of leases requires some personal time on the land to make sure it is reasonably accessible and devoid of any hazardous conditions. There is also a potential for increased liability, although Michigan offers limited liability protection through Part 733 of the state Natural Resources and Environmental Protection Act. Enterprises such as lease hunting are also prohibited for land that is enrolled in the Commercial Forest program. Consult a local attorney for additional legal matters related to such leasing agreements.
Michigan State University Extension will be featuring these sorts of natural resources enterprise opportunities during an upcoming workshop: Developing a Natural Resources Business: Opportunities for Michigan Landowners. This event will be held on Saturday, August 24, 2013 from 9 a.m. until 5 p.m. in the University Center, 80 Livingston Blvd., Gaylord, Michigan. The registration fee of $35 covers all materials, refreshments and a special "thumb drive" containing a selection of natural resource business resources. An optional box lunch is available for $11 per person (Box lunches must be ordered by August 16). Registration can be completed online or using the mail-in form attached to the brochure. For more information, contact the Charlevoix County MSU Extension office at 231-582-6232 or solomon@msu.edu.
For more information on natural resources enterprises and other opportunities on private forest lands, consult the Family Forest Owner Toolbox bulletin series.