2021 Needs assessment of Michigan small-scale beekeepers
Results from a 2021 survey that Michigan State University Extension administered to beekeepers and people interested in keeping honey bees.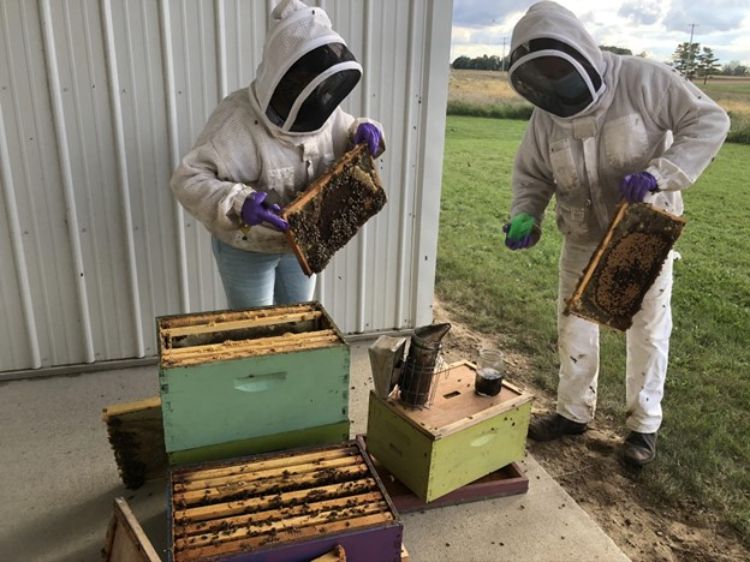 Read results from a more recent survey, the 2023 needs assessment of Michigan small-scale beekeepers.
Beekeepers in Michigan face many challenges. Michigan State University Extension (MSU Extension) wants to help beekeepers overcome these challenges and likes to hear directly from beekeepers about their topics of interest and how they would like to receive information. In March 2021, MSU Extension administered a needs assessment to understand the needs for beekeeping educational programming directed at small-scale and hobby beekeepers. An online survey was sent to everyone who registered for the Michigan Beekeepers Association's Virtual Spring Conference as well as to people registered for the Heroes to Hives program.
The survey received responses from 361 individuals spread across 70 different counties in Michigan. Thirty percent of responses came from people new to beekeeping with zero years of beekeeping experience. The survey also received over 900 responses from individuals outside of Michigan that aren't included in this report.
Where beekeepers get information
Respondents were asked, "Where do you get your beekeeping information from?" and instructed to select all that apply. Responses:
70% from online articles, web pages or blogs
67% from books
63% from online videos
56% from a local beekeeping club
52% from Michigan State University Extension
35% from a mentor
32% from social media
32% from trade journals
How beekeepers prefer to receive information
Respondents were asked, "How would you prefer to receive beekeeping information?" and instructed to select all that apply. Responses:
61% In-hive classes and workshops
60% Presentations at local bee club meetings
55% Videos filmed in the field, for example filmed in an apiary or honey house
53% Visits to someone else's bee yard
51% Webinar video recordings posted online
51% Live webinar presentations on a specific topic
48% Online course that is self-paced
47% Presentations at conferences or bee schools
40% Live webinar presentations in an informal question and answer format
38% In-person presentations in a classroom setting
35% Consultations in my bee yard
33% Email newsletters
32% Articles in trade journals
21% Online web pages and articles
18% Online course with a group of students, a set timeline, discussion boards, and deadlines
15% Facebook
14% Podcasts
13% Blog posts
4% Instagram
1% TikTok
1% Twitter
0% Snapchat
Topics beekeepers would like more information on
Respondents were asked, "Which topics would you like more information on?" and instructed to select all that apply. Responses:
60% Making and distributing nucs or splits
48% Queen rearing
44% How to plant to increase pollinator habitat
42% Getting started with beekeeping (first 2 years of beekeeping)
34% Beekeeping management to increase profitability
31% Wild bee diversity
29% How to train and teach other beekeepers
23% Farm management and business
15% Deciding if beekeeping is right for me
14% Leadership to support bee clubs
6% Deciding if I want to work for a commercial beekeeping operation
6% Participating in board meetings
Beekeeping challenges
Respondents were asked, "What are your beekeeping challenges?" and instructed to select all that apply. Responses:
60% Wintering
59% Keeping colonies alive
54% Disease management
54% Managing varroa
49% Disease identification
40% Feeding and nutrition
40% Monitoring varroa
39% Swarm deterrence
35% Queen events and queenlessness
31% Increasing the number of colonies I manage
30% Honey production
30% Queen rearing
21% Increasing profitability
20% Constructing and maintaining equipment
Number of colonies managed by beekeepers
Respondents were asked, "How many colonies do you currently have?" Responses:
35% 0 colonies
51% 1-8 colonies
13% 9-49 colonies
2% 50-499 colonies
Less than 1% (one respondent) 500+ colonies
Years of beekeeping experience
Respondents were asked, "For how many years have you been keeping honey bees?" Responses:
30% 0 years
19% 1-2 years
38% 3-9 years
8% 10-20 years
5% More than 20 years
Apiculture and pollinator resources from MSU