New project allows steelhead anglers to track wild and stocked fish in Michigan rivers
Michigan Sea Grant Extension seeks volunteers to use Great Lakes Angler Diary.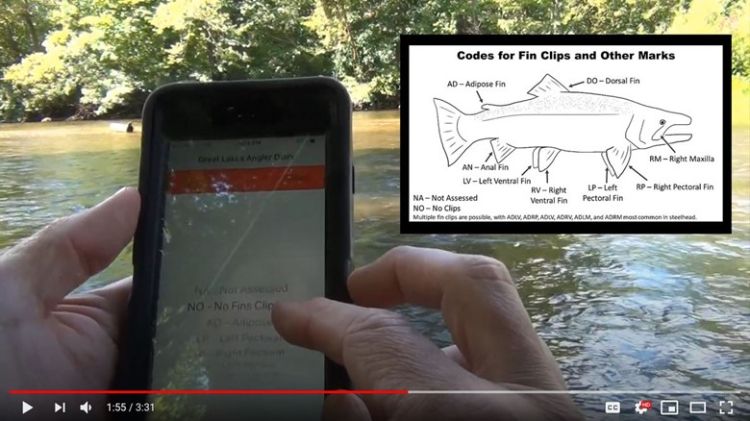 The fall steelhead run is just beginning in many Michigan rivers. Anglers may notice an increase in the number of fin-clipped steelhead showing up in their catch this year due to the efforts of the U.S. Fish & Wildlife Service's Great Lakes Mass Marking Program. This program has been working with Michigan Department of Natural Resources hatcheries to ensure that all yearling steelhead (and most, but not all, fall fingerling steelhead) stocked since 2018 have been marked.
This means that the vast majority of stocked steelhead returning to Michigan rivers after 1, 2, or 3 summers in the Great Lakes this fall will have an adipose fin clip. Most (but not all) will also have a tiny coded wire tag in their snout, and some will have additional fin clips. In Michigan, the most common combination clip will probably be an adipose clip coupled with a right ventral fin clip, which has been used for Manistee River skamania. (Review details on interpreting steelhead fin clips)
You can learn a lot about the health of your favorite river and what it takes to sustain your steelhead fishery by paying attention to the balance of clipped and unclipped fish. This year you can share your data with biologists and fishery managers by using a simple online reporting system called Great Lakes Angler Diary.
Why do we need this project?
Creel census clerks working for MDNR and biological technicians working for USFWS regularly sample catches from big lake anglers at access sites around the Great Lakes. Rivers are much more difficult to sample adequately because there are so many more access sites, particularly for wading and shore anglers. The peak season for a given river can also be very short and difficult to predict, which makes it very hard to design an efficient and effective sampling schedule.
In short, anglers like you do a great job of figuring out when and where the fish are biting. This means that we can rely on you to provide important information on the balance of stocked and wild fish showing up in the catch. You can also provide useful information on the length of each fish, which relates to age and growth, along with some basic information on where, when, and how long you spent fishing.
There is a big difference between a properly designed creel survey and a voluntary program like this one, though. Due to the randomized sampling design, a creel survey would give us a much better estimate of the total number of steelhead caught by all anglers on the river, along with the total number of anglers fishing and hours fished. Our Michigan River Steelhead Project will not be able to estimate overall catch and effort from volunteer data, but it will give us very important info on fish populations.
In fact, this information from volunteers will provide the only steelhead data available on many Michigan rivers this year, so we could really use your help.
How do I participate?
Sign up for online reporting with the Great Lakes Angler Diary and follow these steps:
REGISTER at GLanglerdiary.org download the iOS app
RECORD every river steelhead trip taken October-May
MEASURE each and every steelhead caught
CHECK for fin clips and other marks
At the end of the season, Michigan State University Extension will send you a link to a short survey. It is very important to fill out the survey and verify that your information is complete. We will not be able to use incomplete data for some of the analysis because of the potential for bias. For example, if you only measure the biggest steelhead you catch, we would not get a true sense for the length of the average steelhead.
What if I didn't register until after the season started and missed recording some early season trips?
That will be accounted for when you fill out the survey. For example, if you missed all of October and most of November because you registered in late November, we could still use your complete data set from December through May.
What if I can't measure every steelhead caught?
It is important for biologists to have the most detailed information possible on fish lengths. Fish length is related to both the age and the growth rate of the fish. We will not be taking scales from fish, which would provide an estimate of age, so the only piece of information we have that can give us some indication of age and growth is the total length of the fish.
When you record data, Great Lakes Angler Diary asks for the total length measured to the nearest quarter-inch. We understand that wading anglers may have difficulty measuring some fish precisely, especially when fishing alone. If you can only report lengths to the nearest inch, then do the best you can.
If you cannot get any measurement on a fish, or if you forget to measure a fish or two over the course of the season, there is another option. When you enter length data you will see a scrolling menu of potential lengths for all types of fish including musky and sturgeon. If you scroll all the way past 80 inches you will see additional categories for <20, 20-28, and >28 inches. You can use these categories to estimate the size of the fish or enter NA if the length was not assessed.
In short, we are encouraging you to provide the most precise measurement of total length that is reasonable given your fishing methods.
Is this just a way for you to figure out my favorite fishing holes?
Absolutely not. In fact, you are only required to report the river you fished on in most cases. For some larger rivers like the Grand and Muskegon the river is broken up into upper and lower sections, but we are interested in broad trends and not specific fishing spots.
We have also gone through human research protocols at MSU to ensure the confidentiality of your data. This means that we will not share your catch data in a way that identifies you as the angler. Your name and email address will not be associated with the fish you catch in our database – instead you will be given a Volunteer Number that will help protect the confidentiality of your data.
Which rivers are included?
You can enter data from any river. Most major rivers appear in a dropdown menu for location entry within Great Lakes Angler Diary, and you can also enter "Other Tributary" for each lake and manually enter your location (see tutorial video).
We are also building teams for several major rivers. The goal for each team is to have dozens of volunteers catching hundreds of steelhead per year on key rivers. This teams will provide us with a way to coordinate and promote the project, and they are not meant to exclude anglers on other rivers.
So far, teams include:
Betsie River
Pere Marquette River
Grand River
St. Joseph River
Huron River
Lake Superior Tributaries
Each team has an agency partner from Michigan DNR, who will provide information on stocking history, river conditions, and previous research. Each team also has an angler to serve as a team leader who will provide fishing reports and promote the project to others. Agency partners and team leaders provide reports to all volunteers during periodic online meetings using Zoom.
Once you register for Great Lakes Angler Diary, you will automatically be invited to these Zoom meetings for a chance to learn more about steelhead and network with other anglers and biologists.
We are now looking for well-connected anglers willing to serve as team leaders for the Manistee River, Muskegon River, and one or more Lake Huron tributaries. Contact us at GLanglerdiary@gmail.com if you are interested in serving as a team leader.
The Great Lakes Angler Diary was developed by Brenton Consulting, LLC, in cooperation with Michigan State University and Michigan Sea Grant and funding from Detroit Area Steelheaders.
Michigan Sea Grant helps to foster economic growth and protect Michigan's coastal, Great Lakes resources through education, research, and outreach. A collaborative effort of the University of Michigan and Michigan State University and its MSU Extension.
Michigan Sea Grant is part of the NOAA-National Sea Grant network of 34 university-based programs. This report was prepared by Michigan Sea Grant under award NA180AR4170102 from the National Oceanic and Atmospheric Administration, U.S. Department of Commerce through the Regents of the University of Michigan. The statements, findings, conclusions, and recommendations are those of the author(s) and do not necessarily reflect the views of the National Oceanic and Atmospheric Administration, the Department of Commerce, or the Regents of the University of Michigan.