Updated cover crop termination publication available for 2021
Evaluate your cover crop termination strategy with this updated for 2021 publication.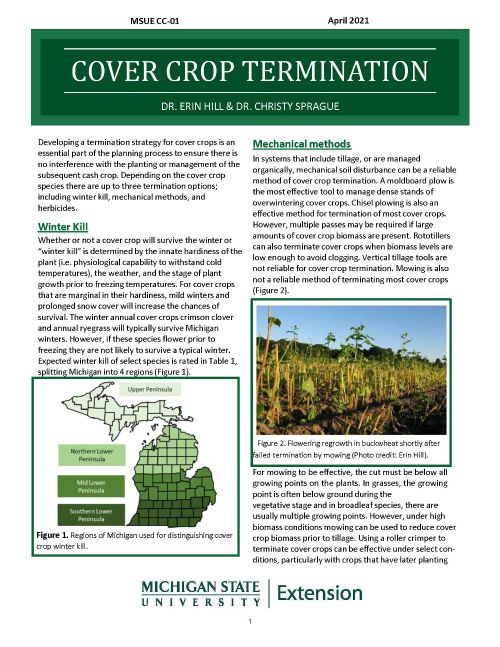 As the growing season approaches, cover crop termination is one of the first field activities on the horizon. Complete termination of a cover crop is essential to prevent poor seed placement of the cash crop, allelopathy, potential insect issues such as seed corn maggot, and crop competition. Failed or incomplete termination often deters future cover crop use.
To increase the rate of success, the Michigan State University Extension cover crops team has updated for 2021 and released "Cover Crop Termination," co-authored by weed extension specialist Christy Sprague and weed science diagnostician Erin Hill. Cover crop termination methods discussed include winter kill, mechanical methods and herbicide options.
Table 1 of this document details the effectiveness of these methods for specific cover crop species, including suggested herbicide rates. This table also lists the rotation intervals required for subsequent cash crops following the listed herbicide applications.
For more information, contact anyone on the MSU Extension cover crops team.
This work is supported by the Crop Protection and Pest Management Program 2017-70006-27175 from the USDA National Institute of Food and Agriculture. Any opinions, findings, conclusions or recommendations expressed in this publication are those of the author(s) and do not necessarily reflect the view of the U.S. Department of Agriculture.