New Michigan Science Standards adopted
Michigan – a leader in developing the Next Generation Science Standards – adopts new Michigan Science Standards.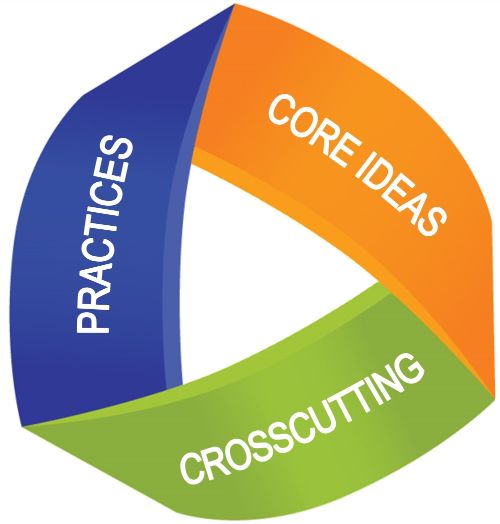 Michigan State University Extension and Michigan Sea Grant have been actively engaged in science education for decades through programs such as the 4-H & Great Lakes Natural Resources Camp and the Great Lakes Education Program. On November 10, 2015, the Michigan State Board of Education approved the new Michigan Science Standards, which are aligned with the Next Generation Science Standards.
According to the Michigan Department of Education, "The effort to revise science standards comes from a vision for science education that is based on over thirty years of research on how students best learn science, as well as the ever changing needs in our workplaces and communities for scientific understanding." This vision for learning science and engineering was presented by the National Research Council in A Framework for K-12 Science Education, which was used to develop the Next Generation Science Standards.
The view of science in these new standards has three dimensions: Practices (research suggests that students need to be engaged in doing science), Disciplinary Core Ideas, and Crosscutting Concepts (which link the different domains and disciplines of science).
Michigan actively participated in the development of the Next Generation Science Standards (NGSS) as a Lead State Partner.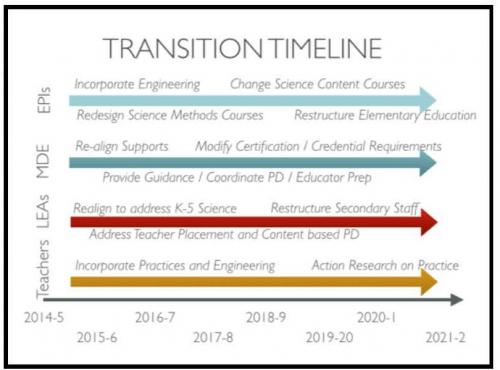 Two Michigan State University professors served on the 41-member NGSS Writing Team. Both were team leaders, and Michigan was the only state to have more than one team leader. They were Melanie Cooper, Lappan-Phillips Professor of Science Education and Professor of Chemistry, Michigan State University; and Joseph Krajcik, Director, CREATE for STEM Institute and Professor, Science Education, Michigan State University, who served as Chair of the Physical Science writing committee.
The NGSS developmental process included 66 Michigan educators including elementary education, secondary education (grades 6-12), post-secondary education, and informal science educators. These educators represented Michigan professional science organizations including the Michigan Science Teachers Association, Michigan Science Education Leadership Association, Michigan Math and Science Centers Network, and the Michigan Department of Education. Members were selected to provide expertise in all areas of the NGSS, and represented a cross-section of the state. Michigan also provided extensive public feedback for two public drafts, with Michigan respondents representing 11% (most in the nation) and 8% (third in the nation) of the total respondents for the two drafts, respectively.
The Michigan Science Standards will be implemented over time. The Michigan Department of Education will provide support for educators through guidance, professional development, and learning resources as Michigan seeks to improve science literacy statewide.
Michigan Sea Grant helps to foster economic growth and protect Michigan's coastal, Great Lakes resources through education, research and outreach. A collaborative effort of the University of Michigan and Michigan State University, Michigan Sea Grant is part of the NOAA-National Sea Grant network of 33 university-based programs.