New Mobile CNC Training Lab makes "house calls"
The CNC Mobile Lab provides state of the art training right at your doorstep.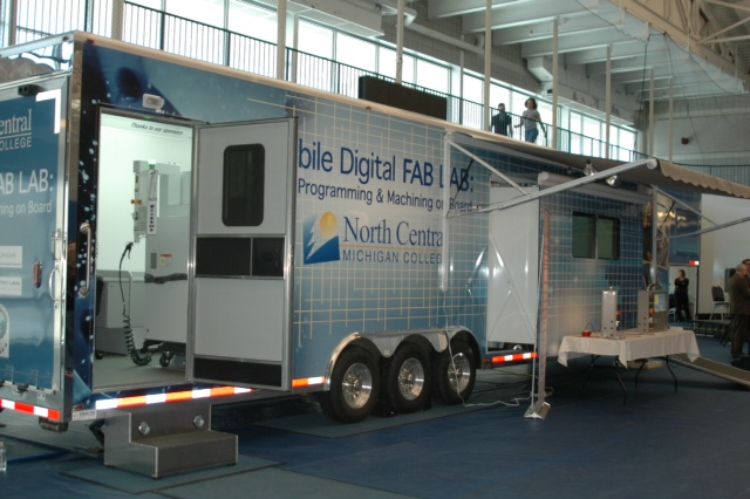 Several hundred individuals participated in the launch of the CNC Mobile Lab ribbon-cutting at North Central Michigan College in March 2014.
After repeatedly hearing area manufacturers indicate the urgent need for employees with Computer Numeric Control (CNC) skills, Michigan State University Extension partner, Northern Lakes Economic Alliance was anxious to find a solution. Many jobs were going unfilled, and Northern Michigan manufacturers as a group said they could hire 200 additional employees right away if they could find individuals with CNC skills.
The challenge is that in a rural area it is not cost-effective to build a vocational training center in one community. By developing a mobile lab, the unit can travel throughout the region and service manufacturing facilities and schools in a much broader area. This is a model that can be implemented throughout rural Michigan.
After learning about a new Mobile Manufacturing Lab operating in Wisconsin, Northern Lakes Economic Alliance (NLEA) staff traveled to Wisconsin and toured the mobile lab. They were so impressed that the NLEA immediately started an effort to develop a similar program to serve northern Michigan. The initial visit began a two year journey leading to the mobile CNC "Fab Lab" launch. The NLEA's mission is to support the creation and retention of jobs in our four-county region of Antrim, Charlevoix, Cheboygan and Emmet counties and the FAB LAB goes a long way toward accomplishing that mission.
The NLEA assembled a group of top business, educational, community and government leaders to develop a plan to make the mobile CNC lab a reality. This group became the Manufacturing Advisory Team and has been a fantastic example of what can be accomplished when a collaborative approach is taken to find a solution to a challenge.
Funding the cost of building the unit was a challenge overcome when the Michigan Economic Development Corporation (MEDC) stepped forward with a creative solution to fund the FAB LAB. Working closely with Boyne City manufacturer Precision Edge Surgical Products, who pledged funds they will receive from MEDC (which are tied to job creation and investment) to pay for the mobile lab. Additionally, North Central Michigan College made the commitment to purchase, operate and provide the curriculum for this resource.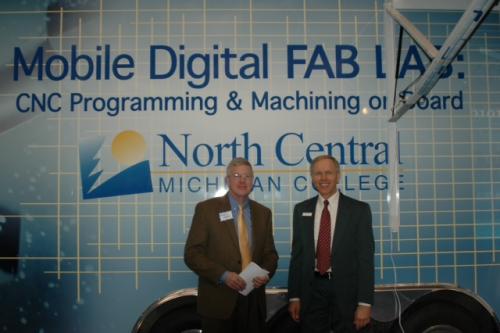 Another key partner is the Char Em Intermediate School District. They recruited three area high schools that will pilot test the program. High school students from Pellston, East Jordan and Central Lake are poised to take classes in the FAB LAB.
In a nutshell, the mobile CNC training lab will travel to manufacturing facilities to provide training for current and new hires; will travel to area high schools to provide a high tech option in vocational education, and will be part of an on-going college curriculum at North Central Michigan College. Additionally, the FAB LAB will showcase modern manufacturing to students, parents, communities and visitors with appearances at a variety of events.
The success of the FAB LAB will be measured by how well we provide the skills needed by our manufacturers, how many students are trained and result in high-paying manufacturing jobs and finally how much the manufacturing industry expands in our four-county region.
For more information about the mobile CNC training lab (the FAB LAB), contact the Northern Lakes Economic Alliance.
Michigan State University Extension has had a unique partnership relationship with the regional economic development organization Northern Lakes Economic Alliance (NLEA) for more than 20 years. Recognizing the strength of combining resources, this partnership focuses on economic development, entrepreneurship growth and community infrastructure throughout a four-county region in the northwest Lower Peninsula, specifically Antrim, Charlevoix, Cheboygan and Emmet counties. As a result, the NLEA utilizes resources offered through MSU Extension as it provides leadership to state-wide programs sponsored by MSU Extension.