New online Integrated Pest Management course now available
Learn about integrated pest management and earn pesticide recertification credits with new, on-demand, online course.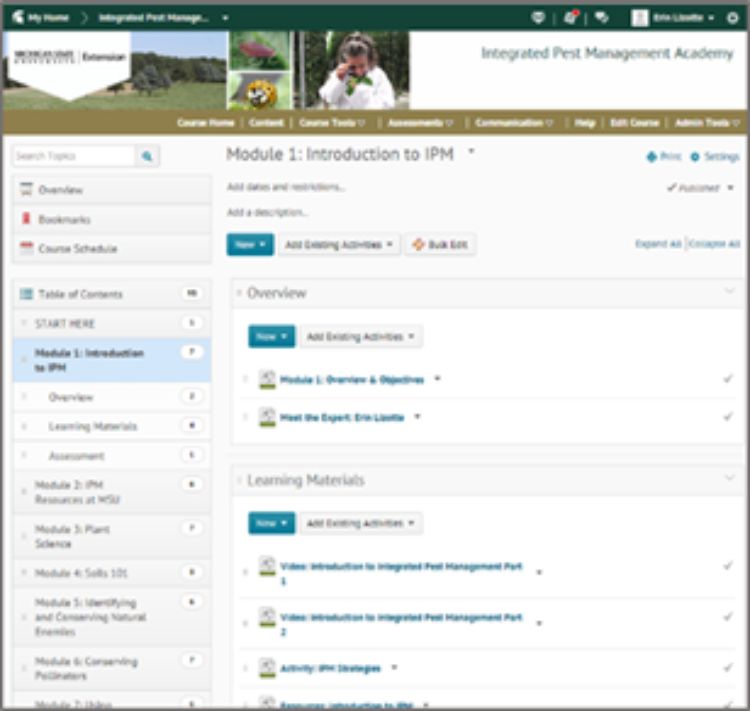 The Desire to Learn Integrated Pest Management (IPM) Academy is an interactive, online program designed to provide a comprehensive and convenient online learning experience. This self-paced course features university experts and a full-service help center with 24/7 technical support. Current topics include:
An introduction to IPM
IPM resources at MSU
Plant science
Soils 101
Identifying and conserving natural enemies
Conserving pollinators
Using Enviro-weather
Scouting in greenhouses, perennial crops and vegetable crops
The course is a combination of videos, resources and interactive content. To participate, a computer with an updated web browser, speakers and internet access are required. Refer to the registration instructions to create your community ID and sign-up for the course. It may take up to 24 hours for access to the course site to be granted. Contact the help desk 24/7 at 517-432-6200 or toll-free at 884-678-6200 for assistance.
The total cost of the course is $10, payable online at the time of registration. Upon course completion, certified pesticide applicators in Michigan can request six credits (1A, 1B, Commercial Core or Private Core). Participants can also print a certificate of completion.
Accommodations for persons with disabilities may be requested by contacting Erin Lizotte at taylo548@msu.edu. All videos include closed captioning.
This material is based upon work supported by the National Institute of Food and Agriculture, U.S. Department of Agriculture, under Agreement No. 2015-09785. Any opinions, findings, conclusions, or recommendations expressed in this publication are those of the author(s) and do not necessarily reflect the view of the U.S. Department of Agriculture.