New ratings of wheat varieties for stripe rust
MSU's wheat breeding team has rated the resistance level of varieties to stripe rust so growers can better decide which fields may need fungicide protection.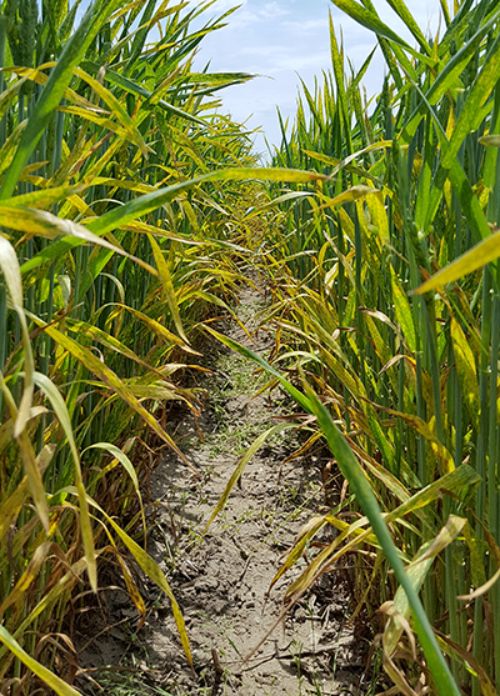 Wheat varieties are exhibiting a significant difference in their response to Michigan's current unprecedented level of stripe rust. It is important growers immediately identify those fields at risk, particularly where fungicides can still be used in compliance with the 30 days-to-harvest restriction. The severity of this disease will likely increase until the crop matures, so all fields should be checked closely at this time including those that received an earlier application of a fungicide.
Michigan State University Extension recommends triazole fungicides once heading occurs. These fungicides include Caramba, Prosaro and tebuconazole (sold under various trade names). These products can be used up to 30 days prior to harvest. In Michigan, there is often 35 to 45 days from the time of flowering to harvest, depending on weather conditions.
The tables below summarize the timely work of Lee Siler, Andrew Wiersma and Eric Olson of the MSU wheat breeding team in rating varieties and grouping them based on their resistance to stripe rust.
Resistant (R) varieties will not need the help of a fungicide for stripe rust (see table 1).
Moderately Resistant (MR) varieties may need help from a fungicide, especially those varieties having infection levels (second column) above 10 percent (see table 1).
Moderately Susceptible (MS) varieties will likely benefit from a fungicide application where the disease is found (see table 2).
Susceptible (S) varieties are very likely to benefit from the use of a fungicide where the disease is found (see table 2).
Table 1. Varieties resistant and moderately resistant to stripe rust.

Variety

Infection type

% Infection

Class

L 11528

0

2

R

SY 100

1

3

R

AgriMAXX 413

1

1

R

SY 483

1

2

R

DF 105 R

1

2

R

Diener 496W

1

5

R

RS 972

2

4

R

MCIA Venus

2

2

R

Pioneer 25R25

3

5

MR

Pioneer 25R40

3

5

MR

AgriMAXX 438

3

5

MR

Hilliard

3

5

MR

AgriMAXX 444

3

5

MR

DF 112 R

3

5

MR

9552

4

5

MR

LCS 2214

4

6

MR

L-334

4

6

MR

Jupiter

4

16

MR

MCIA Red Devil

4

5

MR

Equity Butler

4

5

MR

MCIARed Dragon

4

32

MR

9522

5

5

MR

DF 109 R

5

5

MR

W 202

5

11

MR

W 307

5

12

MR

Sunburst

5

14

MR

9242W

5

37

MR
(L.Siler, A. Wiersma, E. Olson, 2016)
Table 2. Varieties moderately susceptible and susceptible to stripe rust.

Variety

Infection type

% Infection

Class

SC 1335-15

6

10

MS

TW528-003

6

27

MS

RS 910

6

22

MS

Diener 491W

6

28

MS

Pioneer 25R50

6

8

MS

MCIA Whale

6

6

MS

LCS 3677

6

27

MS

MSU 6012

6

7

MS

SC 1315-15

6

14

MS

AC Mountain

6

19

MS

W 204

6

37

MS

W 303

6

14

MS

HS 284R

6

34

MS

L 11418

6

24

MS

Francis

7

21

S

W 206

7

20

S

Hopewell

7

19

S

Aubrey

7

22

S

Shirley

7

47

S

SC 1325-15

7

42

S

L-241

7

19

S

Ambassador

7

39

S

AgriMAXX 454

7

29

S

Red Ruby

7

50

S

W 304

7

23

S

9692

7

18

S

RS 9XP011

7

37

S

Skeet

7

29

S

SC 13S26

7

38

S

Pioneer Brand 25R46

7

38

S

HS 30.06

8

23

S

DF 111 R

8

52

S

9491W

8

82

S
(L.Siler, A. Wiersma, E. Olson, 2016)
See also: