New report looks at resiliency in the Saginaw Bay Watershed
More than 250 decision-makers surveyed on the impact of extreme storm events in local communities.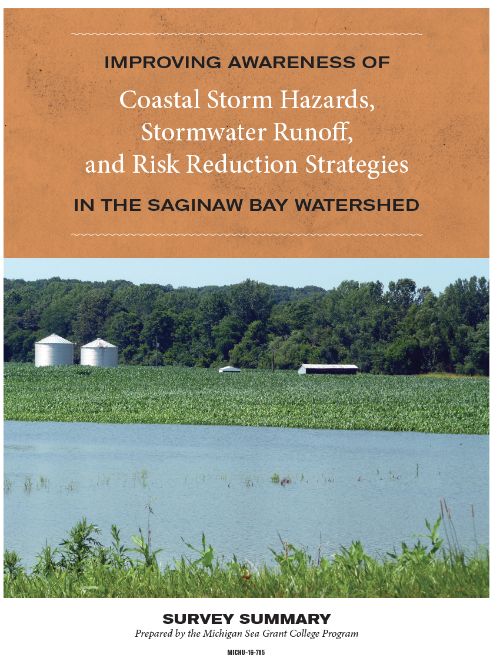 Extreme storms across the Great Lakes region have increased in frequency and intensity over the last century. This trend is expected to continue in coming years with serious implications for community health, safety and economic stability. Communities in the Saginaw Bay watershed are particularly vulnerable to extreme storm impacts as a result of the watershed's unique topography and land-use patterns.
A recent survey effort set out to assess key local decision-makers' perceptions of extreme storms and their impacts in the Saginaw Bay watershed. The survey project was spearheaded by Michigan State University Extension and Michigan Sea Grant with collaboration from several local organizations within the watershed including the Bay County Emergency Management Division, East Michigan Council of Governments, Midland County Office of Emergency Management and Saginaw Bay Coastal Initiative.
The term resiliency often takes on different meanings depending on the context it is used in. In this project, community resiliency refers to a community's ability to adapt to the changing frequency and intensity of storms and to recover quickly from the impacts of extreme storm events.
A total of 265 decision-makers participated in the survey in the fall of 2015 representing all 22 counties in the Saginaw Bay watershed. A report summarizing key survey results is now available on the Michigan Sea Grant website. This report also outlines recommended outreach actions for improving resiliency in the Saginaw Bay watershed based on survey findings.
The report includes respondent feedback on three core topic areas:
Perceptions of extreme storm hazards
Resource, knowledge and capacity needs
Support for existing and potential risk reduction strategies
The resulting findings reveal a number of important insights into how decision-makers in the Saginaw Bay watershed perceive extreme storm impacts in their communities. Overall, participants recognized storm hazards as having some impact on their communities but did not feel extreme storms were an issue of top priority. Participants identified lack of interest or awareness as the primary barrier to implementing existing storm preparedness plans. Survey results also show that most of the resources participants consulted for information on extreme storms were focused on forecasting storm events rather than proactive long-term resiliency planning. When asked about support for future resiliency strategies participants were most interested in strategies addressing emerging water quality concerns including storm water runoff and failing septic systems.
The report outlines a number of outreach recommendations based on survey findings including:
Increase awareness of extreme storms and their consequences as a significant threat to health, safety and economic stability particularly among community leadership.
Promote tools that help decision-makers take a proactive approach to long-term resiliency planning.
Provide additional information on the "next generation" of water pollution concerns in the watershed including urban runoff and septic system failures while also highlighting the progress achieved to date in addressing major historic pollution sources in the watershed.
Michigan Sea Grant plans to use the results from this survey to develop new extreme storm resiliency improvement programs and projects in the Saginaw Bay watershed.
Michigan Sea Grant helps to foster economic growth and protect Michigan's coastal, Great Lakes resources through education, research and outreach. A collaborative effort of the University of Michigan and Michigan State University and its MSU Extension, Michigan Sea Grant is part of the NOAA-National Sea Grant network of 33 university-based programs.