New technology advances education in rural areas
Robotic teachers are no longer a thing of the future, they have arrived- meaning equal education access for everyone.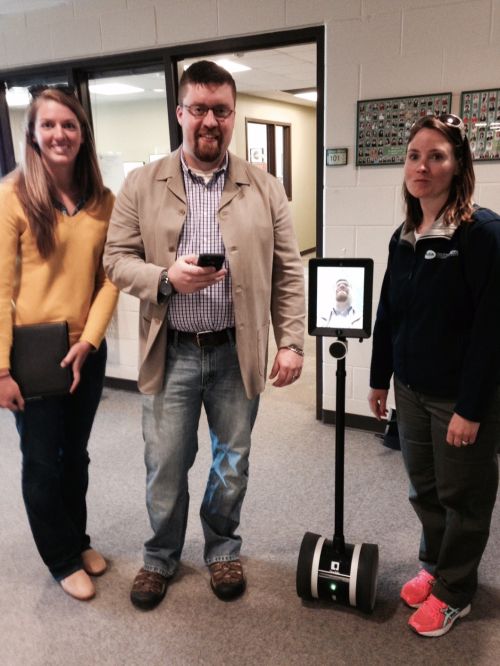 When your school faces extreme challenges, like being located one of the most remote islands in one of the largest freshwater bodies of water on the Earth, technology can be a friend or a foe; but, the public schools on Beaver Island have embraced cutting edge technology to give their students a truly unique learning experience.
Beaver Island is one of just a few schools in the country that is equipped with a pilot program for the "Double Telepresence" mobile robot which arrived on premise late April 2015. The robot moves much like a Segway and allows a teacher who is located off premise to teach a classroom of students independently by operating the device remotely on a computer, phone or tablet.
It is designed to be a self-sufficient tool; not only can the students see the teacher and vice-versa, but the instructor can control the robot to move throughout the school, watching the classroom and moving with students throughout the building autonomously.
The device is also linked to the schools Smart TV's so that the instructor can remotely bring up presentations, documents and websites for the students to view. This new technology can bring individual attention to the learning experience for a child who may want to learn a unique skill like a foreign language or for students that may need additional help with a tutor.
Access to education and the latest technology is a shared goal between Michigan State University Extension and partner Northern Lakes Economic Alliance. Helping students, entrepreneurs and community members to utilize the technological resources available will drive the economic impact of the region.
"Michigan State University Extension has had a unique relationship with the regional economic development organization Northern Lakes Economic Alliance (NLEA) for more than 20 years. Recognizing the strength of combining resources, this partnership focuses on economic development, entrepreneurship growth and community infrastructure throughout a four-county region in the northwest Lower Peninsula, specifically Antrim, Charlevoix, Cheboygan and Emmet counties. As a result, the NLEA utilizes resources offered through MSU Extension as it provides leadership to state-wide programs sponsored by MSU Extension."