New tip sheets on smart tree selections for communities and landowners
New tip sheets from Michigan State University Extension provide suggestions to increase shade tree species diversity and diminish the impact of new invasive pests.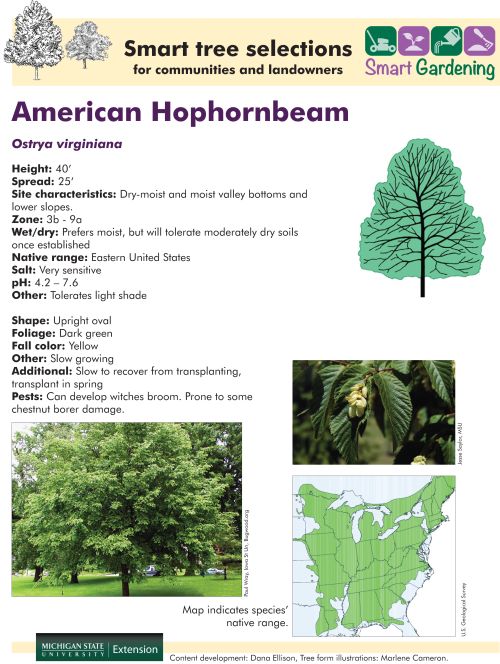 Michigan State University Extension has produced a series of 40 full-color tip sheets that describe shade trees suitable for urban forestry and home landscape planting in Michigan. The tip sheets are available for free download at the Gardening in Michigan website, as well as at the end of this article.
The devastation caused by exotic pests such as Dutch elm disease, chestnut blight and emerald ash borer has taught us the importance of species diversity in our landscapes. To promote diverse use of trees by homeowners, landscapers and urban foresters, MSU Extension offers these tip sheets for urban and community tree selection. Trees highlighted in the sheets are small to medium trees, many of which are suitable as replacements for ash trees lost due to emerald ash borer.
The tip sheets include information on general characteristics, hardiness, mature form, size and other noteworthy qualities. For species native to Eastern North America, the tip sheets provide a map of the species' native range. Many of the selections include "tried and true" trees as well as some lesser-known or underused selections appropriate for Michigan.
Smart tree selections for communities and landowners:
* See information on tip sheet regarding responsible use of this species.
Support for the development of the shade tree tip sheets was provided by a grant from MSU Extension.
Visit www.migarden.msu.edu for smart gardening advice for your lawn, plants and soil. Or, call the MSU Extension toll-free hotline at 888-678-3464.
Dr. Cregg's work is funded in part by MSU's AgBioResearch.