NOAA B-WET project supports Great Lakes education
NOAA's B-WET environmental education program promotes locally relevant, experiential K-12 learning in southeast Michigan.
NOAA's B-WET environmental education program has been promoting locally relevant, experiential K-12 learning nationwide since 2002, beginning in the Chesapeake Bay.

B-WET funding in the Great Lakes became available in 2012, and administration of the Great Lakes B-WET program is through NOAA's Thunder Bay National Marine Sanctuary located in Alpena, Michigan. NOAA recognizes that knowledge and commitment built from firsthand experience, especially in the context of one's community and culture, is essential for achieving environmental stewardship.
Michigan State University Extension, in collaboration with Michigan Sea Grant, applied for and was awarded funding for the proposal, "Developing Great Lakes Literacy and Stewardship in Urban Southeast Michigan through the Great Lakes Education Program," which was instrumental in providing access to the award-winning Great Lakes Education Program (GLEP). The GLEP program occurs on Lake St. Clair and the lower Detroit River due to the many schools in districts, there, with large underserved student populations that could not otherwise have participated in this type of educational programming. The significance of this is magnified with the realization that while Michigan is the Great Lakes State, there is no mandate to include Great Lakes content in Michigan's classrooms.
GLEP has provided award-winning, research-based education to more than 100,000 learners since 1991, using a three-phase Preparation/Action/Reflection approach involving classroom lessons aligned to Michigan Grade Level Content Expectations and Great Lakes Literacy Principles, as well as experiential vessel-based and shoreside learning. Each class supported by B-WET scholarships was taught a new Down the Drain lesson and engaged in a watershed stewardship project using storm water pollution reduction best practices. This was in addition to the typical GLEP education experience.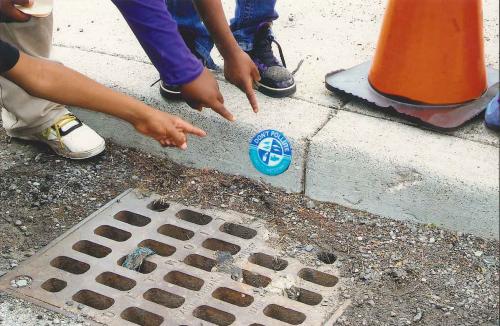 Fifty-five (55) classes received NOAA B-WET scholarships and completed all project requirements. An additional nineteen (19) classes provided project leverage by being in schools that involved all classes in the same grade in the project, bringing the effective total of participating classes to seventy-four (74)—the original participation target was fifty (50) classes. In all, 2,026 students, 74 teachers, and 317 other adults participated in the project, including 917 underserved students.
Project evaluations showed that all 74 participating teachers completed the Down the Drain lesson and accompanying stewardship project; 88 percent shared Great Lakes Education Program information with colleagues; 93 percent encouraged other teachers to participate; and 9 percent involved their students in Great Lakes stewardship activities, in addition to that associated with the Down the Drain lesson.
Funding from programs such as NOAA B-WET allows many more K-12 students to engage in authentic, experiential, place-based education than would otherwise not be the case, and are an important tool as we seek to advance Great Lakes literacy in the Great Lakes State and throughout the region.
Did you find this article useful?
---
You Might Also Be Interested In