Northeast Michigan field crop regional report – August 13, 2015
Wheat harvest has wrapped up and growers turn their attention to developing corn and beans.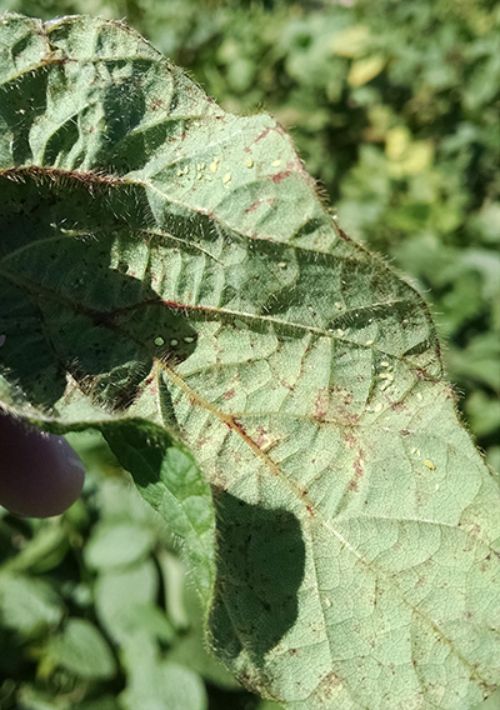 Weather and rainfall
Scattered showers passed through our region early this week, providing a fair soaking in some areas, while others didn't receive any rain. At the Michigan State University Hawks Enviro-weather station, a total of 0.43 inches of precipitation was recorded Monday, Aug. 10. Northeast Michigan is currently 1-2 inches behind our average rainfall for the last 30 days, with an area from Cheboygan, Otsego and Crawford counties west to the lakeshore officially "abnormally dry." Our next chances for rain will move into the region at the end of the work week, delivering as much as 0.20 inches by the end of Friday, Aug. 14. Showers will clear out this weekend, but may return briefly Monday afternoon, Aug. 17. NOAA 6-10 and 8-14 Day Outlooks are calling for above normal rainfall in coming weeks, but our current weather pattern is not conducive to bringing the predicted moisture from the Gulf of Mexico.
Growing degree days (GDD)
High temperatures in our region ranged from the low-70s to mid-80s over the last seven days, with overnight lows from the mid-40s to 60 degrees Fahrenheit. GDD accumulations since March 1 total 3,427 base 32 F, 2,297 base 41 and 1,366 base 50, which is on par with long-term averages. The cooler temperatures that followed a strong cold front last week won't stick around much longer, as highs this weekend are expected to reach the low 90s. However, another cold front is forecast to move into our area next Monday, Aug. 17, bringing back daytime temperatures in the mid-70s for the bulk of next week. NOAA 6-10 and 8-14 Day Outlooks are predicting above normal temperatures in coming weeks.
Commodity reports
Regarding small grains, wheat harvest is nearly complete in our region thanks to the recent pattern of dry, sunny days. There have not been any reports to Michigan State University Extension of quality issues with the grain, and yields have been about average, between 45 and 75 bushels per acre. Oats are reaching physiological maturity in many fields, and harvest has begun. Some oats were lodged by strong winds last Sunday, Aug. 2, which will complicate harvest. Barley is continuing to dry down, and it might be another week yet before some fields can be harvested.
Corn has reached the blister stage (R2) in most fields and cobs are beginning to fill out with kernels. Other fields that are a little behind are continuing pollination, mostly in the silk (R1) stage. Cooler overnight temperatures have been good for pollination, but the timing of recent rain events in relation to when fields began pollination will be a critical deciding factor for yields this year. Symptoms of nitrogen deficiency are becoming quite apparent in certain areas as the crop struggles to uptake nitrogen from the dry soil and instead translocates nitrogen (N) from the lower leaves to the developing ear.
Soybean development varies from full flower (R2) to full pod (R4) in northeast Michigan. Many stands are beginning to close canopy and weed control is good overall. Growers are reminded that full flower (R2) is the cutoff point for glyphosate applications in soybeans. Populations of soybean aphids are increasing in isolated areas. The economic threshold for soybean aphids is 250 individuals per plant. Most fields remain well below threshold, but regular scouting is recommended. White mold symptoms have been virtually nonexistent in soybeans so far this year.
Dry beans continue to flower and fill pods in most areas. Some fields have reached mid-seed fill (R6), where 50 percent of pods are fully developed. Later fields are still in early pod set (R3), where one pod has reached full length. Some fields are showing signs of micronutrient deficiencies, likely short on zinc and manganese that can be less available in our alkaline soils. This can be corrected to some extent with a foliar fertilizer application, but time is running out for any meaningful effect. Western bean cutworm moth numbers are up slightly around Moltke Township and Hawks, Michigan, since last week, but are still well below the threshold for treatment. Other trapping locations have yet to record any moth flight.
Alfalfa production varies across the region, some producers have finished second cutting, while others have just started. Leafhoppers are causing visible damage in some stands. The economic threshold for leafhoppers in alfalfa is currently about one leafhopper per sweep with a net, based on the market value of hay and crop height.
Potatoes are progressing through the tuber bulking stage of growth. During this stage, water, nutrients and carbohydrates are deposited in tuber cells and yield is determined. Tubers can add six to 10 hundred weight (100 pounds) per acre each day during this period. However, any pest pressure or environmental stress can slow tuber growth and ultimately reduce yield. Insecticide applications are being made to control Colorado potato beetles and leafhoppers. Northeast Michigan's MSU and Michigan Potato Industry Commission field day is scheduled for Aug. 25, 2-5 p.m. at the Erke Farm near Rogers City, Michigan.