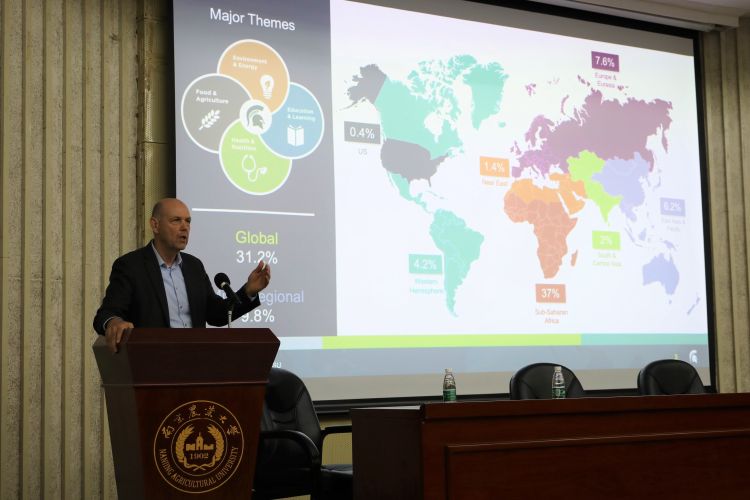 EAST LANSING, Mich. – The Michigan State University (MSU) College of Agriculture and Natural Resources (CANR) and Nanjing Agricultural University (NAU) in China entered a dual-enrollment agreement on undergraduate and graduate programs in food and agriculture. The Ministry of Education in China also approved the joint institute agreement.
NAU students will be able to take MSU courses in China beginning in 2020. NAU's campus in Nanjing, Jiangsu province, China, will provide dedicated classroom and lab space and administrative support for the partnership.
Dual-degree classes will be offered on the campus in East Lansing starting in 2022. MSU will offer a bachelor of science degree in food science or biosystems engineering. In addition, MSU master's and doctoral programs are part of the agreement spanning areas of food science, agricultural economics and horticulture.
Discussions on the partnership began in 2016. Faculty members Wei Liao, in the MSU Department of Biosystems and Agricultural Engineering, and Perry Ng, in the MSU Department of Food Science and Human Nutrition, developed their respective budgets and curricula, communicated directly with NAU and provided recommendations to MSU and CANR leaders.
"This partnership represents a part of MSU's global engagement effort," Liao said. "The program will not only recruit more Chinese students to CANR but also benefit our domestic students from aspects of diversity, inclusion and academic performance."
Ng and Liao made several visits to NAU to evaluate classes and facilities and determine course alignment. NAU identified two undergraduate majors in CANR – food science and biosystems engineering – that fit NAU interests and were relevant to the Chinese agricultural economy to be part of the dual-enrollment program.
"This partnership brings prestige to MSU and increases research opportunities for collaboration with NAU," Ng said.
Kelly Millenbah, CANR senior associate dean, said this partnership fosters new opportunities for academic experiences and research across continents that benefit students, faculty members and researchers. It also supports existing research collaborations.
"From the graduate level, this partnership provides a stronger capacity to work across international boundaries," Millenbah said. "Further, if the partnership helps drive more research funding, then faculty are also invested in the academics."
The dual-degree program expands the ongoing Asia Hub initiative between MSU, NAU and its partner institutions in Asia, broadening MSU's international impact and future funding and research opportunities.
"The future of higher education is global, and this innovative partnership between NAU and Michigan State represents how international collaborations strengthen our university's research capabilities while providing new and exciting education pathways for the next generation of global citizens," said Steven Hanson, associate provost and dean of International Studies and Programs at MSU.
---