College Visits
College of Agriculture and Natural Resources (CANR) visits and tours are a great way for prospective students to learn more about Michigan State University, academic programs and campus life.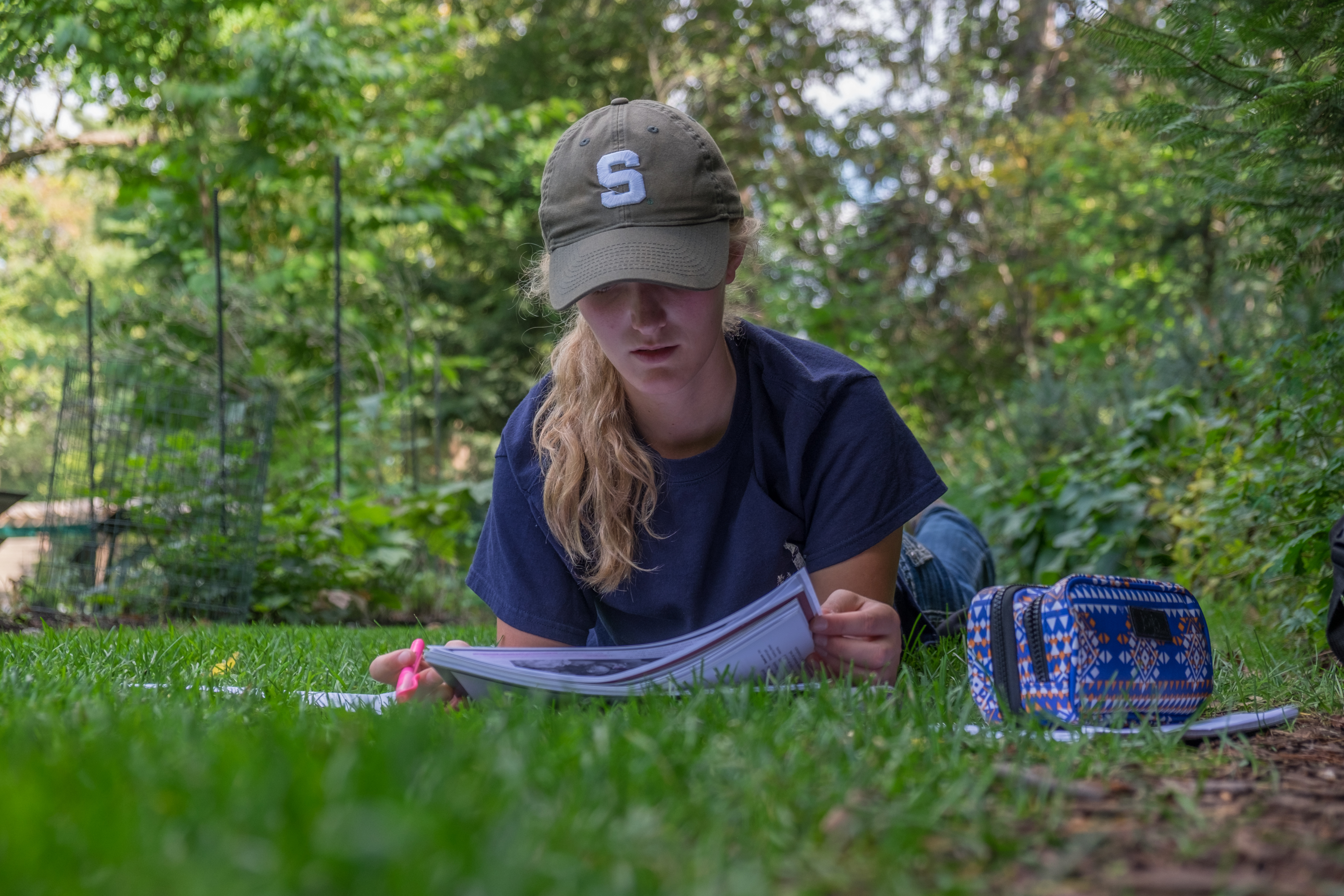 Individual College Visit
The CANR welcomes visits from prospective students interested in learning about academic programs and other MSU opportunities in research, education abroad and student life.
Visit campus to learn more about:
Meetings last about an hour and, when possible, are scheduled with the CANR academic advisor or program coordinator in your area of interest.
Visits are scheduled Monday through Friday between 9 a.m. and 4 p.m.
Call the CANR Office of Academic and Student Affairs at 517-355-0234 or email stacey66@msu.edu to get things started for your visit. Someone should follow within five business days.
Information needed:
Name
Full address
Phone number
Email
Preferred visit dates and times
Any special requests or questions
Group College Tours
If you are interested in bringing a group of students to campus for a tour of the CANR, then complete the same online campus tour form indicating a group tour and details of your group. A group tour includes a 30-minute welcome and CANR overview and a walking tour of some CANR on-campus facilities.
Group tours last approximately an hour and a half and are only available in the fall during September and October. Spring group tours are available in March and April.
For more information about group tours, contact Stacey Greisinger in the CANR Office of Academic and Student Affairs at 517-355-0234 or email stacey66@msu.edu.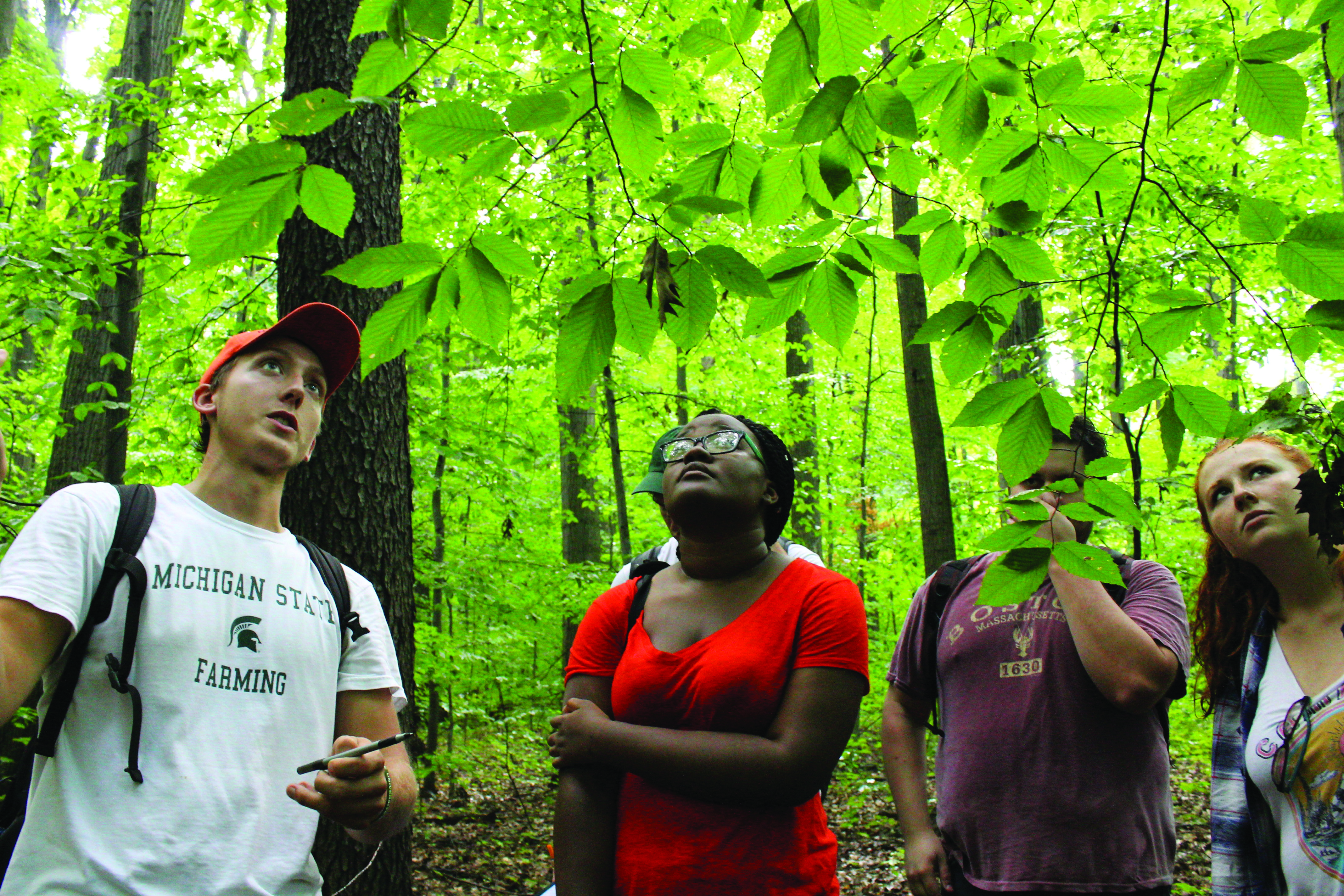 MSU Admissions Tours
It is also recommended that prospective MSU students attend the appropriate MSU Admissions visit program through the main university Admissions office in addition to a CANR campus visit. These programs will cover information about admissions, financial aid, residence life, and include a 45-minute walking tour.
For students planning to attend the MSU Admissions visit program, register for a program on the date that works best for you and then let us know in the "special requests or questions" section in the CANR online campus visit form.
Self-Guided Walking Tours
The MSU campus has many wonderful facilities, beautiful gardens and other points of interest that are open to the public. You can create your own tour based on interest and schedule for example MSU farms and gardens.
See more on self-guided tours of MSU.
Here are a few points of interest for you to visit that are part of CANR or of interest to those programs of study
MSU Dairy Store – Anthony Hall and the MSU Union
Bug House – Natural Science Building (set up an appointment)
MSU Horticulture Gardens

The Michigan 4-H Children's Garden
The Amien Carter Annual Gardens
The Judith A. DeLapa Perennial Garden
The Clarence E. Lewis Landscape Arboretum
The VIP Garden (Vegetables and Insect Pollinators)
The Frank's Nursey and Crafts Rose Garden

Anthony Hall – Department of Animal Science, Dairy Store, Dairy Plant, Meat Lab
Farrall Hall – Department of Biosystems & Agricultural Engineering, Farrall Hall electrical lab, Electrical Technology certificate program
Justin S. Morrill Hall of Agriculture – CANR Dean's Office, MSU Extension, AgBioResearch, Office of Academic and Student Affairs, Institute of Agricultural Technology
Human Ecology Building – School of Planning, Design and Construction; studios;, work rooms; galleries
Natural Resources Building – Department of Community Sustainability, Department of Fisheries and Wildlife, Department of Forestry, Polar Bear
Packaging Building - School of Packaging, classrooms, labs
Plant and Soil Sciences Building – Department of Horticulture; Department of Plant, Soil and Microbial Sciences; green roof; gardens; greenhouses
MSU Farms – located south of the main campus. Farms are open to the public.
Pavilion for Agriculture and Livestock Education – Located on Farm Lane. South of the main campus.
Trout Food Science Building – Department of Food Science and Human Nutrition, advising center, labs