Biosystems engineering student uses problem-solving skills to land internship at Goldman Sachs
Taryn Hanses uses analytical approaches from engineering to help prepare for a future career in data analytics.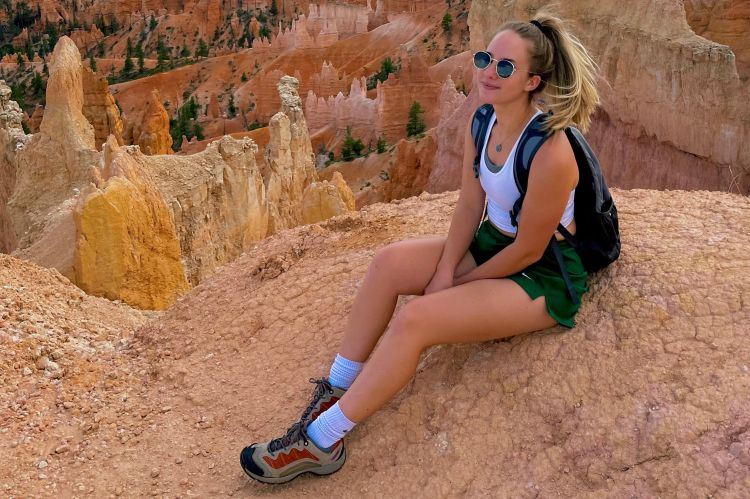 Being a Spartan engineer can take you to high places — such as 4,000 feet above sea level to Salt Lake City, Utah.
That's where biosystems engineering senior Taryn Hanses spent her summer. Hanses was an operations intern with investment banking company Goldman Sachs, where she assisted with global market trades. Trades were directed to her team if there were any issues to investigate. Her team was also responsible for getting economic and legal confirmation on trade details from clients.
Hanses and her fellow operations interns learned more about the basics of data visualizations through an educational program offered by Goldman Sachs. The program included a final project using data visualization software.
Hanses said the problem-solving skills she's learned as a biosystems engineering student helped her land her role — and succeed in it.
"When I was interviewing for my internship with Goldman Sachs, I talked about how MSU's biosystems engineering program has helped me improve my problem solving and analytical thinking skills, and how those skills are kind of applicable in basically any discipline," she said. "My team at Goldman Sachs was trying to solve problems every day, and I think my background in biosystems engineering prepared me well for that."
---
Name: Taryn Hanses
Hometown: DeWitt, Michigan
Major: Biosystems engineering in the Department of Biosystems and Agricultural Engineering
Anticipated graduation: Spring 2022
What are your future plans? What do you want to do after you graduate?
Working for Goldman Sachs and being surrounded by intelligent, hard-working people every day made me realize how important company culture is, and how important it is to enjoy being around the people you work with. I'm not entirely sure where I will end up, but those factors will hold a strong weight in my decision. I think I would like to do data science, data analytics for a tech company, or financial consulting.
How has biosystems engineering helped shape your career path and your career goals?
Being a biosystems engineering student definitely challenged me and helped make me who I am. It's forced me to find the things that keep me sane when I'm going through a heavy course load. It's forced me to figure out the work-life balance. Trying to manage doing well in classes while still having a social life and pursuing my hobbies is super important to me, and my undergraduate experience has prepared me for that.
What has been one of your best experiences within your major so far?
After my freshman year, I did research through MSU, with the iGEM (International Genetically Engineered Machines) team. It's a small group. It's very biology and microbiology heavy. We did a lot of stuff with anaerobic digestion. The research we did was super cool. We were trying to collect methane emissions from landfills and use bacteria to turn the methane into a biofuel.
What would you want other students to know about this major?
I feel like people talk about engineering like it has to be something that you're super die-hard about, but if you just have a strong work ethic and you want to go places, this is a great major for you.
I chose biosystems just because of everything you can do with it. I want to work for a company that has strong morals and cares about more than just their profit at the end of the year. I feel like biosystems really kind of hones in on that. Throughout all of the curriculum, there's a strong emphasis on morals and looking at the global, environmental and societal impacts of implementing the solutions we come up with .
What is the best part about being an MSU student?
I like that while I've been at MSU, I've been able to focus and study hard in all of my classes and get some great learning experiences, but I've also been able to meet a lot of cool people and have fun experiences that don't necessarily enhance my academic career, but are still vital to me as a person.
The challenges and opportunities here have made me figure out more about who I am, inside and outside of my career.
Do you have any thoughts or advice for current or future students?
Try to get a wide variety of experiences is great, especially, if you think you might have an interest in something. A co-op or an internship is a great time to explore something that might be a passion of yours.