Northeast Michigan field crop regional report – May 22, 2014
A little dirt flies as growers rush to capitalize on improving field conditions.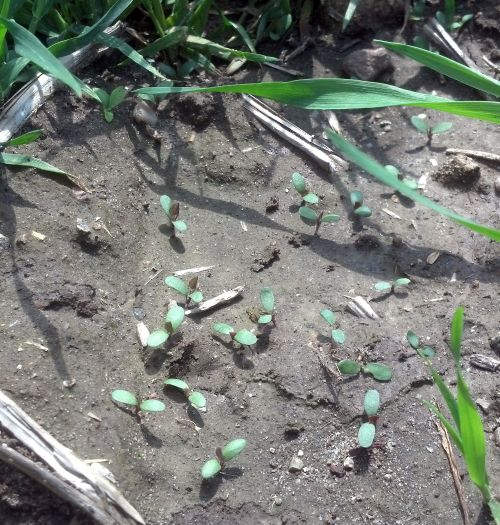 Weather
A clear shift toward more seasonable conditions is finally occurring in Northeast Michigan. This week began with high temperatures in the low 70s and a consistent breeze. Light soils dried quickly as a result, giving growers the opportunity to continue soil preparation and finally make some headway in planting upland areas Sunday and Monday, May 18-19. Some progress was also made with pre-plant herbicide applications. Still, several ambitious operators were forced to drag spray equipment out of the mud in low fields. Temperatures dipped slightly Tuesday, May 20, temporarily halting field operations.
The next seven days are expected to offer the best conditions we have seen so far this spring. An upper air ridge is moving over the Midwest, bringing clear skies and warmer temperatures. The first two days of our holiday weekend should be nearly ideal for fieldwork. Scattered showers and thunderstorms are likely during Memorial Day, May 26, but skies are expected to clear quickly and daytime highs will remain in the mid-70s through week's end.
Rainfall
Approximately 0.86 inches of rainfall was recorded at the Michigan State University Hawks Enviro-weather station in the last week. Total precipitation since May 1 is 2.06 inches, which is 0.49 inches above our regional five -year average for this period. Thus far, rainfall events in our region have been spread out in such a way that soil conditions cannot fully recover before the next soaking.
The near-term forecast includes an 80 percent chance of showers and scattered thunderstorms during the day Monday, May 26. Yet, on either side of this isolated event, the coming week is expected to be clear and sunny. Anticipated strings of three to four dry days are exactly what growers need to make up for recent delays. Long lead outlooks suggest that our region will receive near to slightly below normal precipitation in the summer months of June through August.
Growing degree days (GDD)
Air temperatures improved some over the last week, with daytime highs ranging from 45 to 72 degrees Fahrenheit and nighttime lows between 30 and 49 F. GDD accumulations since March 1 total 653.2 base 32 F, 290.6 base 41 and 93.1 base 50. Despite our recent uptick in temperatures, most of Northeast Michigan remains one to two calendar weeks behind the 30-year average for GDD accumulation at this point in the season. However, average soil temperatures have finally crept slightly above 50 F, which will aid germination and establishment of crops.
The short-term forecast calls for highs in the mid-70s through the next week, and both the 6-10 and 8-14 day outlooks from NOAA indicate that temperatures will actually be slightly above normal in coming weeks. Higher temperatures should allow us to recover some from our late spring. However, an El Niño pattern of weak to moderate intensity continues to develop in the Equatorial Pacific. As a result, our summer conditions are predicted to be cooler than normal overall.
Commodity reports
Winter wheat is progressing slowly through the stem elongation phase of growth. Most stands range in development from Feekes stage 5 to 6. The first node should be visible on main stems shortly if it is not already. This is a critical time for weed control decisions as many herbicides labeled for use in winter wheat cannot be applied after Feekes stage 5 without risking crop injury and yield loss. For detailed information on weed control in wheat, see the 2014 Weed Control Guide for Field Crops from Michigan State University Extension.
No true armyworm moths have been trapped at our monitoring site in Presque Isle County. However, limited numbers have been reported from the Southern Lower Peninsula, suggesting that the flight has begun.
Alfalfa is 5-10 inches tall and axillary buds are beginning to produce secondary trifoliates. Growers applied potash and other fertilizer to established stands over the last week. Progress was also made on new seedings, most including an oat nurse crop. No alfalfa weevil larvae have hatched at this point, but the MSU Alfalfa Weevil Enviro-weather model predicts that feeding will begin around May 26 with the accumulation of 300 GDD base 48. Cool-season forage grasses are 6-11 inches tall.
Sowing of clear seeded oats for grain neared completion in recent days. The earliest sown stands have begun to emerge, but remain in the coleoptile or first leaf stage. Our Presque Isle County malting barley variety trial has also sprouted. Recently planted fields should establish quickly in warmer soils.
The majority of corn and soybean producers commenced planting early this week. One grower near Posen, Michigan, expected to have around 100 acres of soybeans in by the end of the day Monday, May 26. One of the region's larger corn growers has planted 250 acres. Fewer acres will be planted to corn this year across the Northeast due to the crop's decreased market value and our late start in the field. Statewide, approximately 29 percent of our anticipated corn crop is in the ground, though Michigan's final acreage will likely be less than originally projected. The last day to report prevented planting on insured corn acres is Thursday, June 5.
Potato planting also began in earnest early this week. No dry beans have been planted in Northeast Michigan.
Other Michigan State University Extension field crop regional reports from this week: