Northwest Michigan apple maturity report – September 14, 2022
The region received rainfall this week, and this water will help improve size of apples. Growers are eager to begin harvest of standard varieties.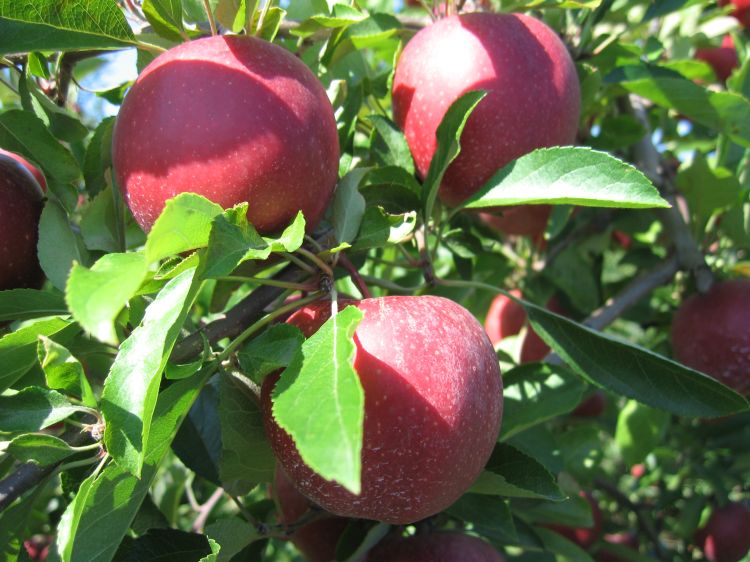 This is the second apple maturity report for the 2022 harvest season for northwest Michigan. Reports are sent out every week (usually on Wednesdays), following the Michigan State University Extension fruit team apple maturity calls on Wednesday morning.
How to read maturity tables
Each week, we test apple varieties that are nearing maturity in northwest Michigan. We are reporting average values for several samples for each variety. Maximum and minimum values are included for the highest and lowest individual fruits evaluated for each, to give a full spectrum of the maturity.
Updates for this week
Weather
The region finally received rainfall after a very dry August and start to September. The Enviroweather station at the Northwest Michigan Horticulture Research Center (NWMHRC) recorded 2.53 inches of rain on Sept. 11-13. Prior to that rain event, the most significant rainfall was recorded on Aug. 3 and 7. Other apple growing regions of Michigan have received significantly more rainfall than the northwest part of the state. The Sparta Enviroweather station recorded more rain events: 0.52 inches on Aug. 3, 1.8 inches on Aug. 13, 3 inches on Aug. 28-29, and 0.78 inches on Sept. 11. Temperatures will be moderate today, Sept. 14, and warm over the weekend. Daytime temperatures are predicted to be in the 80s with nighttime temperatures in the 60s. There is potential for thunderstorms this Sunday, Sept. 18.
General comments
Growers are eager to begin apple harvest in earnest as soon as they can. However, many of our more common varieties still are not testing mature. However, apple maturity does seem to be moving quickly. Royal Red Honeycrisp and Ruby Mac harvest is expected to begin over the weekend. Many more growers are using ReTain in their blocks, and a lot of this material is being applied in Gala blocks. Thanks to regional consultants for their input into the current state of the crop in northwest.
Apple harvest across the state appears to be picking out longer than the estimate. Bins may become an issue if the crop size is larger than anticipated. There seems to be variability in the crop from region to region; fruit in some areas is bigger than others, most likely a result of the variable rainfall. There are some concerns about bitterpit in Honeycrisp, but that situation also varies from farm to farm. Color is improving in all varieties across all of the state. Brix levels are reading lower than anticipated in some regions.
Honeycrisp
This variety is coming along in maturity, and the starch has increased by one since last week. However, the range in starch removal was 1 to 6 compared to only 1 to 2 last week. Brix did not increase by much in the past week, but rain likely is a contributing factor. Pressure dropped by over 2lbs in the past week, and this drop is consistent with other regions of the state. Color is also markedly improved from last week, but there is still quite a range in color: 25-95%. We typically harvest Honeycrisp around 25 September at the NWMHRC. We have heard reports of Honeycrisp drop in blocks in northwest as well as in other parts of the state.
Honeycrisp maturity sampling for the harvest season

Sample date

Color % (range)

Firmness lbs. (range)

Starch (range)

Brix %

Sept. 6, 2022

44.8% (10-80)

19.6 (17-23)

1.3 (1-2)

10.9 (10-13.6)

Sept. 13, 2022

63.825% (25-95)

17.3 (14-21)

2.3 (1-6)

11.3 (9.9-13.5)
Gala
Color on Gala is excellent for most of the samples we tested this week, but there is still variability in the percent color with individual samples. The overall color is averaging 84%. Firmness is holding in this variety and has not moved since last week. Starch is also stable from this week compared to last week. Brix levels are also testing similarly to last week. Rain will improve Gala size.
Gala maturity sampling for the harvest season

Sample date

Color % (range)

Firmness lbs. (range)

Starch (range)

Brix %

Sept. 6, 2022

74.125% (15-100)

22.2 (19-23)

1.4 (1-5)

10.5 (8.5-12.5)

Sept. 13, 2022

84% (30-100)

21 (19-23)

1.8 (1-8)

10.9 (7.7-13.1)
McIntosh
This variety tends to have good color in northwest Michigan, and color has greatly improved from last week. This week's Mac samples averaged 72% color. Similar to Honeycrisp, Mac firmness declined by just over 2lbs compared to last week. Brix levels also remained stable from last week to this week. The apples we tested still taste green, but starch removal ranges improved slightly.
McIntosh maturity sampling for the harvest season

Sample date

Color % (range)

Firmness lbs. (range)

Starch (range)

Brix %

Sept. 6, 2022

55.5% (15-90)

19.9 (16-23)

1.9 (1-5)

10.8 (9.7-13.1)

Sept. 13, 2022

72% (40-100)

17.6 (13-21.5)

2.4 (1-6)

11 (10.1-11.6)
*Starch values according to the 1-6 scale developed by WSU
Apple maturity sampling parameters
% fruits with internal ethylene over 0.2 ppm = indicates when ethylene begins to influence fruit ripening and it cannot be held back easily after this is reached.
Color % = the visual percentage of red color from 0 to 100; range is of all fruits tested
Background color: 5 = Green, 1 = Yellow; range is of all fruits tested.
Firmness in pounds pressure = measured with a Güss Fruit Texture Analyzer; range is of all fruits tested.
Starch: 1 = all starch, 8 = No starch; range is of all fruits tested. Using Cornell Starch Iodine Index Chart.
Starch For Honeycrisp: a separate starch chart for Honeycrisp Apples developed by Washington State University (scale 1-6).
Brix = % sugar measured with Atago PAL-1 Pocket Refractometer
Looking for more? View Michigan State University Extension's Apple Maturity page for regional reports throughout the state and additional resources.
Suggested firmness and starch index levels for long-term and shorter-term controlled atmosphere (CA) storage by variety.

Variety

Firmness (pounds)*

Starch Index*

Short CA

Mid-CA

Long CA

Mature

Over mature

McIntosh

14

15

16

5

7

Gala

16

17

18

3

6

Honeycrisp

15

16

17

3.5

7

Empire

14

15

16

3.5

6

Early Fuji

16

17

18

3

7

Jonagold

15

16

17

3.5

5.5

Jonathan

14

15

16

3.5

5.5

Golden Delicious

15

16

17

3

6.5

Red Delicious

16

17

18

2.5

6

Idared

14

15

16

3.5

6

Fuji

16

17

18

3

7

Rome

15

16

18

3

5.5