Northwest Michigan apple maturity report – September 28, 2022
Report #4. Growers are waiting for the rainy conditions to move out to get back into the orchard to continue harvest. The rainy weather has slowed harvest and slow apples to color.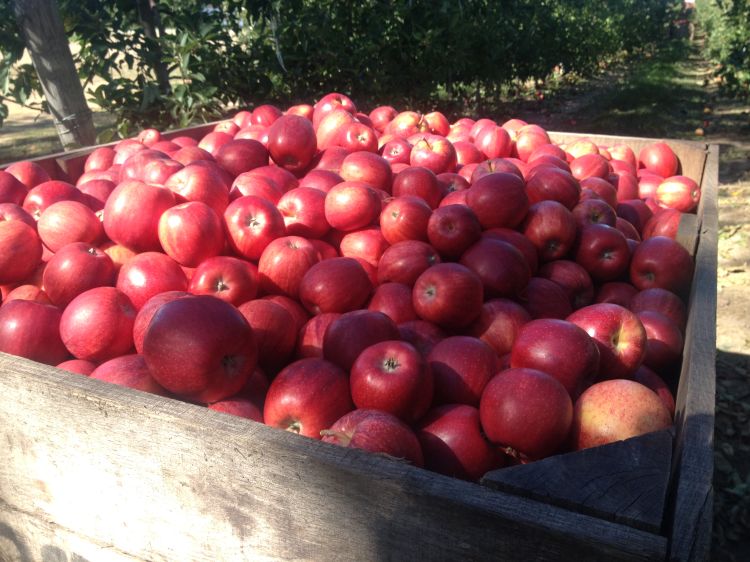 This is the fourth apple maturity report for the 2022 harvest season for northwest Michigan. Reports are sent out every week (usually on Wednesdays), following the Michigan State University Extension fruit team apple maturity calls on Wednesday morning.
How to read the maturity tables
Each week, we test apple varieties that are nearing maturity in northwest Michigan. We are reporting average values for several samples for each variety. Maximum and minimum values are included for the highest and lowest individual fruits evaluated for each, to give a full spectrum of the maturity.
Updates for this week
Weather
The weather certainly has taken a turn since last week, and most growers would agree that it has not been for the better. After a warm and still summer like start to last week, we were greeted with rainy and cool weather that began on Thursday, Sept. 22, and is still continuing today (Sept. 27). The forecast is predicting rain on Wednesday but then the system is predicted to clear out and be replaced by sunny and more seasonal temperatures. Daytime highs will be in the high 60s, and the overnight temperatures will be in the 40s and low 50s. These sunny and cool overnight temperatures should help color up apples.
There are also some cold overnight temperatures in the forecast as Wednesday night (Sept. 28) is predicted to get down to 38 F. We also had some colder than forecasted conditions last week, and the Northwest Michigan Horticulture Research Center (NWMHRC) recorded a low of 41.5 F. However, other Enviroweather stations around the region recorded lower temperatures. The Bear Lake/Onekama recorded a low of 30.6 F on Sept. 23.
General comments
Growers are waiting for color to develop in some varieties, but most are waiting for the rainy weather to move out to get back into the orchard. The rainy conditions have slowed harvest, and the lack of sunshine has not helped improve color in the past few days. The forecast is looking optimistic as the rain is predicted to be replaced by warmer and sunnier conditions. Color is still improving from week to week based on our maturity sampling, growers are reporting that they still need more color on Honeycrisp and Gala. Our maturity testing is also showing that the brix levels remain almost unchanged from last week. In all of the brix averages across varieties, we are still testing in the high 11s and low 12s. There are reports of lower brix in other parts of the state.
Reports from across the state is that harvest is still picking out longer than the estimate. As a result of more fruit, bins have been in high demand. We have also heard reports that storage may be an issue for apples with a larger than anticipated apple crop. Firmness dropped in all varieties this week compared to last week. We have heard no reports of issues from cold weather last week.
Honeycrisp
Many growers have picked their Honeycrisp blocks for first pick while some growers are still waiting on color to harvest this variety. Color continues to improve in this variety, and we are up by 15% compared to last week. There is still quite a range in color: 60-100%. Honeycrisp firmness dropped by just under two pounds compared with samples collected last week. We also tested some fruit that were quite soft, and the firmness was recorded at 12lbs pressure. Starch removal also increased by almost one this week, but there is still a range in starch; however, we have no samples that are testing one at this time. Again this week, brix averaged only 11.9 with a range of 10.5-13. We have done a first pick on Honeycrisp at the NWMHRC.
Honeycrisp maturity sampling for the harvest season

Sample date

Color % (range)

Firmness lbs. (range)

Starch (range)

Brix %

Sept. 6, 2022

44.8% (10-80)

19.6 (17-23)

1.3 (1-2)

10.9 (10-13.6)

Sept. 13, 2022

63.8% (25-95)

17.3 (14-21)

2.3 (1-6)

11.3 (9.9-13.5)

Sept. 20, 2022

70.1% (40-90)

17.18 (14.5-20)

4.1 (1.5-6)

12.3 (10.5-18.1)

Sept. 26, 2022

85.2% (60-100)

15.4 (12-19)

5.2 (3-6)

11.9 (10.5-13.5)
*Starch values according to the 1-6 scale developed by WSU
Gala
Gala color continues to remain stable from last week, where we saw a small jump in the percent color from last week. Gala color looks better than some other varieties for bright color. We did see a slight drop in firmness of Gala of just over one since last week. Starch removal is also up about 1.5 compared to last week, and we had no samples that tested in the one range this week. Brix levels are still quite low in Gala, and our average was 11.4, and the range for percent brix was 8.8-13.9. Gala size at the NWMHRC is still on the small side.
Gala maturity sampling for the harvest season

Sample date

Color % (range)

Firmness lbs. (range)

Starch (range)

Brix %

Sept. 6, 2022

74.2% (15-100)

22.2 (19-23)

1.4 (1-5)

10.5 (8.5-12.5)

Sept. 13, 2022

84% (30-100)

21 (19-23)

1.8 (1-8)

10.9 (7.7-13.1)

Sept. 20, 2022

88.3% (45-100)

20.6 (17.5-23)

3.3 (1-8)

11.7 (8.5-14.8)

Sept. 26, 2022

92.2% (70-100)

19.1 (16.5-21)

4.6 (2-8)

11.4 (8.8-13.9)
McIntosh
Color seemed to drop this week compared to last week, but we did harvest fewer samples because some of the commercial blocks were already harvested. There still seems to be a fairly notable range in color in this variety: 60-90. Firmness dropped in Macs this week by over 3lbs pressure. This variety tends to lose firmness compared to other apples. Starch removal increased by one, and again, brix levels in Macs is still quite low at 12.1. We tasted McIntosh samples this week that did not have that characteristic flavor of this variety, which maybe operator error or the excessive rainfall in the past few days.
McIntosh maturity sampling for the harvest season

Sample date

Color % (range)

Firmness lbs. (range)

Starch (range)

Brix %

Sept. 6, 2022

55.5% (15-90)

19.9 (16-23)

1.9 (1-5)

10.8 (9.7-13.1)

Sept. 13, 2022

72% (40-100)

17.6 (13-21.5)

2.4 (1-6)

11 (10.1-11.6)

Sept. 20, 2022

84.3% (60-100)

18.3 (15-22)

3.1 (1-7)

11.8 (8.8-14.7)

Sept. 26, 2022

79% (60-90)

15.8 (14.5-17)

4.2 (3-5)

12.1 (11.6-13.2)
Apple maturity sampling parameters
% fruits with internal ethylene over 0.2 ppm = indicates when ethylene begins to influence fruit ripening and it cannot be held back easily after this is reached.
Color % = the visual percentage of red color from 0 to 100; range is of all fruits tested
Background color: 5 = Green, 1 = Yellow; range is of all fruits tested.
Firmness in pounds pressure = measured with a Güss Fruit Texture Analyzer; range is of all fruits tested.
Starch: 1 = all starch, 8 = No starch; range is of all fruits tested. Using Cornell Starch Iodine Index Chart.
Starch For Honeycrisp: a separate starch chart for Honeycrisp Apples developed by Washington State University (scale 1-6).
Brix = % sugar measured with Atago PAL-1 Pocket Refractometer
Looking for more? View Michigan State University Extension's Apple Maturity page for regional reports throughout the state and additional resources.
Suggested firmness and starch index levels for long-term and shorter-term controlled atmosphere (CA) storage by variety.

Variety

Firmness (pounds)*

Starch Index*

Short CA

Mid-CA

Long CA

Mature

Over mature

McIntosh

14

15

16

5

7

Gala

16

17

18

3

6

Honeycrisp

15

16

17

3.5

7

Empire

14

15

16

3.5

6

Early Fuji

16

17

18

3

7

Jonagold

15

16

17

3.5

5.5

Jonathan

14

15

16

3.5

5.5

Golden Delicious

15

16

17

3

6.5

Red Delicious

16

17

18

2.5

6

Idared

14

15

16

3.5

6

Fuji

16

17

18

3

7

Rome

15

16

18

3

5.5