Northwest Michigan fruit regional report – May 17, 2016
The northwest region is in bloom in sweet and tart cherries, and blossoms are opening in apples. The predicted warm weather will improve bee activity and pollination services.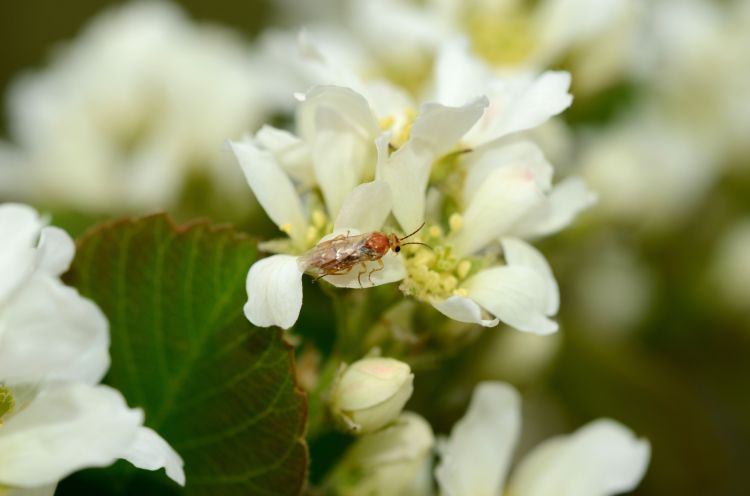 Weather and crop report
Cool conditions prevailed over the weekend, and nighttime temperatures dipped below freezing in isolated spots across the region. On Saturday night into Sunday morning, May 14-15, three northwest Michigan State University Enviro-weather stations had temperatures that fell below the freezing mark: Bear Lake recorded below freezing temperatures for four hours, and the Benzonia and Eastport stations recorded temperatures just below freezing for two hours. We have not yet heard reports of damage from those freezing temperatures. Temperatures dipped down again last night, May 16-17, but most Enviro-weather stations did not record below freezing temperatures. However, isolated low spots likely were colder, and frost was evident on cars and house roofs this morning. Frosts fans were running last evening into the morning. We received snow showers over the weekend, but we did not have any accumulation throughout the region.
The region is quite dry for so early in the season. The region did receive some rain May 12-14, but the amount varied between the Enviro-weather stations. Bear Lake received 0.5 inch of rain, and the remaining stations received 0.11-0.26 inch of rain. In terms of rainfall, the start to this season is almost the exact opposite of last season when we received tremendous amounts of rain throughout the early spring. We have accumulated 353 growing degree-days (GDD) base 42 and 144 GDD base 50.
There are orchards with some isolated damage, and again, we think this damage may be a result of the early April cold temperatures. At the Northwest Michigan Horticulture Research Center, we had five days with nighttime temperatures that ranged between 18.7-26.3 degrees Fahrenheit. Although there may be damage from these cold temperatures, the orchards still have the potential to set a good crop. Most of the buds we cut were low in the trees, and higher buds likely fared much better during that cold snap.
Bloom has been varied in our tree fruit crops this season. We have been in sweet cherry bloom for the past week, and we are finally at petal fall in Napoleon and Hedelfingen, but still in full bloom in Golds. Tart cherry bloom is overlapping with sweet cherries, and we are currently at 80-100 percent full bloom in Montmorency and Balatons. Tart cherries to the north around Northport, Michigan, are still tight and very little white is showing at this time.
Apple bloom is also quickly approaching, and bloom is evident in different varieties. Benzie County growers have reported 10-80 percent bloom in apples. We anticipate Galas to open king blooms today at the center. With all of these trees in bloom, we are hoping for warmer temperatures for pollination. The cool and windy conditions over the weekend slowed bee activity in blooming orchards. However, we observed good bee activity in tart cherries yesterday, May 16, even though temperatures were only in the mid-50s with ample sunshine.
Wine grape bud stages are all over the board, from swell to bud burst and even some with first leaves partially expanded – depending on variety and how close the buds are to bare soil. There has been a little activity by climbing cutworm, probably on the few warm nights we had last week before the return of near-freezing evening temperatures. We have not heard of any grape flea beetle activity to this point. There is not enough green tissue showing at this time for powdery mildew to infect, but if the predicted warm weather does come along, we will soon be in a period for potential infection.
The last few warm days pushed saskatoon plants along to full bloom at the most advanced sites. Insects also responded, with small larvae of saskatoon bud moth and adult saskatoon sawflies being seen in the test planting at the center. Saskatoon bud moth larvae tie together a number of small leaves with silk and feed inside the tied leaves. Their importance to production in Michigan is uncertain. Saskatoon sawflies lay eggs directly on fruits immediately after fruit set; their larvae feed on developing fruits and they can be significant pests. Unfortunately there are no insecticide sprays that can be applied until after bloom is over, as we must wait for bee activity on the plants to be done.
Pest report
Most of the region received rainfall Thursday, May 12, and overall accumulations varied between 0.01 and 0.1 inch, depending on location. MSU Enviro-weather reported apple scab infection periods throughout the region following May 12 rain in East Leland, Eastport, Kewadin and Northport, Michigan. We also had wet conditions on May 13 that initiated infection periods in Bear Lake and Benzonia, Michigan. Frozen precipitation fell Saturday and Sunday, May 14-15; however, temperatures were too cold and the wetting period was too brief for the development of apple scab and cherry leaf spot diseases.
Apple scab spore discharge

Date collected

Time collected

Rod 1

Rod 2

Avg # Spores

4/21/16

1:30 p.m.

NA

10

10

4/25/16

9:30 a.m.

37

50

43.5

4/26/16

8:15 a.m.

9

4

6.5

5/1/16

1:30 p.m.

0

0

0

5/5/16

8:00 a.m.

44

77

60.5

5/12/16

3:00 p.m.

78

5

41.5

5/14/16

12:00 p.m.

136

112

124

5/16/16

2:00 p.m.

0

0

0
Apple scab spores discharged following 0.01 inch of rain that that fell at the center May 12 (see table). Nearly 0.1 inch of rain fell Friday, May 13, and we counted the highest spore discharge of the season following that wetting event, a total of 248 spores. Primary apple scab is ongoing for the northwest region. At the center, we set biofix on April 17 and according to Enviro-weather's apple scab model, 68 percent of ascospores are mature and 35 percent have discharged at this time.
Apple bloom is underway in more southerly areas of the northwest and king bloom are open on some early varieties at the center; later varieties are at pink. Currently, predicted cool temperatures for today, May 17, and Wednesday are not conducive for population growth of fire blight bacteria. Additionally, there is no rain in the forecast for the remainder of the week and moisture in the form of rain, heavy dew, fog, etc. is needed to cause fire blight infection. Temperatures are predicted to warm up toward the end of the week, and this warm up will coincide with bloom of several apple varieties.
With these predicted warmer conditions, the fire blight bacteria will begin multiplying rapidly, and MSU Extension advises growers to monitor Enviro-weather's fire blight model frequently to determine when to begin managing for this disease. We remind growers to check the model often because the fire blight infection potential can change quickly; this model is based on degree-hours rather than degree-days. If warm conditions conducive for bacterial growth persist without rain, growers producing high value varieties, particularly those that are susceptible to fire blight, may want to consider taking action to keep the bacterial population low. This strategy will help to reduce the difficulty of managing a high level of inoculum and also help to lessen the pressure for shoot blight or in the event of possible trauma blight. We recommend growers look back at past seasons' fire blight infections. A more conservative approach to manage fire blight should be considered if fire blight has been problematic in the block.
Most sweet cherries are at later bloom to petal fall and conditions have not been optimal for American brown rot development or infection. In tart cherries, wet and cold conditions over the weekend were optimal for European brown rot infections and most of the region had cherries in bloom. Fortunately, drier and warmer weather are currently predicted for the later part of the week, and these conditions are not ideal for European brown rot infection if orchards are still in bloom.
Most cherry growers covered bract leaves and the true leaves (where present) in tart cherries prior to last week's rain. Many orchards had significant cherry leaf spot infections last season, and growers are conscious of keeping this disease in check this season. More southerly orchards are at petal fall and as they approach shuck split, we remind growers to check with processors for possible restrictions on the special label for Bravo Weatherstik use past shuck split. Growers who are interested in making applications under this special 24 (c) label need to complete training to receive an affidavit as well as a copy of the indemnified label. Additional instructions on this process and use restrictions under the 24 (c) label are provided in the previously published MSU Extension news articles, "Where can growers find the special 24 (c) label for using Bravo WeatherStik past shucksplit?" and "Post-shucksplit applications of Bravo WeatherStik for cherry leaf spot control."
Recent cool temperatures slowed pollinator and pest activity, but we expect to see more insect activity with the predicted warm conditions. In cherries, American plum borer moths have been active for two weeks with an average of eight moths per trap. Green fruitworm moth numbers were lower (nine moths per trap), and we expect larvae will be active later this week. Obliquebanded leafroller larvae have been reported and a threshold of two larvae or more or signs of larvae/feeding damage per 20 clusters per five trees indicate treatment may be needed. Peak activity of obliquebanded leafroller larvae typically occurs between around 190-250 GDD base 50.
In MSU efficacy trials, Belt is rated excellent against codling moth, obliquebanded leafroller and oriental fruit moth. Belt is in the diamide class of insecticides, which also includes Altacor and Exirel, other diamides that also work well against the aforementioned pests. Therefore, in the case of insects that have multiple generations per year, such as obliquebanded leafroller and codling moth, we recommend using this diamide mode of action in either the first or second generations to minimize the potential of resistance development. We do not recommend using diamides targeting first and second generations. In cherries, anecdotal evidence suggests this insecticide works better early and targeting the overwintering obliquebanded leafroller larvae at the petal fall timing rather than using Belt for second-generation larvae that come out at or near harvest time. Additionally, due to resistance and cross-resistance issues, Belt is a good alternative to organophosphates and pyrethroids for obliquebanded leafrollers.
Low numbers of black cherry aphids have also been reported. We have not received reports of plum curculio activity yet this season; these beetles could also show up when temperatures warm up, but we likely will not see a higher level of activity for another 10-14 days.
In apples, oriental fruit moth remains undetected at the center. We have received reports that various species of leafroller larvae are active in the region. The first adult spotted tentiform leafminer moths were found this week in low numbers (16 per trap); however, managing this pest is targeted at the larvae and the larvae will not be active until around petal fall timing. Apple flea weevil activity was also detected last week in an organic apple orchard; apple flea weevils have primarily been a pest in organic orchards. Codling moth traps are up at the center and flight may begin this week if temperatures at dusk remain at 60 F.