Is an internship right for you?
Gain work experience in your interest area and increase your job offers through an internship.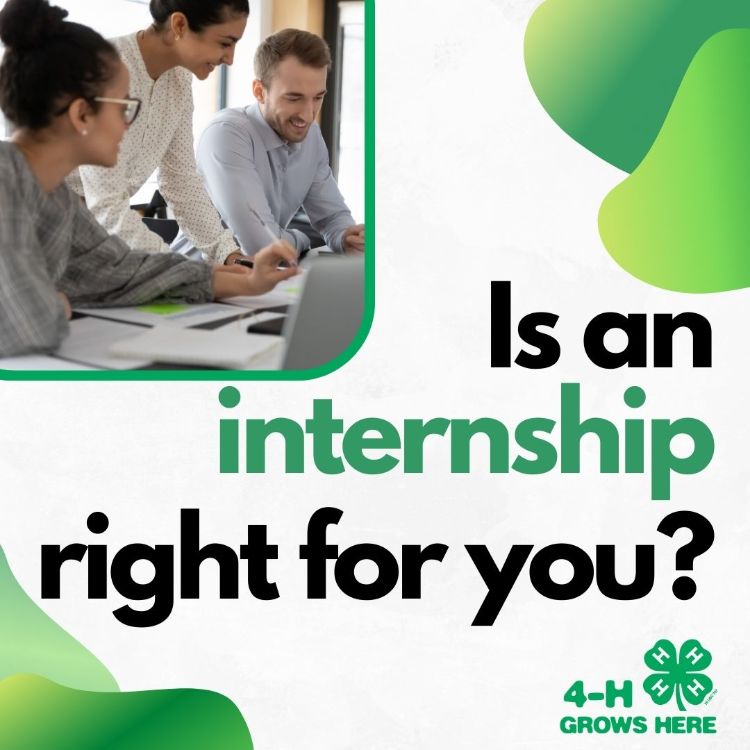 Work experience is essential in today's job market. But how do you gain work experience in your area of interest if you are in high school, college, or even changing careers? One opportunity to consider is an internship.
Internships provide experiential learning by allowing trainees to gain hands-on experience in a professional setting while working towards learning objectives and professional goals. Internships allow you to sharpen your résumé, learn new skills, and develop professional contacts while potentially earning some money and/or receiving educational credit. Another major advantage of internships is they allow you to experience firsthand what a career in different industries is like before you invest thousands of dollars on tuition and countless hours in a classroom.
Michaela Heisler said of her summer internship at the Food Processing Innovation Center that having an internship provides her with exposure to various aspects of the food science industry and is allowing her to build a professional network that will be a resource to her once she begins her career.
Of course, one of the biggest benefits to internships is that they provide a foot in the door to possible full-time employment. Dr. Luke Reese of Michigan State University Extension described internships as a "no-strings-attached mechanism to evaluate potential employment fits" for both the intern and the employer. Internships allow employers to evaluate potential employee candidates as well as allow the student to see if the company is a good fit by being immersed in the workplace culture. Not surprisingly, roughly 75% of employers surveyed by the National Association of Colleges and Employers (NACE) reported plans to hire students for internship positions in 2022, up by 22.6% from the previous year.
Selecting the right internship can pay off as well. According to a US News Report, graduates who took part in a paid internship were more likely to get a job offer when they graduated. Other data from NACE suggests that credit-bearing internships are favored by employers because they show an ability to work within a set-structure and often ensure intern accountability. The same article also claimed that unpaid interns have more flexibility to experiment and take risks, which employers tend to appreciate.
Ultimately, according to Heisler, the goal should be to find a position that you love. "With any job or internship, you get so much more out of an experience if you are passionate about what you are doing," she said. "I enjoy going to my internship every day, where I work alongside my amazing coworkers and gain useful knowledge. However, being incredibly interested in the work I do and eager to learn at every opportunity is, in my opinion, one of the fundamental reasons my internship is exciting, educational, and all-round a great experience."
Finding an internship that meets your career interests, financial needs, and educational expectations requires doing some research and investigation first. Seek assistance from teachers, counselors, job placement personnel, academic advisors, family members and friends. Michigan State University's Career Services Network can connect you to internship opportunities through Handshake, on-campus job resources, and even stipend awards for unpaid internships through the generosity of MSU Federal Credit Union. The State of Michigan offers internships in 18 different departments across the state, providing practical real life work experience. Michigan State University Extension offers between 7-16 internships a year in its various departments for college students. Additional online resources to find internships are available at www.mitalent.org/internships and www.internships.com.