Northwest Michigan fruit update – May 22, 2018
Tart cherries are in full bloom, early bloom in apples is underway, and predicted wet weather over the weekend is a concern for disease management.
Weather report
Northwest Michigan has had some varying weather patterns for the past week. Last week, daytime temperatures reached into the mid- to high 70s then dropped into the low to mid-60s over the weekend. Despite the warm temperatures, we are behind our 20-plus year growing degree-day (GDD) averages by almost 100 GDD base 42 and almost 50 GDD base 50. Thus far this season, we have accumulated 376 GDD base 42 and 185 GDD base 50.
We had an unexpected small rain event on Tuesday, May 15, and the Northwest Michigan Horticulture Research Center received less than a 0.1-inch of rain. This event was enough to cause concerns about disease development, but no infection periods were recorded at the Northwest Michigan Horticulture Research Center Enviroweather station. We had another rain event over the weekend, and the Northwest Michigan Horticulture Research Center Enviroweather station recorded just over 0.25 inch of rain; this rainfall resulted in infection periods for tree fruit diseases.
The forecast is predicting temperatures to warm for the remainder of the week with daytime highs near 80 with rain that may come over the Memorial Day weekend; growers will be concerned about fire blight as most of the region's apple will be in bloom.
GDD accumulations as of May 21, 2018, at the Northwest Michigan Horticulture Research Center

Year

2018

2017

2016

2015

2014

2013

28 Yr. Avg.

GDD42

376

458

417

455

307

451

465.6

GDD50

185

207

179

220

125

255

221.6
Growth stages at the Northwest Michigan Horticulture Research Center as of May 21, 2018
Bartlett Pear – Full bloom
Potomac Pear – Full bloom
Mac – Pink
Gala – Pink
Red Delicious – First bloom
HoneyCrisp – First bloom
Montmorency – 95 percent bloom
Balaton – Full bloom
Hedelfingen – Petal fall
Gold – Early petal fall
Napoleon – Petal fall
Riesling – Bud burst
Cherry and apple crop report
With last week's warm temperatures, growth was accelerated. We are in full bloom in tart cherries and just beginning to see petal fall in sweet cherries. Our first apple blooms are also showing up on some varieties. Pollination has been all over the board with the fluctuating temperatures. Bee activity has been good when temperatures are warm, but activity slowed over the weekend. We have also had cloud cover and cooler temperatures in the past two days, which has slowed bee activity. Growers have observed good hive strength, and beekeepers have been actively moving bees from block to block as different crops come into bloom.
Surprisingly, growers are still planting trees. In fact, many growers have yet to receive trees from the nursery. At the Northwest Michigan Horticulture Research Center, we just planted a block of sweet cherries, and a new apple block will go in the ground this week.
Apple growers are starting to think about thinning with the opening blossoms. Many growers around the state have considered blossom thinning in past seasons, and this strategy is an excellent option for northwest Michigan growers. This tactic may be timely this year as most orchards have a lot of bloom, and blossom thinning can be an early strategy to reduce a potentially large crop. However, this year, we may have warmer temperatures for our thinning window than in past seasons; warmer temperatures are favorable for thinner activity.
Northwest Michigan has traditionally had a difficult time thinning with our cool spring conditions. This blossom thinning approach helps get a jump on thinning, especially if temperatures were cold during the prime thinning window (10-millimeter fruit). If growers are considering bloom thinning, check out "Apple blossom thinning for 2013 apple crop" by Michigan State University Extension.
Cherry and apple pest report
As mentioned previously, the weather was cool and wet Saturday morning through the late morning on Sunday, May 20. Many areas in the northwest region were wet for over 24 hours with variable rainfall that resulted in infection periods of apple and cherry diseases. Many growers were covered or in the midst of covering susceptible leaves and blossoms going into this relatively long wetting event. Some areas in the region received minimal rainfall yesterday, May 21, but most locations dried quickly and did not have infection periods.
In apples, all northwest region Enviroweather stations except for Eastport recorded apple scab infection periods following the weekend's wet weather. This was a key time to be covered as the RIMpro model estimated that many scab spores were released during this wetting event. Light to moderate infection periods were reported on Enviroweather depending on the amount of rainfall and duration of the wetting event; symptoms from this infection could begin showing up at the end of May.
Additionally, if apple scab infection occurred following May 9 rains, symptoms from this infection period should begin showing up this week. For many areas, it has been about three weeks since biofix, and we encourage growers to continue scab and powdery mildew management in the coming weeks.
RIMpro-Venturia Outputs
Some apple varieties have started blooming at the center; many king blossoms opened over the weekend on Honeycrisp. Fortunately, fire blight was not a serious concern during this early part of bloom because temperatures have been too cool for substantial bacterial growth. However, the current forecast is calling for high temperatures in the upper 70s and 80s toward the mid- to later part of this week followed by possible rain showers and these conditions are very concerning for fire blight. Enviroweather's fire blight model is showing very high epiphytic infection potential (EIP) values for later this week and growers should continue to monitor this output and the forecast frequently to assess when to apply a bactericide for this disease.
Applications should be made prior to rain events—this strategy reduces fire blight bacteria populations prior to rain thereby minimizing the risk of infection. Additionally, new flowers that will continue to open may need to be protected as the fire blight bacteria will spread and develop quickly on new flowers if temperatures are warm. Applications of the plant growth regulator Apogee are suggested if EIP values and the weather continue to be optimal for fire blight; the timing for the first application of Apogee is king bloom petal fall. Apogee has been an excellent material that helps minimize the impacts of fire blight. Growers that have trees they are trying to push to fill their space/reach the top wire are considerably susceptible to fire blight infections.
Insect activity in apples continues to be quiet at the center. Spotted tentiform leafminer (18 per trap) activity is ongoing in low numbers. We have been monitoring for the first flight of San Jose scale males, but this pest has not been detected in our traps at this time. Because scales are generally weak fliers, put pheromone traps in trees with a known scale infestation. Systemic materials for scale need to be applied prior to crawler emergence to allow the material to move into the tree tissues; review pesticide labels for use directions such as application timing and mixing recommendations. We have not detected codling moth, but we expect to detect moth activity following the warm evenings predicted for later this week. Insecticide applications are not recommended during bloom.
In cherries, sweet cherries are at petal fall and tart cherry bloom is underway. Many growers protected blossoms from brown rot late last week into the weekend as many blossoms opened and the weather changed quickly. The prolonged cool and wet weather could have been concerning for the possibility of European brown rot infection in Balaton and susceptible Montmorency orchards (i.e., slow-drying areas).
Growers have also been protecting green tissue from cherry leaf spot infections. Given the cool temperatures, many were surprised to see that conditions were met to trigger infection periods for this disease. With shuck-split approaching, it is a good time for growers planning to make applications of Bravo Weather Stik post shuck-split under the Special Local Needs 24c label to complete the training and receive the affidavit as well as the special label. Please visit the Michigan Department of Agriculture and Rural Development's Bravo/Tart Cherry (SLN No. MI-180001) page for additional instructions.
American plum borers began flying at the center in the last week. We have also received reports of plum curculio activity in hot spot locations. Be ready to protect fruit coming out of the shuck from plum curculio oviposition. The forecast is calling for warm evenings this week, and these nighttime temperatures will stimulate plum curculio activity.
We have not detected San Jose scale male flight in sweet cherries at the center at this time; however, some growers may be considering the use of a systemic insecticide like the product Movento and this product requires substantial leaf tissue, excellent coverage, and a penetrating adjuvant for adequate uptake and translocation of the product prior to crawler activity.
Grape report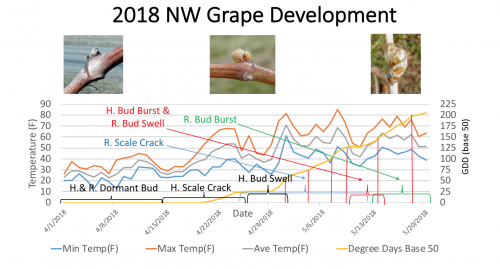 The Northwest Michigan Horticultural Research Center research vineyard's last recorded spring frost (temperature below 32 degrees Fahrenheit) date occurred April 28, and within the last 23 days of frost-free days, the northwest region reached 100 GDD on May 7 and 200 GDD on May 20, a steady accumulation of heat units.
Hybrid cultivars proceeded through bud burst between May 13-16 (140 GDD) and are currently at two to four unfolded leaves stage and about 1-4 inch shoot growth. Vinifera cultivars proceeded through bud burst between May 16-18 (190 GDD) and are currently approaching one to three unfolded leaves stage and about 1-2 inch shoot growth.
Although the northwest region has received sunny and warm days this spring, recently we have had cool and wet conditions, so now is a great time to prepare early season fungicide applications.
Meeting announcements
Sign up for the thinning meeting this Thursday, May 24! Phil Schwallier, MSU Extension fruit educator, will be at the Northwest Michigan Horticulture Research Center, 6686 S. Center Highway Traverse City, MI 49684, to guide us through the thinning process this season. The meeting starts with a CPS-sponsored lunch at 11:30 a.m., and the meeting begins at 12:30 p.m. Please RSVP at the center for lunch by calling 231-946-1510.